BM-Rex
Review Directory Intro ...
Want to know what other gamers are saying about an online game that you are interested in? Good because this is where gamers can give their opinions about different types of games such as Online RPGs, MMORPGs, Online Shooters, and Free Games.

If you don't want to leave a review, simply click on the link or the screenshot on a game's review page to go to its website.

Signing up is free and allows you to review games, post in the forums, and submit games for review. The forums allow you to ask questions, share tips, and discuss games after you have reviewed them. Let your opinions fly !.!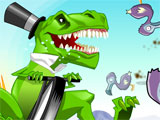 Get on your bike and pedal in this arcade game.

Total Rating: 6.54
Reviews: 28
Review Archive
Post Date: 21:03 02-09-2014
Rating: 9
Author: Garagos
Comment: Time, points and BM-Rex are the most important things in this game.
Have fun playing this. Recommend to everyone.

Post Date: 07:27 18-08-2014
Rating: 7
Author: arZ
Comment: BM-Rex is a jump and run game, or better to say jump and ride game. You are controlling a dinosaur riding a bike. You need to complete a level without falling in the water and before the time for completing the stage ends. You need to jump over holes, dinosaurs and other barriers. Easy and simple game. Faster you are more points you get. Collect starts for the maximum highscore. 7/10

Post Date: 20:26 10-07-2014
Rating: 8
Author: FrendlyLeBlanc
Comment: God game :) Funny game with not god graph but still hod... 8

Post Date: 17:50 10-07-2014
Rating: 3
Author: Aki013
Comment: I don't like this game,graphic are low and gameplay is not good...

Post Date: 20:32 02-07-2014
Rating: 8
Author: Ckalja99
Comment: Pretty good game and funny also. You are T-rex on bike and you pedal to victory. Goal is good and graphics are OK. :) From me a nice 8 .

Post Date: 10:39 06-06-2014
Rating: 7
Author: htsUNL1MITED
Comment: Hahah really cool game and so fast to play,you must control dino on the bike and its hard to jump on mountain but good game in my opinion :)

Post Date: 17:39 20-05-2014
Rating: 5
Author: doca8
Comment: Not to bad game, solid game :)

Post Date: 11:00 01-05-2014
Rating: 4
Author: ivekvv256
Comment: A game where you control a dynosaurus rex riding a bike. I did find it to be funny at begining, but then nothing much has changed and it became a booring game. It's simple to play though I wouldn't play it again if you ask me. 4/10

Post Date: 09:16 05-04-2014
Rating: 5
Author: Gavra10
Comment: best game :D

Post Date: 19:22 22-03-2014
Rating: 10
Author: Gavra10
Comment: BEST GAME !

Post Date: 19:12 02-01-2014
Rating: 9
Author: CrownKnight
Comment: a simple little fast game to get to the rex finesh lol

Post Date: 15:59 06-11-2013
Rating: 5
Author: El Monstro De Galleta
Comment: Another one of those simple yet enjoyable games. You, as aTyrannosaurus, must ride a bicycle around an obstacle course against the clock.

Post Date: 16:54 09-10-2013
Rating: 8
Author: ufbre
Comment: BM-Rex racer is good game fun my kids played it
you drive a bmx bike and go go for spead colekting the points bonuses and do jump with spase simple game for kids just gogogo ride the bike :)

Post Date: 22:33 24-09-2013
Rating: 7
Author: Mordekaiser
Comment: Pretty fun little game i enjoyed it till i died :( anyways controls are arrow keys and space bar whenever ur in the air press space bar for extra points this is a great tip which i learned to late lol great game though 7/10

Post Date: 14:06 23-04-2013
Rating: 5
Author: FoxWMB
Comment: A simple get to the finish fast kind of arcade game, involving a tyrannosaurus Rex riding a bike, available in gameogre's arcade.

The goal of the game is to get to the end of each level, while achieving the highest score possible.

To do so, the player is given a simple set of controls. Left and right arrow keys control which way player will go (although the left key is a bad idea to use) , while the space key allows the player to jump.

Points in this game are acquired in several ways. They can be acquired by collecting sandwiches that are scattered across the level, by jumping, with each consecutive jump before touching the ground awarding more points, and also any time left at the end of the level will grant some points as well.

The player starts each of the 5 levels with 30 seconds left to get to the checkpoint, failure to do so will result in losing a life, while reaching it will award another 30 seconds. Another way to lose a life is to fall down off the map. Upon losing the 3rd life, player loses the game.

From sound point of view, game offers some basic sounds, which are adequate. Game's soundtrack does a good job to raise the atmosphere, but will be disliked by those that don't like rock music. It can be turned off, but at the cost of losing all sounds in the game.

Visually, the game is ok, with adequate artwork, but really nothing special, nor bad.

Overall, it's a fun little game for a while, but doesn't have much re-playability, meaning the player will probably not want to return to it after finishing it for the first time. It's really not a challenging game and amount of things that can be done in it are limited to just a few.

Current rating - 5 out of 10

Post Date: 18:33 11-02-2013
Rating: 6
Author: PolanWalker
Comment: This production is very simple arcade game. In this game we need to run in the hills and mountains with our Trex on BMX :) Control is very simple. We just need to use arrows to move and spacebar to jump. Our Trex need to eat sandwiches and get all stars in his way. One thing we need to watch out are birds. Game is very simple and not as bad as I thought. I rate this game 6/10.

Post Date: 17:16 05-02-2013
Rating: 7
Author: Mordekaiser
Comment: Very fun game one of the best arcade games for sure the graphics are also nice but it dose get boring after u play it for a few hours

Post Date: 19:19 11-10-2012
Rating: 5
Author: PolanWalker
Comment: he he he he he stupid for me :/ 5/10

Post Date: 21:19 25-04-2011
Rating: 5
Author: seifsalah
Comment: lol it is a fun game actually :P

Post Date: 14:33 25-04-2011
Rating: 7
Author: KuroTsuna
Comment: Nice game, but you'll get boring after a while.

Post Date: 12:40 08-03-2011
Rating: 6
Author: Adrian
Comment: Probably one of the better games in the arcade, I gotta agree with most though...it did get boring after a bit.

Post Date: 05:18 08-03-2011
Rating: 8
Author: SSC4RF4CE
Comment: I miss this entertaining but put more obstacles and more things like shooting something 8/10

Post Date: 01:57 26-12-2010
Rating: 5
Author: conscious
Comment: it's very fun game when you first play ir after that so boring .

Post Date: 23:31 11-12-2010
Rating: 8
Author: EcLuD
Comment: good game somewhat difficult but very short like me 8 / 10

Post Date: 00:03 01-12-2010
Rating: 6
Author: Ichigohollowfied
Comment: I didnt really like this game. I didnt play it for long on gameogre =/

Post Date: 18:44 01-11-2010
Rating: 8
Author: jared
Comment: Great Game and Fun too! Its really Fun game to play because of its awesomeness lol Its difficult at some parts and needs skill so its not too easy That makes the game even better I give it a 8 outa 10 for its awesomeness

Post Date: 21:33 01-10-2010
Rating: 5
Author: Julein
Comment: cooL GAME srry caps. but it is only 5 levels long so not long lasting. just another trick bike game, but still fun.

Post Date: 21:30 01-10-2010
Rating: 7
Author: Vocal
Comment: a simple flash game.three life,after it all gone,it will tally your whole scores.Do tricks to get more scores.pretty basic game with okay graphics.A flash game if your bored.7/10