Bottle Shooter
Review Directory Intro ...
Want to know what other gamers are saying about an online game that you are interested in? Good because this is where gamers can give their opinions about different types of games such as Online RPGs, MMORPGs, Online Shooters, and Free Games.

If you don't want to leave a review, simply click on the link or the screenshot on a game's review page to go to its website.

Signing up is free and allows you to review games, post in the forums, and submit games for review. The forums allow you to ask questions, share tips, and discuss games after you have reviewed them. Let your opinions fly !.!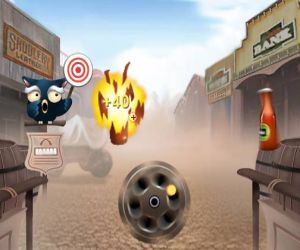 Bottle Shooter - Shoot as many bottles as you can within the time limit! Shoot with your mouse and reload with space bar.

Total Rating: 7.59
Reviews: 17
Review Archive
Post Date: 21:32 11-12-2014
Rating: 8
Author: VannaVIktor
Comment: Bottle Shooter is easy and funny game. In a magazine you have 6 bullets and when empty, youcan charge with click on 'Space'. Goal of the game is break the more bottles. In the upper right corner there is a time which limits the duration of the game. The time is a bit reverses when you hit the bottle or when the hit clock that occasionally flies. You can gaet bonus points when you shoot the target which hold an owl. Graphic is not bad. 8 from me. :)

Post Date: 21:05 27-08-2014
Rating: 9
Author: Garagos
Comment: This is great shooter game. :)
Easy and funny, love it. :)

Post Date: 07:13 17-08-2014
Rating: 8
Author: arZ
Comment: Bottle Shooter its simple game. You need to shoot as many as possible bottles. Try to shoot with one shot more then one bottle to get the highscore. After every eight shots you need to reload you gun ... funny game 8/10

Post Date: 20:15 02-07-2014
Rating: 8
Author: Ckalja99
Comment: Pretty nice game . Very simple and everyone can play it .Shoot as many bottle as you can with using only mouse. When you lose your bullets just reload using just space bar .Graphics are good and from me a nice 8 :)

Post Date: 10:36 02-06-2014
Rating: 7
Author: Aki013
Comment: This is one good arcade game where you need to shot bottles.If you shoot fish the big cat will be on your screen,if you shoot the timer you will got more time for shooting...Its very fun game,but so hard.My record is 3500.7/10

Post Date: 17:40 20-05-2014
Rating: 8
Author: doca8
Comment: Funny game , nice graphic :)

Post Date: 12:38 13-04-2014
Rating: 9
Author: savicaa
Comment: This is little arcade game , reminds me on birds shooter . Naimly this game is to get some fun when u don't have a lot of time :)
In this game u need to shoot bottles as much as you can . Your also need to full up your gun after 6 shots . Mine record is 8450 and im 1st :D
Cheers!

Post Date: 15:38 08-04-2014
Rating: 10
Author: ivekvv256
Comment: Good game becouse you have to be quick and paying much attention on the bottles. Basically "all" you have to do is shoot the bottles, but it's not as easy as it seems. You've got 6 shots and when you are out of bullets you just reload with SPACE. It takes some practice to get better in this game, but I reccomend it 10/10 :)

Post Date: 13:04 01-04-2014
Rating: 4
Author: marked
Comment: nnice game not bad

Post Date: 19:22 22-03-2014
Rating: 10
Author: Gavra10
Comment: BEST GAME !

Post Date: 19:13 02-01-2014
Rating: 3
Author: CrownKnight
Comment: this involvis western bottles so you try to shoot them all each involves 40+ points

Post Date: 13:46 06-12-2013
Rating: 7
Author: keller07
Comment: Need accuracy. This is best game for the children because they have minimum movement of their hands unlike oldies hard to focus a shot. Good game also.

Post Date: 13:43 03-11-2013
Rating: 4
Author: El Monstro De Galleta
Comment: Another old time game. Great for its day, dated now. You shoot bottles and sometimes a target. Good game to just zone out to.

Post Date: 16:45 08-10-2013
Rating: 10
Author: ufbre
Comment: Bottle Shooter is very good game.
One of the games i very like :)
you shoot and shoot Bottles for points :)
also shoot the target when it comes out :)
just aim and shoot simple and fun :)
oh ye dont shoot the chickens birds :)
rate 10

Post Date: 22:35 24-09-2013
Rating: 10
Author: Mordekaiser
Comment: Very simple but kind of hard and i recommend playing it with a mouse this is my favorite arcade game that i have played just very fun graphics are nice and controls are easy just shoot the bottles as fast as you can and your golden it takes practice to be really good though 10/10

Post Date: 04:22 28-07-2013
Rating: 6
Author: FoxWMB
Comment: A fast action paced game, involving the wild west, bottles, revolvers, kittens and Asians.

The goal of this game is to achieve the highest score possible before the time runs out, by shooting all the bottles flying across the screen as well as targets appearing from time to time.

In order to do so, the player shoots the bottles with its revolver style gun, which shoots by pressing the left mouse button, at the position mouse cursor is at the moment. Revolver has 6 shots in it and it can be reloaded by pressing the space key at any moment of the game.

To achieve the highest score, player must hit every bottle and prevent them from leaving the screen, cause when they do, they reset the worth of each hit bottle. The worth is originally 30 points, which increases by 1 point for each hit bottle, until the score is reset either by player missing a bottle or a target, or by a bottle leaving the screen. The player also earns points by hitting a target that shows up on the screen from time to time, closer the player hits to the center, more points it'll achieve. Additionally, the player can hit a clock that stops the time lose for a few seconds, and a fish, which will spawn a cat that will cover most of the screen, making the player unable to aim for several seconds. Neither the clock nor the fish gain any points when hit.

Sounds in this game are present but feel kind of weak. They are done ok, but it feels like the gunshots are just not loud enough, the bottle breaking is quite weak as well, overall, they are all good sounds, but they seem to be turned down, probably to be a bit more user friendly for younger players. The game also features a wild west themed soundtrack, also very silent.

Visually, the game has a nicely drawn wild west background and nicely done animations for shooting, reloading and pretty much anything else that moves, the game looks good, though it also feels rather small.

Overall, it's a very fast paced game, that's pretty much over in a minute, and a minute the player spends in non stop action. As such, it's quite neatly done, but the fact that it's such a small and quickly ending game makes it a quite limited game as well and therefore generally unimpressive. Still, it's not a bad game either.

Current Rating - 6 out of 10

Post Date: 04:06 25-07-2013
Rating: 8
Author: mmowiz
Comment: bottle shooter is a good shooting game where you try to bust all the bottles. you can add time buy shooting the clock. avoid the cat!