Bubble Trouble
Review Directory Intro ...
Want to know what other gamers are saying about an online game that you are interested in? Good because this is where gamers can give their opinions about different types of games such as Online RPGs, MMORPGs, Online Shooters, and Free Games.

If you don't want to leave a review, simply click on the link or the screenshot on a game's review page to go to its website.

Signing up is free and allows you to review games, post in the forums, and submit games for review. The forums allow you to ask questions, share tips, and discuss games after you have reviewed them. Let your opinions fly !.!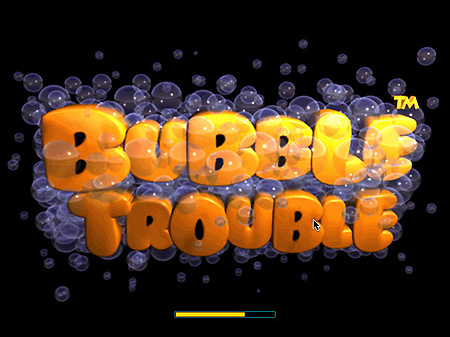 Destroy the bubbles in this Flash Arcade game.

Total Rating: 5.56
Reviews: 18
Review Archive
Post Date: 07:33 16-02-2015
Rating: 8
Author: axwellshm
Comment: Played this game way-way back. When there was no interent in our state, we used to bring our CDs and find what we like to play. Since I was with my friend this game was perfect. Rating : 8/10.

Post Date: 16:39 06-12-2014
Rating: 8
Author: VannaVIktor
Comment: Flash arcade game, classic. Destroy bubbles and get highest score. We can sort out this game, because it can be played in two-players! Cute little game. :)

Post Date: 22:15 30-10-2014
Rating: 4
Author: paksupro4
Comment: It is a arkade flash game. In game you need to destoryd bubbles . I dont think this game is something you vrly need to try but if you want go ahead. 4/10

Post Date: 09:31 03-09-2014
Rating: 7
Author: arZ
Comment: Bubble trouble is a arcade game. The point in this game is to clear the bouncing bubbles with a harpoon. After you destroy the big bubble small bubbles respawns, but dont let them touch you or you lose a life. Collect the droping extra points from bubbles. Cool game 7/10



Post Date: 13:51 20-08-2014
Rating: 5
Author: Marks
Comment: Simple game.Graphics is ok...

Post Date: 18:52 08-06-2014
Rating: 6
Author: 420Hairlyman
Comment: Simple and fun flash based game where you have to destroy all bubles in given level.Graphics are really good considering its a flash game and the sound is awesome. Game is really super fun and I have to rate it with max points!

Post Date: 22:01 10-05-2014
Rating: 6
Author: Dragan945
Comment: Good game but too hard i was lvl 7...
Simle controll but just for score playing game can be better just to add some new like shop buying new guns,glassesand other... and bubble can be better just to remove this bubbles and add new bubbles like a screen saver for windows7 ;) :D

Post Date: 20:25 10-05-2014
Rating: 3
Author: Mordekaiser
Comment: pretty cute game which is a very fun timewaster it has nice graphics great gamplay and funny characters but it gets boring 3/10

Post Date: 05:40 25-04-2013
Rating: 5
Author: FoxWMB
Comment: A very simple flash game, involving little pig-like devils fighting bubbles, sometimes even in multiplayer.

The object of the game is rather simple, obtain the highest score possible by destroying the bubbles as fast as possible. The bubbles bounce of the ground in a similar fashion to that of a ball, and player is tasked to hit them, by shooting a harpoon sort of weapon upwards. If the shot hits the bubble, it will either break into 2 smaller bubbles, or in case of it being the smallest possible bubble, destroy it. Each hit awards player some points. In some cases, bubbles will drop items out of them which when picked up award even more points to the player, and sometimes even grant the player a bonus. Upon completing a level, player gains further score for time left in the level.

The player gets a certain amount of lives to play the game, which can be lost in two ways. The first way is to get hit by a bubble, while the second way is to run out of time.

From sound point of view, the game has just a few basic sounds, mostly for throwing the harpoon, and for getting hit by a bubble. There is no music in the game, and volume of the game can be turned down.

Visually, the game looks ok, but could look better as well, the design is maybe a bit too simple for this kind of game.

The game features two game modes.
Single player - where one player tries to achieve highest score possible
Two players - where two players, with two sets of controls on one PC battle it out for who can acquire more points. In this mode, both players have a certain amount of lives and play together at the same time. If one player loses all his lives, the other one still plays as if it's a single player game till his lives are lost too. The winner is the one that has a higher score once all the lives of both players are lost.

Overall, it's a fun, but limited game, with only one thing to do in it. The addition of a 2 player mode is neat, but asides from that, nothing makes this game stand out in any way.

Current rating - 5 out of 10

Post Date: 20:06 12-02-2013
Rating: 5
Author: PolanWalker
Comment: This is a highly addictive flash game. We are playing as a little red creature which is fireing his chain to bubbles. This chaine is weapon agains all enemie bubbles :) When we hit a bubble it turns to many little bubbles. That little bubbles when we hit them become smaller and so on. When they will be very small we will be able to destroy them definitly. Game is ok for me but its nothing special. I rate this game 5/10.

Post Date: 19:06 12-10-2012
Rating: 5
Author: PolanWalker
Comment: Next bubble :D This time with troubles :d 5/10

Post Date: 19:32 27-09-2012
Rating: 5
Author: PolanWalker
Comment: Easy simple nice to play. For me ok. 5/10

Post Date: 17:17 14-11-2011
Rating: 6
Author: KuroTsuna
Comment: This game is easy to play and the graphics are okay. The gameplay of this game is good, but you won't play a second time when you see it.

Post Date: 14:39 14-11-2011
Rating: 6
Author: Thedarkboy
Comment: Simple game. Pretty boring though, if you play it for a long time. Too easy though.

Post Date: 18:25 28-04-2011
Rating: 5
Author: KuroTsuna
Comment: very boring game, but not recommend to play this.

Post Date: 16:17 12-03-2011
Rating: 4
Author: Adrian
Comment: This is okay for a time waster, a little too simple though, could use more levels.

Post Date: 23:15 07-12-2010
Rating: 6
Author: EcLuD
Comment: very simple, very easy and very boring o_O! 6/10

Post Date: 18:24 01-10-2010
Rating: 6
Author: Vocal
Comment: The game is okay.The graphics is pretty neat for its released.The co-op is great,and you have to hit the balls.Get once and your dead!It could have at least music but eh.It gets boring and as level rises,the difficult is harder.So this game is an 6/10