Burger Time
Review Directory Intro ...
Want to know what other gamers are saying about an online game that you are interested in? Good because this is where gamers can give their opinions about different types of games such as Online RPGs, MMORPGs, Online Shooters, and Free Games.

If you don't want to leave a review, simply click on the link or the screenshot on a game's review page to go to its website.

Signing up is free and allows you to review games, post in the forums, and submit games for review. The forums allow you to ask questions, share tips, and discuss games after you have reviewed them. Let your opinions fly !.!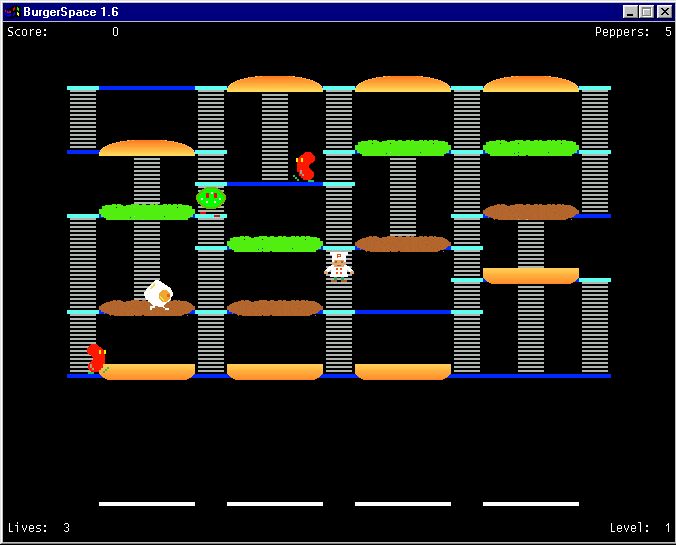 Giant snausages are after you! Thwart their evil plans by completing your burger assembly! There is no more important work than making burgers, Mr. White Smock Dude. We salute you.

Total Rating: 7.06
Reviews: 18
Review Archive
Post Date: 19:21 20-08-2014
Rating: 2
Author: Garagos
Comment: I don't like this game, I expect better game when I saw title of game, but it's not.

Post Date: 17:51 16-08-2014
Rating: 8
Author: FrendlyLeBlanc
Comment: Funny game... Grapihic is not good but we here dont watch her.. Kinda good game
8

Post Date: 07:29 16-08-2014
Rating: 5
Author: arZ
Comment: Seems like Burger Time is an easy game ... but its not.
Simple game where you need to make burgers and run from some aliens. But its really hard to make the burgers. You have a special move ... to throw pepper on the aliens. Graphic is ugly ... so I rate this game with 5/10

Post Date: 22:22 19-07-2014
Rating: 10
Author: Aki013
Comment: Very funny game,i enjoyed playing it :).10/10

Post Date: 21:58 03-07-2014
Rating: 8
Author: Ckalja99
Comment: This is very nice and solid game you need to run away from snausages . Game isn'y east but is isn't that hard . Graphics are OK and from me a nice 8 :)

Post Date: 10:41 06-06-2014
Rating: 9
Author: htsUNL1MITED
Comment: Very nice game,i enjoy playing it i recomended this gae all of you :)

Post Date: 19:41 04-06-2014
Rating: 9
Author: Aki013
Comment: Very good game ,its much fun to play it.But honestly i don't like 2D so much but this game is good .9/10

Post Date: 20:33 22-05-2014
Rating: 10
Author: doca8
Comment: Very fun game , i really enjoy playing it :)
10/10

Post Date: 13:07 28-04-2014
Rating: 10
Author: ivekvv256
Comment: A very funny game where you are trying to make the burgers, but your enemies (sausages eggs and some vegetable) is after you and trying to make you miserable. You have to make the burgers and try to kill the enemies by throwing the bread, meat or salad on them and making them die, and making your score higher. You also have to pepper to make your enemies freeze for some time. It's a nice and funny game, one of the cool arcades and really simple to play, 10/10 :)

Post Date: 07:54 08-04-2014
Rating: 7
Author: savicaa
Comment: This game is funny game what u can play in ur free time.When u dont have anything to work , u got bored cause of some other game and u just want to relax..
I think that i saw this game few times on Minigames.com and this game me reminds me on Pacman,Donkey Kong..

This is old game , classic for that time i think that this game is old about 10 years , but i think that i know for this game about 3-4 but i don't play it cause there are better modern games like LOL , SMITE , FIFA 2014 and some others :)

Few words about it , graphics are not that good cause this game is little game and don't need for good graphics , also this is an easy game , which is easy to play after 5-6 games when u get in right way , then u can go and get over everything .When u get bored , try this game , this game will back u in your children hood and u will feel like kid :)

All in everything this is nice little game but i think it's forgotten and that little number uf people play it.
cheers!

Post Date: 21:42 07-04-2014
Rating: 8
Author: ufbre
Comment: Burger Time is cool game for kids.
Just go and climb up and eat burgers :)

Post Date: 17:17 07-04-2014
Rating: 10
Author: Lolalolac
Comment: Lol i am stupid for this game :D

Post Date: 01:06 02-01-2014
Rating: 2
Author: CrownKnight
Comment: a very simple pac-man style game very fun for burgers

Post Date: 13:48 06-12-2013
Rating: 8
Author: keller07
Comment: it needs of agility and fastness of hand. You need to be concious. This is a great game when I bored playing online game.

Post Date: 15:13 09-11-2013
Rating: 2
Author: El Monstro De Galleta
Comment: This game does remind me of Donkey Kong. You climb up to the top to achieve a higher score and obtain higher levels. Graphics are poor though.

Post Date: 23:49 25-09-2013
Rating: 7
Author: Mordekaiser
Comment: A very fun game like donkey kong but with burgers and who dosent like burgers anyway the objective is to make burgers so you can get big enough to eat the peppers and egg pretty simple right 7/10

Post Date: 04:47 28-07-2013
Rating: 5
Author: FoxWMB
Comment: A very simple pacman-styled kind of game, involving food, lots of food, and then some more food. Probably designed by a chef.

The 2 goals of this game do not vary from regular arcade game goals, achieve the highest score possible and reach the furthest level possible, by bringing down the burger pieces to the tables in the bottom of the screen, while avoiding the bad guys, which are in this game, various foods that are trying to get the player, which controls the chef.

The chef moves around the game area with the arrow keys, with left and right movement being handled by the left and right arrows, while climbing the ladders up and down are handled by the up and down arrows. Additionally, the player can use the space key to fire a temporary stun pepper spray on the bad guys, of which there is a limited quantity.

Points in the game are achieved in various ways, with the main way being moving across the burger piece completely so it falls down a level, awarding points to the player. If the burger piece hits an enemy, it will eliminate it, giving the player further points, with more points gained for more enemies eliminated in single burger piece throw. Occasionally, bonus 500 points can be gained by collecting the ice cream cone that appears in middle of the game area.

From sound point of view... there is no sound point of view, this game features not a single sound.

Visually, the game is on par with MS-DOS games from the early 90s, perhaps even older, so it's really nothing special to look at and won't be appealing to anyone bar the most nostalgic of players.

Overall, it's a very old fashioned game, but not just visually, it carries over another little detail that old games used to have, while new games pretty much lost it - difficulty. It's extremely hard to pass through the levels in this game, the enemies are very hard to avoid and kill, and they do respawn immediately upon destruction. It doesn't help at all that the game area feels small, and the game itself is played rather fast. It will be an appealing game to nostalgic players or those that just like to challenge themselves extremely, the rest are likely to dislike this game, which really belongs in the past, not the present.

Current rating - 5 out of 10

Post Date: 13:18 17-07-2013
Rating: 7
Author: littlejoe
Comment: this is a very interesting game... you have to climb up and down the ladders while dodging the mad peppers that are chasing you while you try to complete all of your burgers by running over the layers. bottom bun, meat, lettuce, then the top bun. there are also bonus items like ice cream etc. that appear in the middle that you can collect for extra points. overall this is a fun and challenging game that is sure to keep your fingers moving!