Dino Run
Review Directory Intro ...
Want to know what other gamers are saying about an online game that you are interested in? Good because this is where gamers can give their opinions about different types of games such as Online RPGs, MMORPGs, Online Shooters, and Free Games.

If you don't want to leave a review, simply click on the link or the screenshot on a game's review page to go to its website.

Signing up is free and allows you to review games, post in the forums, and submit games for review. The forums allow you to ask questions, share tips, and discuss games after you have reviewed them. Let your opinions fly !.!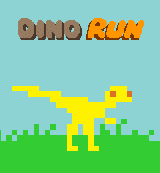 Run as fast as you can as you grab eggs, eat smaller dinos and escape extinction. Sweet game!

Total Rating: 5.83
Reviews: 18
Review Archive
Post Date: 11:41 03-05-2015
Rating: 5
Author: axwellshm
Comment: Average flash game. It's more like 2d and pretty simple. Nothing else special to say about the game. 5/10.

Post Date: 19:03 03-11-2014
Rating: 6
Author: paksupro4
Comment: This is flash runing game. You are dinosaur and you need to run as fast as you can , eat other dinos and collect some eggs .So bad graphic but gameplay is not bad .
6/10

Post Date: 18:47 07-09-2014
Rating: 3
Author: FrendlyLeBlanc
Comment: This game have bad graphic. I dont love run games because all same.
3

Post Date: 13:19 07-09-2014
Rating: 6
Author: arZ
Comment: Dino run is a flash game. The point in this game is to run as fast as possible and collect the eggs and eat smaller dinos to get the best highscore. Graphic and Sound is really bad but its a funny game. I rate it with 6/10

Post Date: 23:36 29-04-2013
Rating: 8
Author: Mordekaiser
Comment: This game is really fun really old and really classic graphics are pixel but the gameplay is super fun the objective is to out run the end of the dinos by jumping over rocks running away form hazards and winning also there is a multiplayer version if this game so you can race aswell as try to survive which makes this game very interesting i rate this an easy 8/10

Post Date: 20:59 28-04-2013
Rating: 8
Author: FoxWMB
Comment: A dramatic reenactment of events from a long time ago, turned into a flash game.

In this game, the player is put in the role of a small dinosaur, at the time world is coming to an end. However, little dinosaur was ready for this so it created a shelter, which now the player must help him reach, making the goal of the game to avoid being extinct.

The game can be played in 2 game modes, challenge and speedrun. Each mode can be played in 4 difficulty settings, easy, medium, hard and insane.

Challenge mode consists of passing through several levels to get to the shelter. The number of levels get bigger the higher the difficulty setting is, and the speed at which killer wall of doom approaches is greater at higher difficulty levels as well.

Speedrun mode is simpler, it consists of only one level which player needs to get through to get to the shelter. Speedruns difficulty level tends to influence only the speed at which the wall of doom traverses. There are 21 speedrun levels in the game, with only the first unlocked at start. All the rest need to be purchased by spending bones collected in previous plays of the game.

There are several powerups that can be picked up throughout the levels. Eggs and bones are the main ones, with eggs lying around just about everywhere, and also eggs falling from sky worth 10 eggs. Eggs are needed to gain more lives and also DNA. Bones are gathered from fossils of creatures, along with eating currently alive ones. Each 8 eaten creatures also give the player one DNA. DNA is used to upgrade dino's abilities.
It should be noted that some levels also feature hidden super eggs, which provide huge boosts to all resources

In order to control the dino, player uses the arrow keys or the WASD keys and the shift key. Arrow keys move the dino left or right and allow it to jump or duck down, while shift key enables a temporary speed boost. The game can be paused at any time by pressing the spacebar.

Dino can be upgraded with collected DNA and can upgrade 4 abilities. Speed, which is the top speed a dino can achieve while running, acceleration, jump height and strength, which determines how hard can dino push obstacles.

Bones are the currency of the game, used to unlock speedruns and purchasable downloadable content which is considered as game rewards and feature desktop wallpapers and mp3 soundtracks from the game.

Generally, the game is very fast paces, with dino having to be constantly on the run from the wall of doom, while at the same time trying to collect the eggs, find super eggs, eat critters and avoid obstacles.

From sound point of view, it does have ok sounds and not too bad soundtracks, which can be turned off at any time or downloaded if player likes them a lot. It could be better, but it's not bad either.

Visually the game is quite old styled, but done right. The graphics feel exactly like they should and it can be noticed that although focus of the game is on gameplay itself, graphics although simple, are done very correctly and contribute to the positive feel of the game.

The game also features a multiplayer version where multiple players race to get to the shelter as fast as possible.

Overall, this is a good game, an example of gameplay before everything approach, with the rest of the game built around the gameplay itself. The end result is quite likeable and may inspire players to spend a lot of time saving their little dinosaur from extinction.

Current rating - 8 out of 10

Post Date: 20:25 15-02-2013
Rating: 4
Author: PolanWalker
Comment: This production is a old school action game. In this game our hero is a dinosore. We must to run instead to by hited by asteroid. Game is very simple. We are using only two buttons to control our dino. Left and right arrow are our only hope to survive in this evil world of asteroinds and other dinos. Like I said this game is very simple and not too good. I rate this game 4/10.

Post Date: 18:03 16-10-2012
Rating: 4
Author: PolanWalker
Comment: another shity game :/ 4/10

Post Date: 23:58 06-11-2011
Rating: 10
Author: champking5
Comment: I like playing this game at school. Have running throught the land eating eggs and small animals, to escape from the giant meteor attack thats trying to kill you. Level up your dino to greater enjoy the game.

Post Date: 17:32 06-11-2011
Rating: 8
Author: Thedarkboy
Comment: I think this game is pretty weird, but it's fun. Not really good graphics though, would be better if it had better graphics.

Post Date: 16:33 06-11-2011
Rating: 9
Author: lumlehsumleh
Comment: dino run looks like it has bad graphics, boring, and featurless,, in fact, this game is very fun. this game was so good, that it expanded into many websites, and now, you can vs people online!! just go to xgenstudios.com and you can play online dino run!

Post Date: 15:21 01-07-2011
Rating: 5
Author: cooldude671
Comment: Bad game. Bad Graphics. A game for young children.

Post Date: 15:32 30-06-2011
Rating: 5
Author: KuroTsuna
Comment: boring game and bad quality. It's waste of your time to play this

Post Date: 16:14 28-06-2011
Rating: 5
Author: cooldude671
Comment: Boring game

Post Date: 13:14 28-06-2011
Rating: 5
Author: KuroTsuna
Comment: Game to waste your time.

Post Date: 02:00 11-12-2010
Rating: 4
Author: EcLuD
Comment: graphics so bad that my god, the game is more or less .. I give it try .. 4 / 10

Post Date: 04:25 07-12-2010
Rating: 5
Author: champking5
Comment: LOL i played this game before. The Grapchics were horrible. And everytime the lava came you had to run fast lol. This is a 5.

Post Date: 02:43 15-11-2010
Rating: 5
Author: Julein
Comment: difficult game that is fun for the first coeple min... crappy graphics but responsive controlls. overall average bbg