Eden Eternal
Review Directory Intro ...
Want to know what other gamers are saying about an online game that you are interested in? Good because this is where gamers can give their opinions about different types of games such as Online RPGs, MMORPGs, Online Shooters, and Free Games.

If you don't want to leave a review, simply click on the link or the screenshot on a game's review page to go to its website.

Signing up is free and allows you to review games, post in the forums, and submit games for review. The forums allow you to ask questions, share tips, and discuss games after you have reviewed them. Let your opinions fly !.!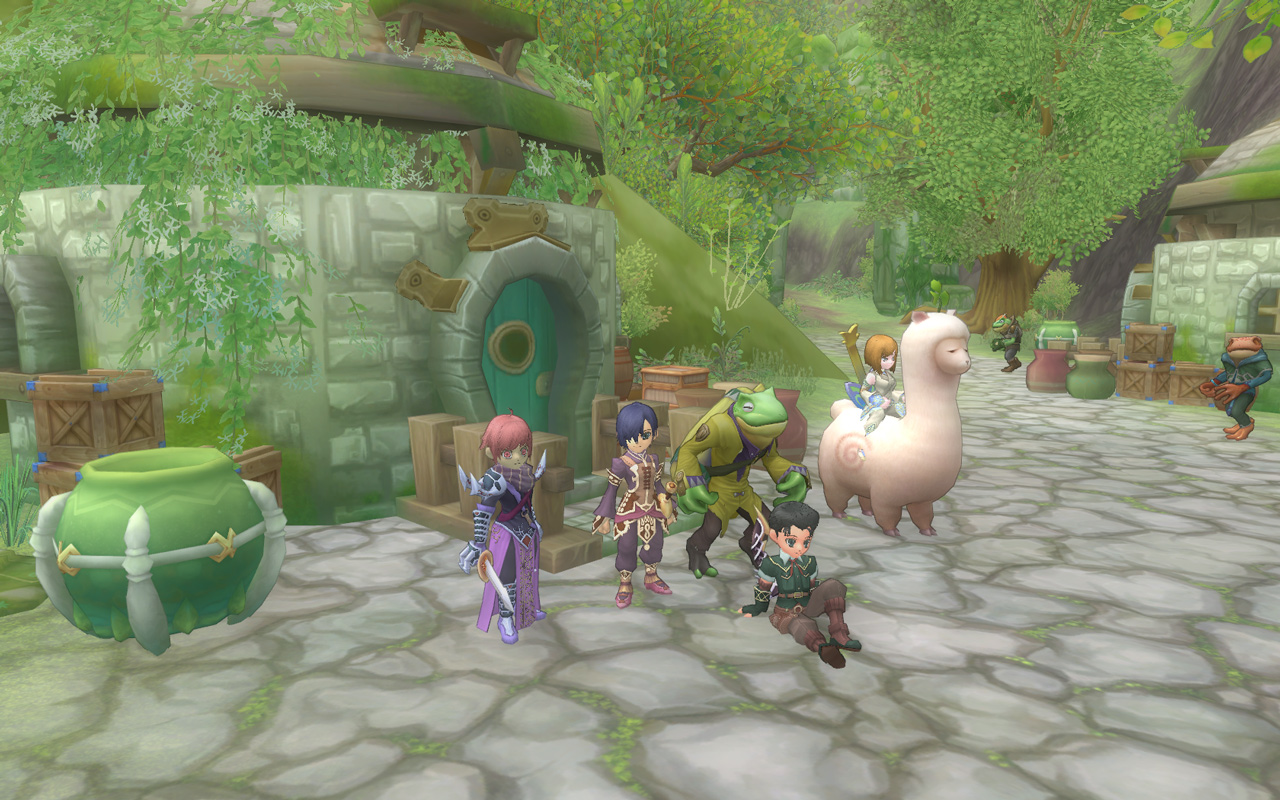 In Eden Eternal, players are not limited to one class per character. Start as a Warrior or Magician, then freely swap between classes as you unlock them. Progress through Eden and you'll discover a total of 12 playable classes, from the nimble Thief to the mystical Shaman!

Total Rating: 7.33
Reviews: 9
Review Archive
Post Date: 17:41 10-07-2015
Rating: 8
Author: LosmiK
Comment: Eden Eternal is one of the finest free to play MMORPGs I have ever played and I have tried plenty of them. I love the class system implemented in this where you are able to level every class on a single character and switch between them freely. Also, the classes are very well done with distinct differences between them - something lacking in a lot of other games in the genre. The world is lively, the graphics are charming and the gameplay is fun. However, like most free to play MMORPGs there is the usual grind to get through the higher levels but that wasn't an issue until well into the game. Also, Eden Eternal is currently lacking in end-game content but new add-ons are continually being developed so there should eventually be plenty to do. Definitely worth a try if you are in the mood for a light and fun online RPG.

Post Date: 19:17 29-03-2014
Rating: 8
Author: Peyp
Comment: First of all, swapping between classes is great new thing! But, to lvl each of the classes you need good weapons for the ones you lvl (meaning more cash spent on gear) and a lot of grinding, which takes quite a bit of time.
As you grow, you'll find a class you like the most and probably focus on it, though.

Graphics are anime-like and also quite like-able at that.
Music is also nice, and fits the atmosphere.

Doing PVP fights is quite fun, but it's a bit slow paces with all the casting.

Overall 8/10, because it innovative C:

Post Date: 18:23 13-02-2013
Rating: 10
Author: Mordekaiser
Comment: This game is great simply great graphics are nice and i love the system how you can freely change classes as you unlock them that aspect really sold me on this game and there is so meany options race traits you can be the fierce ursin or the cute little zumi or the frog type race Anuran and human they all specialize in different things it took me about 3 hours to choose all my stuff also each race of each class has a diffrent race passive with this system it makes for some really interesting gameplay i rate this game 10/10 they did everything right with this game and then some.

Post Date: 09:53 01-10-2012
Rating: 6
Author: AnimePhreak
Comment: The graphics ain't all that great. But the thought of being able to change a class depending on what your party needs is good. For me it felt like I was always stuck doing quests not being able to do what I want. Theres also the need to grind a lot and that part nobody likes.

Post Date: 02:51 11-08-2011
Rating: 8
Author: Pur3Doom
Comment: Eden Eternal, so much to say about it.

First off, the graphics. Usually i'm not attracted to the kind of graphics this game uses. This was one of the downers for me. During the Closed Beta i pretty much quit, one of the reasons being the graphics, then i returned. This game has shown me that i love these kind of graphics. Now my MMORPG world has expanded so much because i was such a picky graphics player, :). There is a limited character creation, but in this type of world, little look alike people works out great! I like how everything has a kind of cartoonish view to it, something like a child would dream up. There is not a very wide variation of monsters in the game, but the way they lay them out, it all works. It's not like they reused random mobs in random spots, each one fits the scenery that they are in.

Next up is the class system. This is quite a unique system. You have so many playable classes to choose from. I prefer the act of haveing to level up each class, class tiers, and needed levels to open new clases. This also opens up a wide variety to the game. Like being a healer and a mage? Well now there is no need for a dispute! You can have both in a single character, which i just love! This can also be a disadvantage as your character stats may play better for a different role, but it can also be a good thing. Maybe one boss is horrible against melee, so you whip out a thief, then the next boss is weak against magic, BAM! You can get out your magician and complete your task!

One of the bigger upsets for me is the clothing. As your progress through the game and level classes, it does unlock different styles of clothing, but everyone looks the same except for the idea that you can change clothng colors, but not for free. I hope that they release better clothing differentials to help customize your playing experience.

Overall, this is a great game! I hope this review has helped you decide alittle on Eden Eternal. Give it a chance, it may draw you in like it did me.

Post Date: 05:10 26-07-2011
Rating: 6
Author: Pajar
Comment: Kind of boring to me. The grind is HEAVY without much relief. Pass.

Post Date: 15:23 19-07-2011
Rating: 6
Author: jelena23
Comment: Very nice game, I enjoyed it. But, there's a small problem - you'll have to grind A LOT in order to level up your class. You don't get class EXP from quests, only from mobs. It is also recommended to play classes such as cleric and knight besides your main class cause parties often lack healers and/or tanks. It's gonna take a while until you level up all those classes though.
Graphics are cute and much better than in Kitsu Saga or Grand Fantasia.

Post Date: 00:47 12-06-2011
Rating: 7
Author: codemannix
Comment: Eden Eternal is a pretty unique MMO in certain aspects. With that said i"ll explain why. The class system on Eden Eternal is what makes it stand out, everyone starts out as a level 1 character and a level 1 warrior, the character levels represent your main level in a sense, and the class levels are for later on in game character level advancement and class advancement....All you need is one character and you can be any class you want in game, the skills are also acquired using Class points. And general skills for each class are bought with the in game currency ie; Silver,Gold. There is a total of 15 classes and each class other than warrior has to be earned... For example, for Priest class you"ll need character level 5, which is fairly easy to get. But for T3 classes like templar, warlock, shaman, blade dancer and ranger you"ll need alot of requirements.

Here i put one example for everyone :)

[Example of Warrior"s class path:

Warrior - Class requirements: Beginning Job.

Knight - Class Requirements: Level 25 Character, Level 20 Warrior.

Templar - Class Requirements: Level 60 Character,Knight Level 55, Cleric Level 55.]

Every class you earn starts back at level 1, which i find pretty cool, but then again i like grinding. So that might not be a enjoyable thing for others who hate grinding.


Overall - 7



Gameplay - 7, Quest helper, nice community, dungeons, battle break system.

Graphics 8, even on low settings it"s still a very nice looking game.

Grindfest Rating - 7 all the classes you gain later on start at level 1.

Movement Difficulty - 5, It"s really slow and hard to get the hang of but when you do it"s pretty cool.


A FEW CONS!

Item mall has items that may interfere with the game with all of its items to assist players, so anyone willing to spend enough money will pretty much have easier everything.

Each class has one costume that you can not change unless you get item mall ones... The only thing you can change is the colors of it. Hopefully after CB they add a feature where the gears for classes are able to be seen rather than just the costume!


Hope this was a good review. Eden Eternal is worth the time to play, it"s fun with friendly players and it"s not a WoW Clone in my opinion, a few features here an there that are similar but other than that, a real fun game!

- codemannix (:

Post Date: 16:10 07-06-2011
Rating: 7
Author: mmowiz
Comment: cool class system. more mmos need adaptable classes. i do not want to be stuck in a rigid class when playing a mmo. i should be able to try new abilties without have to reroll every time.