Flappy Bird
Review Directory Intro ...
Want to know what other gamers are saying about an online game that you are interested in? Good because this is where gamers can give their opinions about different types of games such as Online RPGs, MMORPGs, Online Shooters, and Free Games.

If you don't want to leave a review, simply click on the link or the screenshot on a game's review page to go to its website.

Signing up is free and allows you to review games, post in the forums, and submit games for review. The forums allow you to ask questions, share tips, and discuss games after you have reviewed them. Let your opinions fly !.!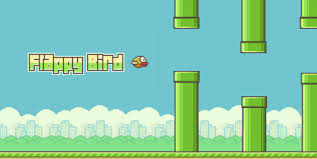 Simple yet addictively hard game where you try to fly a small bird through a series of pipes.

Total Rating: 7.81
Reviews: 32
Review Archive
Post Date: 12:04 05-08-2015
Rating: 8
Author: SulzYee
Comment: Flappy Bird, one of the famous games... for me this game was funny... Gameplay is good, graphic are not that bad but game is so funny... my rate 8/10

Post Date: 12:59 29-12-2014
Rating: 8
Author: altot
Comment: Yet another rage game. It's kinda refreshing since we don't get good "impossible type" games that often. Youtube community made it popular but I strongly believe that it would make it through even without PDP or some other guy.

Post Date: 08:20 16-12-2014
Rating: 5
Author: Ma Ja Pust To
Comment: I think this is the hardest game ever :)

Post Date: 16:49 22-09-2014
Rating: 4
Author: Matija12
Comment: I never like this game...but i saw my friends playing it...It is very popular and you can fly endlessy... My record is 4 so my rate is 4... :)
It has OK graphics and i see much of parodyes made from this game... :)

Post Date: 14:28 07-09-2014
Rating: 2
Author: Garagos
Comment: It was very popular game on pc-s and phones, but I was never liked that game.
A lot of better games you can find, then this. :)

Post Date: 19:00 15-08-2014
Rating: 9
Author: wizze69
Comment: This game....if zou have a smartphone to spere(break)play this game.My high score is 86.And what made this game so hard:
it's beacause it's so simple ....

Post Date: 09:51 10-06-2014
Rating: 9
Author: FrendlyLeBlanc
Comment: Oh i write review for legendary Flappy bird :D
This game gt popular in really short time :)
In this game you bird and you must click and go bettwen this green things :)
I think to all play this legendary game :D
My record is only 36 :(
After few days this game is deleted from Google play and cant be downloaded now
I rate this game with 9/10 :D

Post Date: 07:19 10-06-2014
Rating: 8
Author: Alekskill124
Comment: Well it seems that simple doesnt necesarrily has to be worse. Flappy Bird game is a perfect demonstration of simplenes, addictivnes and fun..
Player that try this game for the first time will either be stuned by the games minimalistic design and awesome concept, or by the games extreme difficulty.. So lets be clear, this is not a game for everyones taste. Some may play for hours trying to beat that high score but some may just get bored in less than a minute.
So frstly a bit of introduction into game. The game is so simple at first, you just have to tap on the screen and the bird will fly upwards. When you dont tap the bird will just fall. And thats it! You just have to pass throught tiny holes in walls that really remind me of older mario games.
I am in that first group. The player that lost hours to beat the games master difficulty an partially succeded.

Post Date: 22:15 28-05-2014
Rating: 3
Author: Extreme9898
Comment: This game is very simple and somebody love that smebody no.I don't like this game(iritates).

Post Date: 20:34 28-05-2014
Rating: 7
Author: NoVaZz[E]
Comment: Its a good game but it iritates and causes anger.Play it on your on safty cause at start it will be hard getting even to 5,and later you will find this game to be too hard.

Post Date: 13:32 28-05-2014
Rating: 10
Author: 420Hairlyman
Comment: Really fun and adictive game. You are controlling the little cute bird through a series of pipes. Any pipe crossed is one point in your score. The game doesnt have many options and thats why it has been so successfull. 10 out of 10.

Post Date: 07:17 01-05-2014
Rating: 9
Author: arZ
Comment: Flappy game is really fun game first ten times. After that is driving you crazy... you think you can beat 100 easy but its harder than it looks... my personal high score is 898... i was playing it about 8 or 7 minutes... after that... i was sooo mad because i didnt made it to 1000, and i stopped playing it :D

Post Date: 00:02 24-04-2014
Rating: 10
Author: nikiwild
Comment: First, my rating: 10
Multiplayer 0/10
Gameplay 0/10
Graphics 0/10
Sound 0/10

HATE, ANGER, FURY. Remember these three things when you start playing this game. And try not to use them. I will give money to man who can be calm at this game. Simply this game is really bad that is good to be played. When you once try it it will become so annoying that you wont stop playing it. When you start playing it you wont ever realize that you have played it for an hour and u thought it was 5 mins. Goal in this game is to pass as much pipes as u can. Something like ice tower. Game is pretty simple, tap the screen and u fly up, dont tap, and it falls down. Sound easy i would like to watch you. First when i started i did 0 pipes pases in line 20 times. Then its started to go well, 3-6 pipes, 8-14 pipes, 20+, 30+ and my record is 36. Cant pass it. Im not really good at this game. Sound in this game is pretty irritating, it has 2 sounds, when u tap the screen and when u pass a pipe. It would be cool if there is some kinda easy music going on while you are flying with the bird. And i forgot to mention that this bird look more like duck. Graphic i pretty much awfull. Something like mario. People didnt want to make this game to look good, they made it to be accdictive game. On facebook there are many games similar to this, flappy fish, flappy flight, flappy teemo, and many more. They are trying to make profit of this game, by making new flying fishes, changing the background image, changing the pipe colours, they are paying all of those stuff, you can even upgrade your bird, so she can have better flying skills. Now you have read all of this stuff and wondering why am i still playing this game? Well will tell you. When im in school, and im really bored with the classteacher, i hide under the bench and start playing the game. The 1 hour class becomes a 5 mins class. Sometimes it has really got 5 mins, they kicked me out from class i was too loud. This game is good to compete with friends too, for example you can make a tournament, or you can make bets, who will fly the fish more in the next round, and many more things you can come up too. The best is that the game is totaly free. The only thing you can pay and that is if u want are the characters and the background, as i mentioned above. So this was my review of this game, i found it pretty interesting, and fun. But remember, the game is pretty much much addictive, and annoying, and irritating dont play it for a long time. I have seen people crushing their phones because of this game.


Post Date: 02:04 06-04-2014
Rating: 9
Author: cemex
Comment: funny game but so addicted, my highscore is 25 :D

Post Date: 11:57 01-04-2014
Rating: 10
Author: savicaa
Comment: For this is great game , im playing it when she came up :)
My highscore is 562 :)
But im sad cause i will buy a new phone and i wont be able to download it again :/

Post Date: 13:35 28-03-2014
Rating: 6
Author: Num32wad
Comment: Flappy bird isnt actuarly that bad its adictive but not bad

Post Date: 13:29 28-03-2014
Rating: 2
Author: Chavo Ledeni
Comment: I dont like this game >.

Post Date: 12:41 28-03-2014
Rating: 1
Author: ivekvv256
Comment: This is a good game if you play it in normal times (so 24 hours per day is enough). It's so addcitive game that I broke my phone's glass... Oh yea my highscore is 6 :)

Post Date: 13:59 27-03-2014
Rating: 10
Author: kapiger122
Comment: Its new game in android market u can get it for free. This game will make u feal sick. its not boring infact its fun to play. Btw My high scoure is 69 low :D

Post Date: 22:51 26-03-2014
Rating: 10
Author: markustb
Comment: Nice game :D

Post Date: 13:50 26-03-2014
Rating: 8
Author: Nikolac234
Comment: I almost broke my phone while playing this. It's a funny game I got mad a bit but my score is near 300. :D

Post Date: 11:15 26-03-2014
Rating: 10
Author: Vo0jin
Comment: Best game ever for me. It is really interesting and anoyying sometimes. My high score is about 300 and my friends are impressed. lol

Post Date: 13:55 25-03-2014
Rating: 7
Author: LuffexKze
Comment: This game is really fun if you want to destroy your phone or friend :D.I really hate to play it but sometimes i make good scores,and than,when i make good scores,this game is fun to me :)

Post Date: 12:30 25-03-2014
Rating: 10
Author: L0LChampz
Comment: Lol, wanted to break my phone XD
The reason it is fun is because it is really hard and you just want to play more to get a better score XD
Love the game :) If you get mad fast then don't install this game... I am serious :p

Post Date: 16:28 24-03-2014
Rating: 10
Author: Dayren
Comment: nice game :D

Post Date: 08:53 24-03-2014
Rating: 10
Author: Gavra10
Comment: Funny game .. the best for now


Post Date: 13:22 23-03-2014
Rating: 10
Author: Gandarlion
Comment: fun game :D :D

Post Date: 21:56 22-03-2014
Rating: 10
Author: LosmiK
Comment: funny game :)

Post Date: 14:53 07-02-2014
Rating: 8
Author: Thedarkboy
Comment: Flappy Bird is simply bad. It's that bad that it even becomes good. Because in the game itself can drive you insane, but can keep you playing it for a long time, in order to achieve a goal that you have set. It's very simple and irritating, but at the same time, it can be incredibly fun.

In Flappy Bird the rules are simple. It's kind of like Helicopter. You tap the screen to fly up a little, and releases to fall down. That's about all you have to know to play the game. The purpose of the game is to avoid the pipes that come in your way, in order to get the highest score that you can. The game never ends, it continues until you crash and you'll have to start all over.

I'd have to say that in the beginning, the game was incredibly hard. I couldn't even pass five pipes, but the more you play, the more used you get to the game, and the better you become. I've seen many people quit the game early, just because they can't get a high score. You can't give up easily on this game though, you'll have to try and try, until you become better. Although some people might be good instantly when they start the game. I guess it depends on the player.

The main reason that I like the game is probably because it's fun to compete against your friends who got the highest score. The game becomes repetitive quite fast though, as all you do is the same. You tap, tap and tap again while avoiding the pipes. The difficulty never increases, but it's the same all the time. The game is more about concentration, because if you tap too much, too fast or too late, you lose. It's nothing more than that, and might sound simple, but it's definitely not.

There are not very many sounds in the game. When you tap, you can hear that the bird flaps and when you pass a pipe, is beeps. But honestly I think that the sounds of the game can be quite annoying and I always turn it off when I'm playing the game. Even though it's a mobile game, I think that they should have added more sounds, like background music or something like that.

Graphics isn't something to cheer for either. It's simplistic and doesn't look advanced at all. It's nothing that you will think of, when you are playing the game though. You will just concentrate to get a high score, so the graphics might not matter. Backgrounds are about the same all the time, except that it changes from night to day. The bird also changes colors from round to round (at least on Android).

Overall, Flappy Bird might be an irritating game that you might quit playing instantly, but it doesn't change the fact that in can become addictive once you have gotten the hang of it. It can become quite boring when you've played the game for a long time, but it's fun to compete against friends. The best about it, is that it's free too!

Post Date: 22:48 06-02-2014
Rating: 10
Author: mmowiz
Comment: flappy bird is simple gaming at its finest! you can play in a sec but it becomes addictive.I have played many times without getting into double digits :(

Post Date: 01:17 06-02-2014
Rating: 10
Author: CrownKnight
Comment: fun game where you try to let bird fly through the pipes

Post Date: 20:52 05-02-2014
Rating: 7
Author: Mordekaiser
Comment: Fun little game where you fly a cute bird around like mario but you are a bird and you flying :D