Grand Theft Auto V
Review Directory Intro ...
Want to know what other gamers are saying about an online game that you are interested in? Good because this is where gamers can give their opinions about different types of games such as Online RPGs, MMORPGs, Online Shooters, and Free Games.

If you don't want to leave a review, simply click on the link or the screenshot on a game's review page to go to its website.

Signing up is free and allows you to review games, post in the forums, and submit games for review. The forums allow you to ask questions, share tips, and discuss games after you have reviewed them. Let your opinions fly !.!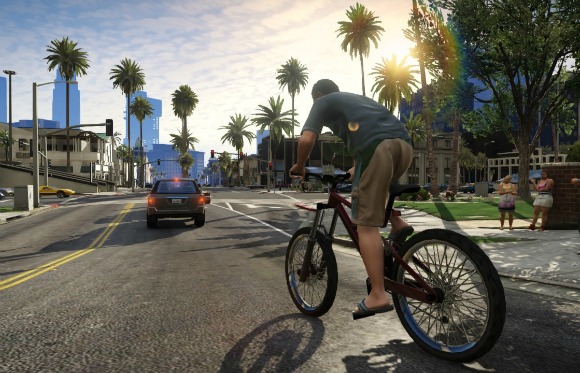 The biggest, most dynamic and most diverse open world ever created, Grand Theft Auto V blends storytelling and gameplay in new ways as players repeatedly jump in and out of the lives of the game's three lead characters, playing all sides of the game's interwoven story.

Total Rating: 9.27
Reviews: 11
Review Archive
Post Date: 13:41 24-06-2014
Rating: 9
Author: Vrcinac
Comment: what is there to comment here? gta series has no flaw its always fun to play it 9/10

Post Date: 10:03 21-04-2014
Rating: 10
Author: nikiwild
Comment: First, my rating: 10
Multiplaer 10 / 10
Gameplay 10 / 10
Graphics 10 / 10
Sound 10 / 10

Game is simpli rocking out of head. Best gameplay, best graphics, best sound, i dont know what is better. In gta 5 you lead 3 characters. The world is really big and you can walk, run, jump, drive, ride, fly, where ever you want, there are several cityes. Missions you do you dont do alone, you are leading 3 characters at once, you can example walk and rob a bank with 3 at once or you can go in with 2 and one stays out to be a guard or sometinhg like that, and tha best thing is that you control them and tell them what to do. I dont know if u can play multyplayer but i will look around and tell you. This game is pretty much requesting, you need to have a good pc for this game, with good performance. Like every gta game, you start easy missions, do that go there and these kinda things, then there are missions, kill him, rob this. It is a pretty hard game i can tell you. In beggining is really easy but as you step depper in game its gonna be rally hard.

Post Date: 09:17 15-04-2014
Rating: 10
Author: Jezic
Comment: I love to play this game on the PS4. This game is fantastic and has good graphics .. :)

Post Date: 19:42 09-04-2014
Rating: 8
Author: BorisBox
Comment: The game is epic by itself. The PhyisX of the game are incredible. Im enjoying playing it on PS4 for a long time since release already, but i really really can't wait till the PC Version comes out, because it will have better graphics and even better PhyisX :)

Post Date: 19:37 07-04-2014
Rating: 10
Author: savicaa
Comment: What we can say about game?
Im not playing this game constantly but i played it a few time on xBox in my friend house :)
First think was about , how is the graphics this good?
This is more personality game , cause u got caracter on start and then u make ur life in GTA V as u want :)
For me the most fun moment in GTA games are killing people on the streat and fast driving through town , but when i get bored by that i go and im doing misions :)
I played GTA since , GTA Vice City , GTA Serbia version and some more , but i can't remember their name now :)
This is the game where u can do what ever u want in every time of playing , there are no rules , u are on the streat , doing what u want , when u shoot someone u are fighting for ur life , getting money , doing some buissines and fast driving ofc :)

Someone who likes games where u can do what u want , should definetely try this game :)
For the end i will say this is 1 of the best i have ever played on xBox :)

Post Date: 16:49 07-04-2014
Rating: 5
Author: bos4kCRO
Comment: This game is just great! Look graphics INSANE! Details just great.. i play this game on xBox and i am impressed! can't wait relase for PC!!! :)

Post Date: 15:16 29-03-2014
Rating: 10
Author: denisdeni000
Comment: i play this game ad this game is fantastic. Best game for me

Post Date: 15:53 28-03-2014
Rating: 10
Author: Jonyka
Comment: This game unbeliveable good,rly insane graphics,missions,details,everything...

Post Date: 02:43 06-12-2013
Rating: 10
Author: keller07
Comment: It is the best game I eveq play. From GTA Vice City up to GTA V. Wow. It have a great graphics. New improvements to the weapons. New place and it is the best game I ever played.

Post Date: 16:19 29-11-2013
Rating: 10
Author: Thedarkboy
Comment: Grand Theft Auto V is Rockstar Games latest released game in the incredibly popular in the GTA series. It was released 17th September in 2013 for Xbox 360 and Playstation 3 and will also be released for the PC sometime in 2014. Instantly after its release, it became very popular and got a new sales record. I, myself, have just gotten the game and have played a couple of hours of the game, and is quite pleased with the game so far.

If you have played any Grand Theft Auto game before, you probably know that it's not exactly a game for kids. It have some matured scenes and actions in it such as stip clubs, prostitutes and violence. Grand Theft Auto V is following that trend. But if you compare GTA V to GTA IV, there's a difference between the matured scenes. In GTA IV, you never saw someone completely naked. Although in GTA V you can see that Rockstar have made the game more matured. In the strip clubs, you can fully see the strippers bare upper body (Yes, I've seen it myself.). I'm not exactly sure if this was a smart move by Rockstar. Many of the players probably likes it, but there are probably kids that have bought GTA V for fun too. GTA V is probably not a game for you if you don't want any nudity and you are probably better of playing the earlier games in the series otherwise, if you still want to play a game in the series.

So far, I've gotten about 20% into the main campaign but I still haven't tried GTA Online yet. The cars have been updated a lot since GTA IV. The car physics have been worked on as well, since there were many people that were whining about that the cars were too wobbly and heavy in GTA IV. Personally I really liked it in GTA IV, but I still prefer how it is like in GTA V. Los Santos is full of vehicles (many more than we have ever before seen in the GTA), and it is a pure delight to tune around, especially in the faster car models that you can find. I've already seen incredibly many of them the vehicles in the game and yet I still think there are many that I have yet to spot.

Graphically, I think it's hard to not to be awfully impressed. It's clear that Rockstar Games have gotten used to be working with games for the Xbox 360 and Playstation 3 and that they have learned a lot from making GTA IV, Midnight Club, Red Dead Redemption and Max Payne 3. There's no doubt that Grand Theft Auto V is their absolute best looking game they have made so far. I can't even imagine how their games would look like in a couple of years.

When it comes to the actual story of the campaign, I have no desire to spoil anything to the people that are still waiting to try GTA V. But as usual, Rockstar offers a rare accurate satire on Los Angeles and the U.S. anno 2013 including everything Facebook (now renamed "Life Invader"), Iphones, soap stars, snotty film directors, eccentric millionaires and corrupt government people's names. The story and the game's dialogue is, as usual full of curses with lovely dot secure pop culture references, waving to other games, and glances back toward the GTA series longstanding history.Financial crisis, excessive capitalism, social relevance, stock market manipulation, social media, storage of personal information, religious beliefs and the legalization of marijuana are some of the topics addressed during the 35+ hour adventure. There is of course no sense to do anything else than to applaud Rockstar for daring to go where few other developers even dare to look and it shows once again that the studio has an almost rudly accurate ability to put your finger on the pulse of the contemporary that we live in today.

It's a bit hard to come up with negative parts about the game. But if I have to be pointy, I believe that Rockstar should have placed the game's checkpoints a little smarter and a little tighter so that you won't have to restart longer parts of some missions. It can be very frustrating when you suddenly die, and have to restart almost the whole mission, but it's not something that decreses my view on Grand Theft Auto V.

To finish this, and to get back to Los Santos, I would, as you notice, advise you to play this game. For it is not only just good as we all hoped for: it is the best Grand Theft Auto game yet and a style study of ambitious game design, smart structure and perfect dynamics. Many of us are looking ahead for the next generation and longs for the Playstations 4 or Xbox One to get into your home, if you haven't already got one. But with Grand Theft Auto 5, Rockstar has proven that "next gen" does not necessarily mean new consoles because this game shows us where the games are headed. It shows us what games that entertain really can be.

Post Date: 19:39 27-10-2013
Rating: 10
Author: mmowiz
Comment: the best game i have ever played! highly addictive and much better than all the previous gta games. 10/10 for this new classic.