Learn To Fly
Review Directory Intro ...
Want to know what other gamers are saying about an online game that you are interested in? Good because this is where gamers can give their opinions about different types of games such as Online RPGs, MMORPGs, Online Shooters, and Free Games.

If you don't want to leave a review, simply click on the link or the screenshot on a game's review page to go to its website.

Signing up is free and allows you to review games, post in the forums, and submit games for review. The forums allow you to ask questions, share tips, and discuss games after you have reviewed them. Let your opinions fly !.!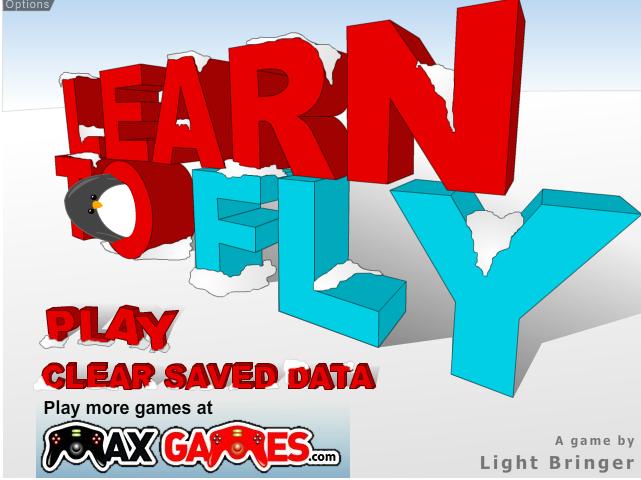 A game about a penguin who wants to learn how to fly. Over the course of many days, you purchase items to help you fly, until the end, when you learn to fly!

Total Rating: 7.18
Reviews: 17
Review Archive
Post Date: 19:19 10-11-2014
Rating: 8
Author: paksupro4
Comment: This is nice flash flying game . You are penguin who wants to fly . You can upgrade some yours ability and stuff ,
its nice game.
8/10

Post Date: 08:29 14-09-2014
Rating: 7
Author: arZ
Comment: Learn To Fly ... you are controlling simple with left and arrow a penguin and you need to learn the penguin to fly. Every level you get some bonus points and you can upgrade the abilities. Rly interesting game but you need to play it little bit longer to enjoy it ... at the begin its little bit boring 7/10

Post Date: 18:54 11-06-2014
Rating: 2
Author: FrendlyLeBlanc
Comment: Boring game and dont need to be played... Nothing special....
Just penguinwho jump and every level same...
2/10...

Post Date: 17:14 11-06-2014
Rating: 2
Author: 420Hairlyman
Comment: A bit boring and monotonus game.Every level is basically the same, you have to adjust your penguin to jump off the ramp as fastest and at best angle you can. Its really nothing special and games like this are a bit overrated.

Post Date: 21:33 22-02-2013
Rating: 4
Author: PolanWalker
Comment: This production is a free pinguin jump simulatior game. Whole game is based on one thing. We need to learn our birdy to fly. We will need to upgrade our skills before we really start flying. Game have poor graphics and sound. For me this is not too good game and I dont recommande it. I think this is no way to spend free time. I rate this game 4/10.

Post Date: 15:29 06-02-2013
Rating: 10
Author: Mordekaiser
Comment: This game is great one of the best flash games of all time graphics are great what you have to do is in the description A game about a penguin who wants to learn how to fly Over the course of many days you purchase items to help you fly until the end when you learn to fly there are lots of fun upgrades when u have em all completing the game is a easy task i rate this game 10/10 for being a original and unique flash game


Post Date: 20:07 26-10-2012
Rating: 7
Author: PolanWalker
Comment: Very nice and something new :D 7/10

Post Date: 08:12 10-11-2011
Rating: 9
Author: Thedarkboy
Comment: This game is awesome. Not the best game though, but one of the best. It's pretty funny. Pretty weird gameplay though.

Post Date: 03:52 10-11-2011
Rating: 10
Author: champking5
Comment: This game provides you to help the penguin learn how to fly. THe more points your recieve in the game, the more you can help aid in helping the penguin fly in the game. Gameplay is very exciting also. Have fun teaching your penguin the ropes of flying!

Post Date: 01:56 09-11-2011
Rating: 10
Author: raybaeck
Comment: Learn how to fly is one of my favourite flash games. it starts off slow in the begining and you make very little progress cause you do not have any attachments. but as you go furthur on into the game, it becomes a challenge to pass a certain distance, or to go high to a certain altitude. they recently released Learn how to fly 2. if you enjoyed the first one, you should definitly try the second one :)

Post Date: 20:05 28-06-2011
Rating: 9
Author: gokiguy
Comment: You play as a penguin who looked himself up on Kiwipedia and took the whole "flightless bird" comment as an insult. So he decides that he's going to learn to fly. It would be easy to think that Learn to Fly another "fly to the right, get as far as you can" game. The longevity is short, because once you've got your flight technique figured out, there's really not that much more to do. Which is where the upgrades enter the picture. See, while your starting penguin can only hope to bounce off the water in imitation of those other flying games, as soon as you pick up a glider, the strategy flips completely: Suddenly, hitting the water is a bad idea, because while it bounces you upwards, it also drains a big chunk of your speed. With all of the ways you can upgrade your penguin, you'll be adjusting your strategy continuously as you go along. The fun doesn't even end when you finish the game, either. If you click Continue, you'll be able to keep flying, buy any remaining upgrades, and see how far you can get. As I suggested earlier, though, you will quickly hit a wall where you can't do significantly better, no matter how well you finesse your penguin. If, on the other hand, you select Back to Menu or refresh the page, you will be able to play again from the beginning, to lower the amount of days you took to reach the end.

Post Date: 16:48 06-04-2011
Rating: 9
Author: Adrian
Comment: Best flash game ever lol. I would play it on kongregate for all the achievements. It could use more upgrades though.

Post Date: 01:42 11-12-2010
Rating: 6
Author: EcLuD
Comment: I did not understand lol I can not find meaning to the game very boring to me 6/10

Post Date: 00:26 01-12-2010
Rating: 10
Author: Ichigohollowfied
Comment: epicness >.> get all achievements on kongregate!? yesh! I love this game :D go penguin! go go go!


Post Date: 23:31 18-10-2010
Rating: 6
Author: Julein
Comment: gameplay is simple. average customization. i liked for a bit.

Post Date: 00:44 27-09-2010
Rating: 6
Author: RandomZ
Comment: Gameplay wise, it's nothing much to look forward too. Fun part is the customization and the upgrades you can give the penguin. But in the end, you'll just have a uber equipped penguin who can fly. 6 from me

Post Date: 16:26 06-09-2010
Rating: 7
Author: anymotion
Comment: A really fun game, but the only downside is that it gets boring after a while. I really like the different boosts, and the different levels that it has. Overall I would give it a 7/10, just because it gets too repetitive.