Odyssey Classic
Review Directory Intro ...
Want to know what other gamers are saying about an online game that you are interested in? Good because this is where gamers can give their opinions about different types of games such as Online RPGs, MMORPGs, Online Shooters, and Free Games.

If you don't want to leave a review, simply click on the link or the screenshot on a game's review page to go to its website.

Signing up is free and allows you to review games, post in the forums, and submit games for review. The forums allow you to ask questions, share tips, and discuss games after you have reviewed them. Let your opinions fly !.!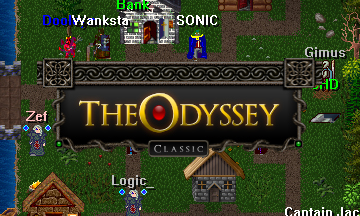 "The Most Strangely Addictive Game Ever". Odyssey Classic Online is ran by Code Mallet, best known for BATTLECITY (\nbattlecity.looble.com/) and Spark (www.spark-hq.net/). It is a 2d top-view online RPG that is set within a mid-evil setting. There are several player classes available and is both PvP and quest based. "The Odyssey Engine" is the sole inspiration for many other games such as the original "Mirage Online", which ultimately transformed the ease of Online RPG creation with the Playerworlds program.

Total Rating: 9.00
Reviews: 19
Review Archive
Post Date: 00:44 23-04-2011
Rating: 4
Author: Webber
Comment: Odyssey is solely for players who craves deep game experiences at the expense of graphics. I am not a fan of remakes of ancient games that I never heard of in the first place!

Post Date: 03:34 04-03-2011
Rating: 8
Author: sasuke24
Comment: This is a really old MMORPG. Though the gameplay is really enjoying and the PVP system is fine.

Post Date: 13:27 21-11-2010
Rating: 2
Author: smithwheel
Comment: First I would like to state that in the description of Odyssey Classic that it is not "mid-evil" it"s "medieval".

The game itself is a 2-d non scrolling map. It"s just like the million of indy games that seem absolutely unoriginal. Most of the graphics and midis are stolen from cheap imitations upon more cheap imitations.

The community is a small knit of 14 year-olds that swear and harass anyone new. The pvp system makes you want to vomit in your mouth. The mapping looks like it was done by some junior high kid wanting to make their own mmorpg, but failed on so many levels.

Don"t take my word for it. Check out their forums. Try the game for one day. You will quit, unless you"re a 14 year old who has not hit puberty and loves to talk crap cause you "purchased" the best equipment from the developers. Which you can do....

2/10

Nothing original.


Post Date: 06:59 31-10-2010
Rating: 10
Author: Traz
Comment: This game is one of very few simple RPGs left! 10/10 it's original and it is its own engine, designed by gamers for gamers! The graphics are perfect old school graphics and the game play is smooth and enjoyable. You can also just chill and chat if you want to, anyone is welcome!

Post Date: 14:49 30-10-2010
Rating: 10
Author: ilovecereal
Comment: Oh damn! This game! Bring back alot of memories, and only thing I can remember was, THIS GAME IS AMAZING! i love that minigame called tof where it's like an obsticle coarse, if they still have that, oh and trying to run that hard quest glacial, those were the days, 10/10

Post Date: 16:11 29-10-2010
Rating: 10
Author: goofidge
Comment: Has anyone ever been bored with game such as Runescape and World of Warcraft because of all the repitivity? Well I have, and I started playing, what in my eyes is the best game ever, Odyssey Classic. I love the 2D graphics and Midi Music, it just works so well. The controls are perfect and the only problem I've ever had on the game is...NOTHING! Perfect, 10/10

Post Date: 15:40 28-10-2010
Rating: 10
Author: DoctorOctagonapussOwns_
Comment: This is the best game of life I love to pk and quest in it plus the mini games like tof, too bad I'm at schoool :( I'd play right now! I'm so addicted! People say drugs are addicting, well I'd say this is way more addicting! Try this out!

Post Date: 16:24 26-10-2010
Rating: 10
Author: iSTEELurPASSWorD
Comment: ROFL!!! I remember this game I use to play it! it's definatly way better than that WoW Runescape ect crap. I'm definatly starting to play again it's so addicting, when I was 10 I actually remember my mom PRYING me from the keyboard because I love it so much, well anyways, see you on Ody and remember iSTEELurPASSWorD!!!!


Post Date: 16:20 25-10-2010
Rating: 10
Author: EyeEetCatFod
Comment: ive seen many people play this game over the year saying "ooo teh graphicz r suxor & dat meenz teh game SUX" well that's definatly not the case, Odyssey Classic is so fun and Odyssey would not be Odyssey if it was in 3D..it would be really stupid actually, so don't dissapoint me, try out Odyssey Classic

Post Date: 16:31 22-10-2010
Rating: 10
Author: Rawr T-Rex
Comment: I love this game from the 2d graphics to the awesome midi music, hell they even have a mario song in there! It's awesome! Great store prices, pk and questing, this game never gets old! I want to play it forever!

Post Date: 15:56 21-10-2010
Rating: 10
Author: TDOGmgeE
Comment: I don't play that many online games but if I EVER get the chance, you'll see me on Odyssey Classic; the best game in the WORLD! The simplicity is what makes the game awesome but when you start to PK or get into some PvP it gets really intense and takes real skill, anyways try this game out. 10/10 -TDOGmgeE

Post Date: 20:56 20-10-2010
Rating: 10
Author: Darkrune
Comment: This game is fun, addicting and a good thing to play to pass time! I can't get enough of this game! The community is helpful and the staff members are also helpful, loads of stuff to do and they are adding more and more!

Post Date: 19:13 19-10-2010
Rating: 9
Author: PerfectionGirl
Comment: I'm extremely happy I stumbled across this game in the give-away area. At first, I wasn't sure if I would be into this game but I had nothing to do since I had the day off class. It may have helped that I'm a female; however, I found it's simplicity to be a relief. It kind of reminds me of a dumbed down Diablo 2 or a closer knitted community version of Runescape. I mean those in positive ways. Right away you learn everything you need to know about the gameplay. A lot of the early locations are mapped out with overhead text, which helped. Leveling is a little goofy at times because as I understand it they are attempting to make it quest and task based leveling more-so than grind leveling, but to each their own. TheZeus helped me out at the start and let me know some of the quicker way to do things. The economy is player controlled. You will be overwhelmed at first by hearing people say "Buying X item for 1 million" but after doing a few quests you realize that as long as you quest it isn't hard at all. I played as a Mage, which instantly makes you able to help out in PvP action in an area they call "South of Crendale", which is kind of a free for all area right outside town. It's fun to stand there and wait for someone in a guild battle with un-even numbers to run there for unguilded backup. Anyways, all in all its a great experience and I'm very happy that I learned about it. I strongly recommend this for anyone who doesn't mind reduced graphics but increased overall entertainment.

Post Date: 15:57 19-10-2010
Rating: 10
Author: Tha13333337Haxor
Comment: I'd have to say that this is THE BEST GAME IN THE WORLD! IT'S JUST PERFECT! Fun quests, PvP and more! You get to play with your friends, create guilds. play minigames, this game is perfect

Post Date: 05:05 18-10-2010
Rating: 8
Author: Iwador
Comment: Good game 8/10 in my book! Fun to play, community is a little harsh but they are getting smacked on lately. Come drop by!

Post Date: 21:54 14-10-2010
Rating: 10
Author: MadHatter
Comment: I started playing Odyssey around 2004. Ever since then I loved the game. No other game can compare to Odyssey, I have tried other RPG's they are not as fun because they are based on the same concepts. In odyssey you never know what is going to happen. I rated this game 10/10 because In this game you are always off your seat not knowing what is going to happen next. I would recommend this game to anyone.

Post Date: 02:26 14-10-2010
Rating: 10
Author: ThomasRuttan
Comment: I have played The Odyssey Online Classic since about early 2008 and have had about 3 main accounts; Nakey_, Bloodythief, and NewWindow. I have NewWindow right now and whenever I get the chance, I am on him. It may sound corny but Odyssey has been a big part of my childhood. It's kind of been like a father to me :). I love the simplicity of 2D although, it takes real skill to get good in PvP, anyways, enjoy!

Post Date: 20:48 13-10-2010
Rating: 10
Author: DomStay
Comment: I been playing this game since 2006 and still don't get bored of it. WHY? Because you have a lot of things to do like pk'ing, skilling, questing or just chillin' I also like it because you gotta use your real abilities to can fight to others. So join it :)

Post Date: 20:14 12-10-2010
Rating: 10
Author: TheZeus
Comment: I have played Odyssey Classic for over 12 years, since it was in original Beta. This is by far the most addicting game you've ever played. Players that have played it for as long as I have regularly get angry at some of the smaller issues, but always go back to it. This is the digital form of crack. It's simple, yet amazing. It's the little game that will never die. I highly recommend this for any 2d MORPG fans.