Ogre RPG
Review Directory Intro ...
Want to know what other gamers are saying about an online game that you are interested in? Good because this is where gamers can give their opinions about different types of games such as Online RPGs, MMORPGs, Online Shooters, and Free Games.

If you don't want to leave a review, simply click on the link or the screenshot on a game's review page to go to its website.

Signing up is free and allows you to review games, post in the forums, and submit games for review. The forums allow you to ask questions, share tips, and discuss games after you have reviewed them. Let your opinions fly !.!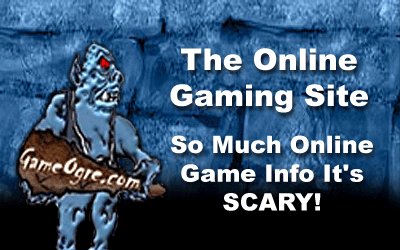 Monster creating RPG also known as Forumon that can be found on GameOgre's forum.

Total Rating: 3.31
Reviews: 13
Review Archive
Post Date: 19:57 16-02-2015
Rating: 1
Author: ivekvv256
Comment: Well if I could rate it more I would, but this just isn't a game that is playable, nor that is good at this point... I can just rate it 1/10

Post Date: 10:26 15-02-2015
Rating: 2
Author: axwellshm
Comment: Dunno what this game is about ... for real like you create monster and you need like 1h to figure out how to do something with your character. Rating 3/10.

Post Date: 08:52 25-12-2014
Rating: 3
Author: arZ
Comment: This game could be one cool game but there is still much work to do to be a game. Bad graphic and weird gameplay.
I create a monster but I cant do anything with it. I rate this game with the rating 3, because of the idea ... but it would be 1.

Post Date: 20:56 05-02-2014
Rating: 3
Author: Mordekaiser
Comment: A pretty weird game i cant say i liked it at all the graphics were bad and it never got completed so it was stuck in a very sorry state for a long time and this affected my opinion of the game greatly

Post Date: 03:09 18-07-2013
Rating: 5
Author: Rantzr
Comment: I love the idea of the game, but as the others stated the game is currently unplayable to a point. You can create your own monster and look at the map but that is about it.

Post Date: 18:08 15-07-2013
Rating: 3
Author: littlejoe
Comment: this game has potential if somebody would put more work into it

Post Date: 21:50 10-07-2013
Rating: 5
Author: ufbre
Comment: this could be a very good game bat it needs to be fix its broken not working!
i have made my monster and i can not go anyvhere!

Post Date: 20:24 10-07-2013
Rating: 5
Author: Joker
Comment: It is more about what could be than what is. It would be cool if you can make you own mosters to fight other GO members!

Post Date: 01:34 01-07-2013
Rating: 3
Author: Hawx1990SRBIJA
Comment: Beside its unplayable game, at least at the moment, there is more problems, like color picking and lack of information and guidance. But customising your monster is big +.

Post Date: 21:16 30-06-2013
Rating: 6
Author: Webber
Comment: Ogre RPG needs a lot of work. I think we the right features it can be very fun. It would especially if it was tied into other GO games.

Post Date: 14:46 28-06-2013
Rating: 5
Author: mmowiz
Comment: the game needs to be fixed. i played it before it had this problems but a few other go members were in charge of it. ogre needs to get it working again and add to it

Post Date: 11:43 28-06-2013
Rating: 1
Author: Thedarkboy
Comment: Ogre RPG, also called Forumon could be a decent game, but in its current state it is bad to be honest. There are many things that doesn't work in this game.

In the game, the player raise your own monster. You train it through fighting other monsters in various places. There are 6 creatures that you can choose between. Ograur, Blagus, Drakling, Auti, Adam Apple and Eagle Hominiod. Each creature have its own stats, and when you choose the creature you want to train, you get to choose freely how you want it to look like. The choices are restricted though, since you can only choose between 5 parts for each body part. You can also select the color you want the body parts to be.

When you are done with your creature, you get to the main menu, where you can see your monster, see what lvl it is and its stats. There you can choose to either heal your monster (apparently not working since it just go to the profile when I press it), go to the profile (main menu) and to the world map. So the currently only one of these choices that are that useful is the world map.

The world map looks fine. It's a map over several islands, that are named with its own names. In the map you can go to various places where you hunt other monsters to train your own monster. The problem is that there is only 3 available places to go to, which is a very small number. Would have been a lot better if there were more choices to choose between. The places you can go to is to a town, a cave, and a city. I think that the names for the places, except for cave, is a weird choice to use. Because in the town, apparentl you hunt for the highest leveled monsters. Why not call it something else that actually fits? Never heard of a game where you hunt high lvled monsters in a town.

The biggest problem is that this game isn't playable right now. When I choose to go to a place, I get there but I'm not able to hunt. Whenever I press hunt, it says that there's a database error. So currently, you can't train your monster at all, which makes the game literally useless. The goal is to train your monster to make it strong, but it's not possible to train it. Quite hard to play when it's like that.

IF, the game will be fixed, the score of the game will probably go higher, but not very much. The game itself is a very simple game, with limited options. The only positive thing about this game right now, is how the map looks and the several choices you have when choosing what monster you want to have. Otherwise? The game is bad and isn't even working right now.

Post Date: 04:43 28-06-2013
Rating: 1
Author: FoxWMB
Comment: gameogre's very own forum RPG game, involving monsters, definitely in need of some maintenance.

In this game, the player creates a monster, choosing from one of 6 basic monster types, each having different attribute values. Asides from variances in attributes, each monster can have a fully customized look, with the player being able to choose between several different body parts, including arms, legs and heads. Each of the customizable body parts can be given a individual color as well, allowing players to be creative, but not to creative due to the fact the colors, although picked by typing in their hex color codes, seemingly allowing every shade of all the colors to be used, only a few basic colors can be selected, reducing the diversity. The monster can also be given an unique name and its very own description.

Once created, the game gives the player 3 not so easy to find options. Main menu, where the monster can be seen together with all of its attributes, world map in which the player can pick locations on the map to fight the monsters, and monster healer which is likely to be a place where the player heals its injured monster. Likely but not certainly due to it being identical to the main menu and having no additional options at all.

The world map, although consisting of vast areas, has only 3 places that the player can visit, and even those 3 are not so easy to spot due to the way they're marked on the map. Visiting each of these places opens a picture of the area and gives the player the option to hunt monsters, which unfortunately only yields a database error at this point in time.

And that pretty much sums up every possible option of this game to this point. The only thing that can effectively be done in this game is creating a one of a kind monster, but due to database errors and the fact game is so extremely limited, it's impossible to do anything with it, making the only positive of the game the ability to create a unique monster. At the present state, the game is simply unplayable.

Current Rating - 1 out of 10