Robot Unicorn Attack
Review Directory Intro ...
Want to know what other gamers are saying about an online game that you are interested in? Good because this is where gamers can give their opinions about different types of games such as Online RPGs, MMORPGs, Online Shooters, and Free Games.

If you don't want to leave a review, simply click on the link or the screenshot on a game's review page to go to its website.

Signing up is free and allows you to review games, post in the forums, and submit games for review. The forums allow you to ask questions, share tips, and discuss games after you have reviewed them. Let your opinions fly !.!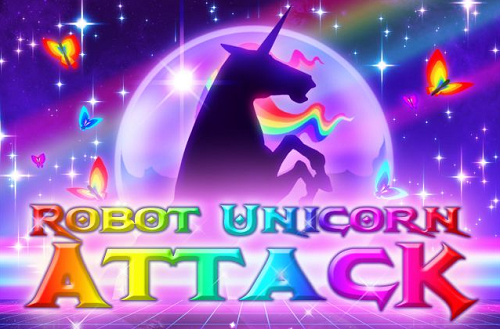 You are a robot and you are a unicorn. Now attack!

Total Rating: 8.52
Reviews: 27
Review Archive
Post Date: 18:33 07-10-2014
Rating: 10
Author: VannaVIktor
Comment: This arcade game have 10 rate for me. First, I like this song from game. Game is very interestin and fast(in late). With horse-robot you destroy the stars-robots and makes points. :)

Post Date: 15:44 06-10-2014
Rating: 10
Author: brankomiljus20
Comment: Even if this is "girly" game, am rly enjoy playing it. U control unicorn and u have two action, jump and "smash" to remove starts that are on ur way. Game on start is easy but later its getting harder and harder, cause ur movement speed is increasing. Graphic is solid but music and game are awesome

Post Date: 15:06 10-08-2014
Rating: 10
Author: Frozen
Comment: This game is awesome! :D you need to jump and avoid big stars and hills you can also destroy it with attack. the higher score you get it's getting faster and faster. The music is so sugoi :D

Post Date: 07:33 06-08-2014
Rating: 10
Author: arZ
Comment: One of the best arcade games in this list.
You are an unicorn and you need to jump over the hills and walls. It start really slow but after a few minutes it will be faster and faster. You need to focus hard or you can easy fall in a hole or hit a wall. Dont forget to dash true the big stars and collect baby unicorn points for the max highscore. Max point for this arcade game.

Post Date: 18:03 20-07-2014
Rating: 8
Author: Aki013
Comment: Hehe,really funny game i like unicorns lol. 8/10

Post Date: 16:39 09-05-2014
Rating: 7
Author: ivekvv256
Comment: Hmm... Not a bad arcade, but not one of the best for sure. You play by using keys Z and X. You must get as far as you can, collecting baby unicorns and destroying stars in front of you. I liked the game but I didn't play it for a while so 7/10.

Post Date: 15:39 16-04-2014
Rating: 10
Author: arZ
Comment: For me one of the interesting games here.
I love this Hecarim ...
The music is rly nice. The game is rly fast, and you need to focus hard to dont hit the walls or fall in the dark hole.
The graphics for an arcade game is good. Nice and fast jump and run game. 10 point from me ...

Post Date: 09:43 09-04-2014
Rating: 9
Author: savicaa
Comment: Robot Unicorn Attack is one of the best Arcade Games on forum for me.After i tried a lot of games like Znax , Bottle Shooter i tried this game . This game is really fun , u can enjoy when u have free time and not get made or something ,relaxing game for sure.

Few words about game : Graphics are so nice for little forum game , music is also good and i like it . In game u need to jump and crush the stones and beat some scores on tabel . U are using Z for jumping and X for crushing the stones. Also , u need to carry how many times do you jump , cause in some cases u can jump 2 times and get crushed , so jump 1 time and if u see that u will fall jump again :)

It is not easy game at all , u need to be concetrated and focused on game and u will go on big score , but if u play it with no focus , trust me u will get nothing from that ..
For the end , just let ur finger and win the highscore , it's not that hard to get 1st place , if u play it right and for a time :)
Cheers!


Post Date: 00:29 20-12-2013
Rating: 9
Author: keller07
Comment: This is a fun game that you are controlling robot unicorn as far as you can. Beat the highest score in arcade game if you want.

Post Date: 16:47 11-12-2013
Rating: 6
Author: El Monstro De Galleta
Comment: I have to start off by saying the name just cracks me up. That being said, the game is simple game where you control a running robot unicorn. Your goal is to run past and over various obstacles. Fun for a bit.

Post Date: 22:29 06-10-2013
Rating: 10
Author: Mordekaiser
Comment: Fun game i really enjoyed it the music is nice and the gameplay is great the quality is also nice for a flash game it its very fast paced takes a few tries to get good but if you wanna play just for fun dont worry about it 10/10

Post Date: 18:03 15-07-2013
Rating: 6
Author: littlejoe
Comment: fun game but I would like it if I could see what in landing on after I jump really high

Post Date: 22:19 13-07-2013
Rating: 8
Author: Webber
Comment: Robot Unicorn is not a bad arcade game. I would place it in my top 10 of games on GO xD.

Post Date: 20:21 10-07-2013
Rating: 4
Author: Joker
Comment: The music is much too girly for my manly taste XD. The action is not bad besides the music. I have to mute it and listen to other music when playing!

Post Date: 16:32 08-07-2013
Rating: 6
Author: Thedarkboy
Comment: Robot Unicorn Attack is a very entertaining arcade game. Even though it is very fun, I don't think that it deserves a bery high score since it's a very simple game and doesn't deserve points as high as real and good online games.

The rules are really simple. You control a unicorn through jumping from one place to another to get as far as you can. There are a couple of obstacles in your way, and to get past these you can simply just avoid them or you'll have to dash through the obstacles to make them dissapear. So the only thing that you need to concentrate on is to jump on the right timing, so you don't fall and get past the obstacles. The further you get in the game, the faster your unicorn will run and the more points you will get. You have 3 lives in total. You collect points for each life, so after you lose a life, the game starts from the beginning, and when you've lost all of your lives, the scores will then add to the final score.

The game itself is a very fun for an arcade game. It's very easy to learn how to play and the difficulty is where it should be. It's not hard at all inte the beginning but as you progress it becomes really hard to survive.

The best thing about the game, in my opinion, is probably the music. The music isn't really something that affect the game, but I think the music is simply funny, and it actually fits the game, even though the song is kind of lame. It's something that you never get tired of.

Robot Unicorn is a great arcade game, and it's actually quite hard to find an arcade game better than this. Due to that it's an arcade game and is very simple, I do not think that it deserve a score higher than 6/10.

Post Date: 15:35 08-07-2013
Rating: 8
Author: mmowiz
Comment: robot unicorn is a game i play a lot on go years ago. i would say it is one of gos best arcade games.

Post Date: 13:14 08-07-2013
Rating: 9
Author: mangathowaway
Comment: Very Nice game. So addictive. I actually think ther's another game called rrbot unicorn dash but don't know which came first.

Game play is very cool you get three lives. You can junp and dash using their respective keys. Jumping is really to elevate you but it covers a few centimeters. Dash is to cover distances. Ya get hints when to dash but got to jump on your own. Try to get as many stars and stuff before falling down.
Music is heavy metal which I think is highly inappropriate
Graphics is child-ish but it's really good considering the gameplay and objective.
Overall a very nice game like angry birds but depending on your type you will bored. :(

Post Date: 15:26 06-02-2013
Rating: 10
Author: Mordekaiser
Comment: This game is very fun the music was great i really loved it graphics were beautiful and the gameplay was nice till i got to a really hard level then i tried and tried and tried but then couldn't do it so i gave up but there is some way to do it im sure so i would recommend this game for anyone all ages 10/10

Post Date: 18:42 31-10-2012
Rating: 8
Author: PolanWalker
Comment: Very ncie game :D 8/10

Post Date: 13:23 30-10-2011
Rating: 8
Author: champking5
Comment: I enjoy the game and music in this game. Jump and collect points and smash through rocks with the unicorn attack! Great online game.

Post Date: 21:30 29-10-2011
Rating: 8
Author: raybaeck
Comment: love the idea of this game. Love the music xD

Post Date: 22:52 28-10-2011
Rating: 10
Author: lumlehsumleh
Comment: I LOVE THIS GAME!! this game is one of the best flash game. i enjoyed very much playing it. one of the things that makes the game so appealing is the song. "ALWAYS I WANNA BE WITH YOU! AND MAKE BELIEVE WITH YOU! AND LIVE HIM HARMONY HARMONY OH LOVE!!" lol

Post Date: 02:05 11-12-2010
Rating: 9
Author: EcLuD
Comment: call of duty is for women. this is for real men :D 9/10

Post Date: 00:00 01-12-2010
Rating: 9
Author: Ichigohollowfied
Comment: great...one problem. the music -.- lol. my highscore on gameogre proves I have played this game enough...well not the top score but 150k is enough =p

i wanna play the xmas version!!!

Post Date: 06:09 07-11-2010
Rating: 10
Author: shimorigagoua
Comment: Best flash game i've ever played hands down, it's great for its hilarious novelty value and i highly recommend it to anyone. i got my entire group of friends hooked on it at school so it has to be fun if it drew in so many people.

Post Date: 18:54 01-11-2010
Rating: 9
Author: jared
Comment: This game is amazing at first you'd think its a girly game but even the manlyest men would love this game! I love these kind of game Graphics are awesome and the Music Makes you fall inlove with the game 9/10

Post Date: 18:26 01-10-2010
Rating: 9
Author: Vocal
Comment: This game is easy to understand and it colorful.The graphics are amazing.The music is lol.You have 3 lifes,they will add all up till all your lives are gone.A pretty addictive,fun,exciting, game to play.Cant believe unicorns can be this awesome.9/10