Stick Knights Online
Review Directory Intro ...
Want to know what other gamers are saying about an online game that you are interested in? Good because this is where gamers can give their opinions about different types of games such as Online RPGs, MMORPGs, Online Shooters, and Free Games.

If you don't want to leave a review, simply click on the link or the screenshot on a game's review page to go to its website.

Signing up is free and allows you to review games, post in the forums, and submit games for review. The forums allow you to ask questions, share tips, and discuss games after you have reviewed them. Let your opinions fly !.!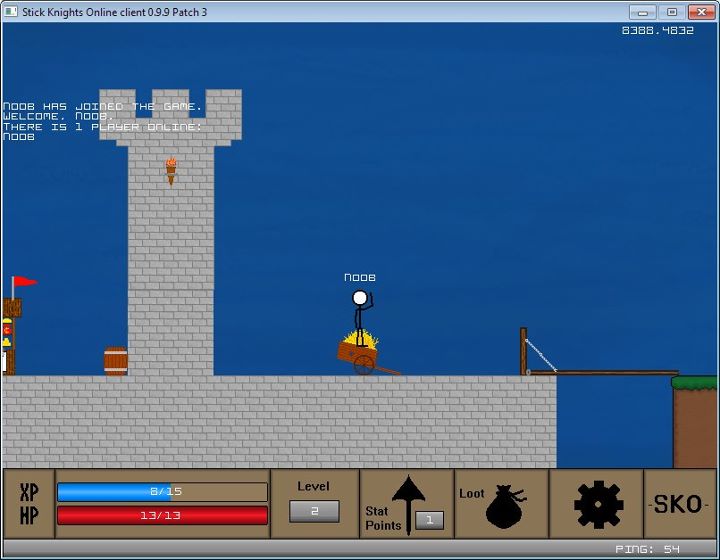 Stick Knights Online is a free Online Role Playing Game (orpg) where you are a stick figure battling against your enemies. Chat, fight, explore, and use cool items with friends (or enemies!) in this epic quest adventure!

Total Rating: 8.90
Reviews: 10
Review Archive
Post Date: 21:09 19-08-2015
Rating: 9
Author: SulzYee
Comment: Really funny game, Stick game... i like all the stick games, in this game you move your stick, fight, explore... Something like Super Mario... 9/10.

Post Date: 13:39 06-09-2012
Rating: 10
Author: PolanWalker
Comment: Super stuff :D Game play and fun from it is massive :D 10/10 for me :D

Post Date: 10:46 22-07-2012
Rating: 10
Author: SKO is awesome
Comment: EPIC GAME!!!! Awesome community, they are the best people I have ever met :D Epic shops and Epic game full stop! 11/10 :D :D

Post Date: 18:49 21-06-2012
Rating: 10
Author: Frenetic
Comment: This is the best game i ever played!
It's full of friendly and helpful peoples and you can spend many hours on this game! Lovelovelove!

Post Date: 17:49 03-06-2012
Rating: 9
Author: pino
Comment: A fun little game with great potential

The game is still in a development phase. But it already has some hun features. I think the game has some great potential.



Post Date: 16:52 03-06-2012
Rating: 10
Author: Timmeh
Comment: Amazing game! Just after starting this game I was hooked! I love this game to death! :D

Post Date: 04:32 07-01-2012
Rating: 10
Author: miotatsu
Comment: I would like to start off with a little bit of a background on myself. I am probably one of the only hardcore stick orpg gamers out there. I would started playing a few flash games in late 2006-early 2007 and by around november of 2007 I found a game called Stick Adventures Online. I am one of the highest ranked players ever on SAO and at some points I was even the number one ranked player. I currently have 3 accounts in the top 10 on Stick Knights Online, and a fourth account that is close. Unlike the game Stick Online which I have not personally tried, SAO was developed using C++, and although it had a very small amount of content it was addicting for me and had a very nice feel to it. However the developer of SAO repeatedly ignored the community and rarely ever updated anything, at one point he even removed the chat to make it easier to moderate. Also SAO, like SO is not cross platform. both SAO and SO had a lot to desire. finally however we have a new stick game on the block called SKO. SKO is still a very early game in terms of development but it already has a lot to offer. It is coded very solid in C++ and already features a lot more content than SAO. It is cross platform so even if you run linux you will be able to natively play this game. I use linux and for me this is a huge plus and I am sure many other linux gamers would agree with me on this. The developer of SKO is not strict but he will draw the line if a player takes things overboard. He is a very nice guy and will actually listen to the community. For example players complained about HP regeneration being overpowered and so he adjusted it. Then it turned out it was too underpowered. Guess what? He yet again has listened to the community and plans on changing it yet again come the next update. He also has been hard at work ironing out any bugs that players report. Future updates will definitely expand the content I am sure. About the game itself: it has multiple items including health refilling items like cheese and beer, swords to increase your attack damage, 3 types of hats, all of which are exclusive to special people such as early testers and admins or people who participate in a holiday event (of which there have already been two.) this game has a lot of potential and keep in mind that it is still in an early stage of development. Also I would like to mention the community. You don"t like it when a high level player prevents you from grinding at the sweet locations? deal with it. this game is open pvp and it is open pvp for a reason. This is a common feature of Stick orps and it should be expected. further more there are multiple locations where bandits spawn. yes you probably won"t be able to train at the best spots when a high level player is on, but you will still be able to train at a different spot. the pvp in this game is fun and competitive and there is a lot of competition on the top 10 leaderboards. at this point there is not really any big level gap between the high level players and the new players, anyone could make it on the board in only a few days of playing if they really tried. Don"t count this game out just yet. In my opinion it is by far the greatest stick orp made so far.

Post Date: 18:34 29-12-2011
Rating: 1
Author: 6black6jack6
Comment: *****currently this is the only impartial review for this game as the other two reviews were submitted by the developer and a friend of the developer*****

There is only one enemy that gives only 2 exp per kill. However, the exp to level is on what seems to be a 1.5x increase per level meaning you need about 19000 (calculated estimate) kills to get to level 20. There is also only one spot on the game that is decent for leveling which becomes crowded at about 3 players and since the pvp is open means all it takes is one high level to be a jerk and you will not be able to level since they can kill you on sight. At first I was very excited to see a new game even if it was simple just because it breaks the normal games we see day to day. But, I quickly realized that Midnite the games developer is not only immature but also very biased towards his friends and family who play the game. It seems as though he's made his own game to gain a sense of control. The best I can say is I hope his professional attitude changes before he is another failed developer.

Overall I gave this game a low rating because it offers very little entertainment value, I've played flash games with more complicated systems, the current system for just about everything in the game is flawed or prevents any real enjoyment, and finally the developer is too unprofessional and emotional for my tastes. I didn't invest much time in the game because the entire atmosphere was immediately sour even on the websites chatroom and upon entering the game it became easily apparent that the game is flawed and simply will not meet the standards or tastes of most gamers. You'd be better off playing most ranked flash game websites.

Post Date: 10:50 23-12-2011
Rating: 10
Author: Lancelot
Comment: This game just became open-beta tonight (or rather yesterday considering the time) and it is already really fun to play. I'm not sure how many people are going to be on in the future, but today there were up to ten or so players online, and they were on until very late at night. With the initiation of open-beta the forums are sure to grow; the IRC is a great place to be too (the community is a big aspect in a simple game like this, so I felt the need to describe it in detail).
As for the game itself, it's being developed, but shows promise. There is only one enemy and map, but there are an array or items to use, including foods, drinks, hats, and weapons (only one, a sword). The developer plans on updating this project often, so there will be new content eventually! Regarding game mechanics, after a certain level it is very difficult to level up (e.g. level 10), despite this many of those online choose to grind and kill hundreds of bandits. One of the main reasons is the PVP, which is fiercely competitive. This aspect in itself makes the game fun to play.
A growing community, a game with boundless potential that is being developed, and it is supported on multiple platforms! So what exactly are you waiting for? Go sign up for the forums, join the IRC network, and become a stick knight!

Post Date: 05:15 23-12-2011
Rating: 10
Author: Midnite
Comment: This is a simple and fun stickman game. Eventually you will be able to be a knight and compete for top rankings.