Tetris
Review Directory Intro ...
Want to know what other gamers are saying about an online game that you are interested in? Good because this is where gamers can give their opinions about different types of games such as Online RPGs, MMORPGs, Online Shooters, and Free Games.

If you don't want to leave a review, simply click on the link or the screenshot on a game's review page to go to its website.

Signing up is free and allows you to review games, post in the forums, and submit games for review. The forums allow you to ask questions, share tips, and discuss games after you have reviewed them. Let your opinions fly !.!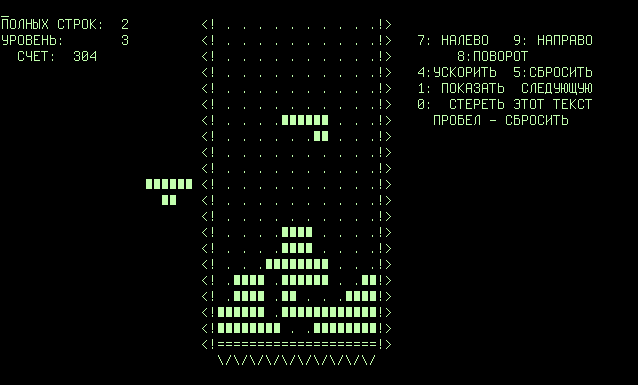 Tetris is a tile-matching puzzle video game originally designed and programmed by Alexey Pajitnov in the Soviet Union. It was released on June 6, 1984.

Total Rating: 9.21
Reviews: 14
Review Archive
Post Date: 21:19 20-06-2015
Rating: 10
Author: axwellshm
Comment: Classic game.. I just can't get mad playing this game. It's so calm, and so mindful game. It's just relaxing you. 10/10.

Post Date: 19:17 24-09-2014
Rating: 10
Author: Garagos
Comment: Tetris this one game is not for me classic game, it is an historical game :)
For each generation, this funny, simply game make smiles on our mouths.


Post Date: 22:48 20-09-2014
Rating: 10
Author: brankomiljus20
Comment: What to say about this game that is not told.
Old game that i believe everyone played. Goal is to arrange blocks to fill entire horizontal line so that line get destroyed, and dont allow to fill entire field to top, on higher levels bloks fall faster and faster.

Post Date: 13:29 28-05-2014
Rating: 10
Author: 420Hairlyman
Comment: Classic matching puzzle video game. Probably the first game we all played in our gaming careers :) Still being played in modern graphics age even though its designed in 1984.I just have to rate it with 10 out of 10.

Post Date: 16:21 24-05-2014
Rating: 9
Author: Frozen
Comment: Ohh tetris i still playing it :D

Post Date: 21:19 23-05-2014
Rating: 9
Author: Gavra10
Comment: Nice game :DI played it as a little child :D

Post Date: 15:49 19-05-2014
Rating: 9
Author: bloga99
Comment: One of the best classic game for me :)

Post Date: 17:10 13-05-2014
Rating: 10
Author: Aki013
Comment: Well i like tetris.I bought it when i was kid,it was a lot of fuun for me when i was outside with friends :)...Little gamer lol,i like all tetris games 10/10

Post Date: 13:07 10-05-2014
Rating: 9
Author: NoVaZz[E]
Comment: The oldest game i ever played.Never played it on computer usually on my phone.Took hours and hours of my life

Post Date: 19:44 09-05-2014
Rating: 10
Author: arZ
Comment: One of my first games that I ever played.
Rly nice game. While blocks are falling you need to put them on the right position to have a full line. When you got a full line the line is dismissed. Never get bored playing this game ... one of the game that you can always play!

Post Date: 06:26 01-05-2014
Rating: 10
Author: Mordekaiser
Comment: The first game i have ever played its so simple its so fun and its so easy nothing like a good game of tetris to cheer you up 10/10

Post Date: 10:48 27-04-2014
Rating: 10
Author: ivekvv256
Comment: I remmember playing this game when I was young. It was top fun for me. While the blocks are falling you can rotate them and turn them into a position that you like. You have to put them in a line and you will get a score. It's quite fun to play it and it brings me back to old days. 10/10

Post Date: 18:46 18-04-2014
Rating: 6
Author: savicaa
Comment: Here we can see game that's really old . It's game style that was used 10-15 years ago. Naimly in this game u need to have fast thinking about game.

In this game u need to place them on the bottom and not to fail , otherwise you will lose and u will need to start again.

This game is not really hard , but later it can be . I have been playing it and for me it's not interesting. Cheers!


Post Date: 10:16 18-04-2014
Rating: 7
Author: Thedarkboy
Comment: Tetris. A game that almost everyone must have tried. It got quite simple rules, and can be quite fun as well. There have been many new versions of Tetris throughout the years since its release, but all of them are about the same. The first version of Tetris was released sometime during the 1980s, but it still lives on today. Tetris is a game that never dies.

The rules of Tetris are probably known to the most, but for those who don't know, the main goal of Tetris is probably to get as far as you can, without losing. In Tetris, blocks are falling one at a time, and it's the player's job to place them in a good way at the bottom. The blocks that are falling are shaped differently, which might make the game both easier and harder. Whenever you place the blocks in a straight line, the line disappears. You remove lines until you lose. As you progress in a game, the blocks that are falling, are increasing in speed, thus giving you less time to think, which makes it harder.

In my opinion, Tetris can be fun. In my opinion, it can be a bit boring at the beginning of a game though, since the blocks are falling slow and it's incredibly easy. As you progress in the game, it becomes harder which means more fun. In the end, you can even become quite stressed by the game, since it is moving fast and you have a short time to place your block. Tetris is also based on a lot of luck. Depending on what kind of blocks that are falling, since they are randomly chosen, the game can become both harder, but also easier. If you often get blocks that you need to remove lines, the game obviously becomes easier, but if you often get blocks that you don't need, it might be harder to get further in the game.

Something that boosts the amusement of Tetris is in my opinion, to play against someone else. Tetris Battle is an example of a version of Tetris, where it is possible to play against other people. To send lines and blocks to your opponent, while trying to survive longer than your opponent makes Tetris a lot more amusing. I'm not saying that Tetris is boring if you play all by yourself, because it can definitely be fun. In my opinion it's just more fun to have someone to play with. To have an opponent, gives you some kind of a goal, a motivation to beat your opponent, which makes Tetris a lot more fun.

Tetris is with other words, a classic. Some people might like to play Tetris, while some others do not. Even though it's an old game, it doesn't die. Many people were playing it before, and many people are still playing it today. I'm not playing Tetris very often though, but it does happen that I sometimes sit down, and start playing Tetris, whenever I want to play an arcade-stylish game.