Worms 2: Armageddon
Review Directory Intro ...
Want to know what other gamers are saying about an online game that you are interested in? Good because this is where gamers can give their opinions about different types of games such as Online RPGs, MMORPGs, Online Shooters, and Free Games.

If you don't want to leave a review, simply click on the link or the screenshot on a game's review page to go to its website.

Signing up is free and allows you to review games, post in the forums, and submit games for review. The forums allow you to ask questions, share tips, and discuss games after you have reviewed them. Let your opinions fly !.!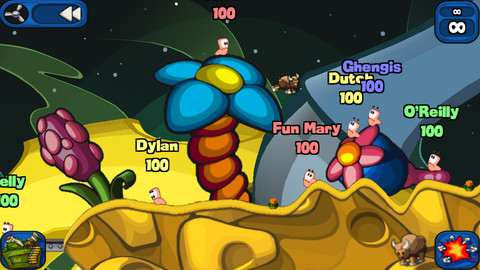 The Worms are back, bigger and better than ever in Worms™2: Armageddon, the latest turn-based-strategy blast-a-thon for Xbox™ Live Arcade. Team17 listened hard to the Worms fans and delivered in spades, with cult weapons returning, amazing new weapons, incredible customisation of Worms teams, tons of game options, totally new physics, more dynamic play and even persistent fire! Offering potentially hundreds of hours of replay value, an engaging single-player campaign, tons of player customisation, laugh-out-loud multiplayer escapades and leaderboard challenges, Worms 2: Armageddon should prove even more popular than the original Worms™ for Xbox™ Live Arcade!

Total Rating: 9.67
Reviews: 6
Review Archive
Post Date: 17:07 13-05-2014
Rating: 10
Author: Aki013
Comment: Its a great game!

Post Date: 13:07 28-04-2014
Rating: 10
Author: nikiwild
Comment: Ok, here we have a really awesome game, for me pure 10 rate. I can only say great work. Worms is a really old game, it is developed by team17 company, it is from england. There are many versions of this game, many updates. The first game was first released in 1995 and it was called worms, it had 2 updates, one is worms reinforcements 1996, and the other is the directors cut 1997. The las game that will be released is worms battlegroud, and it will be released this year. Like i said there are many versions between this two i will count some of them, worms 2, armageddon, world party, blast, worms 3D, and many more. Worms 2 armageddon is released 1999. Game is based on playing agains the computer, or playing agains a friend, or online. The goal in this game is to kill opposite worms, so you are given some woms, on each side same worms, same guns, missles, bombs and u fight, last man standing wins. Game can be played on computer, now it is developed to be played on mobile phone, on androids. Back then in the in thi ninthis the game was really popular, now its not so cool. Some people still play it, i dont found it funny now but never mind, i can judge to people.
Sound in this game awesome, every worm has its own sound that whenever he does something it starts up a sound that is cool, and sometimes funny. I am always laughing when i hear INCOMIIING, that means he send a missle in air. Or when i hear OUCH, when one worm is hit and he doesnt end dead. I can describe it to you you just need to google it out to fidn out that voice. Its so interesting. Ok, so every gun, missle bomb, has his own sound, every map has its own background music, that is with the map good.
Graphics on a pc its really good, on a mobile phone i didnt play so i dont know to tell you how it is. Eather way the game is in 2D it has a good graphics. There is a version where the game is in 3d but i did not play it so i cant tell you what it is. On 2D its really good, those days there wasnt 3d or 5d, every game was 2d, and this was one of the rearly games that had a good graphics. The worm collor, the map design, the background, every thing is simply cool.
Gameplay is really good, point is to kill every worm on opposite side, the las worm standing is winner, you can play agains computer, you can set on easy, normal, hard mode. You can play agains computers, even on the newest version of this game u can play online. But the goal is the same kill every one on the opposite side. There are many guns, missles, navigating missles, bombs, mines, that u can place, throw, aim, shoot at worms, the game is really funny, the way the worms are taling, the way they are acting. You must try the game. So this was my review of this game i hipe you enjoyed it and i hope i was helpfull to you.

Post Date: 20:44 01-04-2014
Rating: 10
Author: DancinGDeaD
Comment: Good game , I like that game ;)

Post Date: 15:16 01-04-2014
Rating: 10
Author: ivekvv256
Comment: Really famous game, and I understand why it is. The gameplay is so good and it never is going down, just up. I must say that it brings a lot of good old memories to Worms 1, the old ones... There are already 3d worms that are good also, and i hope that this game will evolve even more, but that it always keeps the sounds and the fun. 10/10 of course for this game!

Post Date: 07:11 23-03-2014
Rating: 8
Author: Thedarkboy
Comment: Do you remember 1998? Maybe you had more hair more head on your head, or less on the chin. Or maybe you weren't even of legal age yet, and sat in the sandbox in the yard playing with your dolls. Our 1998 might have looked very different. But one common denominator is, for us who had a capable computer and a video game interest: we played Worms 2.

Worms 2 is nostalgia. Worms 2 is childhood. Worms 2 is children's parties, with lemonade in the glass and cake all over the keyboard. And euphoric cheers, mixed with satan verses we learned from South Park on TV. No game evokes feelings to the same extent as Worms. Succeeding with something incredibly good - to put the perfect bazookashot - or committing a fatal mistake, like blowing up the invisible pixel fragment just in front of you. Everything evokes emotion. And the parents would ask loudly "Can you be a little bit quieter?".

1998 is a long time ago now. The gaming industry has certainly not stood still. We have obtained high-resolution TVs, ambitious online platforms and several genres have come and gone, and then come and go again. The third dimension has overcome all its teething, and production values ??are on a completely different level. Everything has changed. Besides Worms.

Worms 2: Armageddon is essentially the same game that we played in 1998. That's what the series stood for in the past, before those dark years in which Team 17 also wanted to test their wings in the third dimension, which was mediocre. We thought that the series was about to die. But then Team 17 pressed the reset button, and everything was as it was again. And we realized that this is enough. Worms as a concept is already perfected.

Worms 2: Armageddon contains all of the most iconic weapons from the series' history. The hand grenade, banana bomb, the super sheep and the concrete donkey. All present and correct. Weapons window consists of 48 slots, but six of them stand empty, unless you want to buy some extra weapons.

It is precisely this which accounts for the majority of dirt in the cup which is Worms 2: Armageddon. It is not the ultimate Worms game. It's close, but not quite there. Even though the game contains many weapons, it's still missing penty of weapons that we have seen and learnt to love in the earlier games.

In return for the missing weapons, we get some new, very useful stuff. As a bunker buster, a missile that digs into the ground and take care of cowardly worms seeking protection. One of the most persistent and significant news is the magnets. With their help you can manipulate projectiles route - either to repel them or to drag them to you. It takes some training to use them, but their potential is evident.

The single player campaign consists of thirty missions, five of which are unlockable which can be bought with the in game currency. You can also find plenty of other stuff in the store, such as new gravestones, hats, weapons and more. The single player missions can be roughly divided into two categories: puzzles and battles. The puzzles often revolve around the magnets and your skills with different weapons. hey are generally nice as variation, but the last mission - number 30 - is incredibly hard and something that will cause many players to enrage.

The battles work as they always have done, and the computer-controlled resistance is unfortunately still horrifically artificial. They still manage grenades and bazooka at an inhuman level, but in return they don't use the game's super weapon and barely move. I guess Team 17 feel these strengths and weaknesses balance each other. In my opinion, I don't agree. Fighting AI is ultimately boring and predictable. Fortunately it's possible to play online.

It is against human opposition that Worms shows its best side, like always. The matchmaking system is robust, and keeps track of your stats from the handful of weapons configurations available. "Pro" revolves very much around your basic skills with bazooka, grenades and the ninja rope, while "crazy crates" is all about collecting weapon crates in large quantities, and thus blow up your enemies by means of super weapons. "Forts" is the most unique and most strategic position; your worms standing on one side of the track and the opponent on the other, in pre-chosen constructions, and you're supposed to utmaneuver your opponent, which is easier said than done.

Worms 2: Armageddon is a very much more complete game than the previous Worms on Xbox Live Arcade. Big amount of weapons, a generous single-player mode, and more game modes than you could possibly need. But it is not, as I said, not the ultimate package. As it is now, Worms 2: Armageddon a superb version of an immortal recipe, but not perfect.

Post Date: 17:48 05-02-2013
Rating: 10
Author: Mordekaiser
Comment: Great game super fun graphics are great really colorful it needs more players really funny game and its kind of hard at first got me really mad but it gets easier later on so i rate it 10/10 for quality