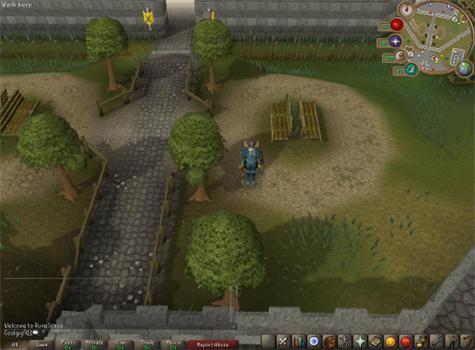 First round battle in the MMORPG Showdown 2 series.
The Match-Up
This match is interesting because it pits one of the first free MMORPGs against one of the new breed free MMORPGs. RuneScape has been around for years and has amassed millions of players who seem to either love or hate the game while Sword of the World is one of the better looking MMOs and has plenty of interesting features that are innovations in the genre. Since both games can be played for free this match-up comes down to a game with a huge subscriber base and basic graphics versus a fairly new game with plenty of bells and whistles. If voting was based solely on the number of votes RuneScape would have won in a landslide. The review scores which do decide the winner were close after the weekend but Sword of the New World managed to pull away near the end. Thus Sword of the New World wins the match and moves on the next round. Score that as a victory for the new breed of games in the free MMO genre. On a side note that means that the highly anticipated RuneScape – Maple Story rematch will not be happening this year.
Tale of the Tape
RuneScape
Free to play.

Made with Java.

Very basic graphics.

Offers a premium version.

The leading download-only free MMORPG in terms of subscriber numbers.
Versus
Sword of the New World
Free to play.

Amazing 3D graphics.

Players can control up to 3 characters at once.

Every player has his or her own family. All the characters of a player are in that family and they all share the same last name.

Soloing is a major factor in the game due to the MCC (multiple character control) system.

Different combat stances offer different skills and equipment possibilities.

Can use experience cards to level up characters.

Various forms of PvP such as family vs. family duels city vs. city PvP wars and arena style PvP.
Select Comments For RuneScape (Edited for Presentation)
Rating: 2
Author: Jrod
Comment: Where to start?
1.Combat- The combat system is pathetic! Hit and press that dragon every once and a while = 1/10
2.Comminity- Full of 8 year olds = 0/10
3-Graphics- Worst graphics ever = 1/10
4.PvP- LOL = 1/10
5.Economy-Well at least one good thing about this game since crafters mean something = 7/10
Rating: 9
Author: garoozys1
Comment: Very entertaining and fun for hours. Needs some improvements but there is something new almost every month. Clicking is a bit boring but quests get challenging (especially member quests). Free-to-play is a good idea because it helps appeal to those on a tight budget. I believe the graphics are ok for an online game. You can tell what is happening and what things are pretty clearly. The combat system is a little boring but its good enough to provide hours of fun. As a so called vet at this game I give it a 9.5 out of 10.
Rating: 6
Author: Darkblood
Comment:
Graphics-8/10 = Pretty good for a browser based game.
Sound-4/10 = just not feeling the music.
Gameplay-9/10 = Very addictive.
Community-5/10 = A little immature overall and also too crowded especially for non-members.
Rating: 10
Author: sofiaglade
Comment: 10/10 for entertainment and everything! This game is very well put together with quests exploring fighting items and everything else. This game has something that no other MMORPG game has and that is a bit of sense. Excellent game.
Select Comments for Sword of the New World (Edited for Presentation)
Rating: 10
Author: Fatalis67
Comment: This game is infinitely better than Runescape in every manner. The graphics are amazing best of any MMORPG I've ever seen while RuneScape is without doubt very near the absolute bottom of the graphics spectrum. The community in this game is also far superior to that of RuneScape. I have nothing good to say about RuneScape especially considering that you lose all of your hard-earned items whenever you die. A good combat system friendly community good graphics and lots of fun content are what make a MMORPG fun. RuneScape sorely lacks every one of these aspects.
Rating: 10
Author: mmoking
Comment: You have got to be kidding me! Even mentioning a game of such an awesome magnitude in the same sentence as RuneScape is a travesty!
Rating: 10
Author: anigous
Comment: This game is better then RuneScape because its easier to travel and you can group up without so much solo play.
The Voting
RuneScape received a total score of 5.31
Sword of the New World received a total score of 7.57
The Result
Sword of the New World Wins!