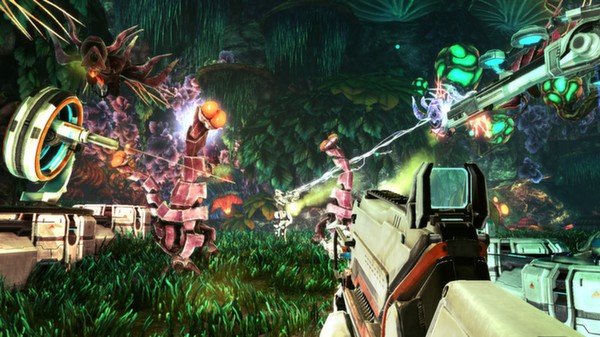 anctum 2 is the sequel to the world's first Tower Defense/FPS hybrid game. Pick from four unique character classes and embark on a mission to protect the oxygen-producing Cores from hordes of deadly aliens who are threatened by their existence.
Post Date: 10:21 03-12-2014
Rating: 9
Author: arZ
Comment: Sanctum 2 is a first person shooter tower defense game. The game is much more better then the first one. Better graphic and more fun. I rate this game with a note 9/10. Recommended this game for all tower defense lovers.
Post Date: 21:13 19-11-2013
Rating: 9
Author: Thedarkboy
Comment: When Coffee Stain Studios released Sanctum, they were one of the first with letting the player run around and participate in the battles in a Tower-Defense game. The concept was welcomed by many and became a bit of an indie favorite in that year. In the Sanctum 2, they have taken the model a step further by giving more weight to the shooting.

Visually, Sanctum 2 reminds a lot of the first game. The graphics are greatly refreshed but the special design is about the same. It differs however, more behind the surface. To being with, you choose one of four characters to play with. All of them have their own abilities and different weapons. Instead of upgrading your weapons like in the first game, you unlock more weapons and abilities when you increase in level. After testing a few different combinations of characters, weapons, turrets and abilities, I can say that it can differ greatly in severity depending on what I choose to bring into battle.

Once in a map, the game starts just as before with a building phase where I put out walls and build turrets. This moment, however, differs considerably from the original. Most significant is that each map has a maximum level of how many towers I can build.

Usually, the limitation is between 10 and 15 towers, which makes it important which towers I choose and where I choose to place them. In the beginning, I experienced the limitation to be very annoying as the enemies usually attacks from many different directions. But when I realized that I got back exactly the same cost of a tower if I removed it, it got a little easier. It gave me the possibility to plan further for future attack waves.

Another new feature in the building phase reveals the game's multiplayer focus. Now, the resources that you need for the building is released somewhere in the map that I have to get. When I play by myself it feels unnecessary but when playing with friends it means that only one person can build the defense in between. Usually, this would mean irritation but now that some building phases your precious time isn't lost when you run to get resources.

The changes of the defense constructions leads to a natural increase in the prioritization of the battle phase where I have to try create as much damage in enemy ranks as possible. Where the first game in the series was a more streamlined tower defense game with a handful of first-person shooters added, Sanctum 2 feels more like a smooth fertile mix of the two game types. The battles are much more intense and interesting. The enemy runs for example not always the shortest way to the core they want to attack, but instead deviates sometimes and attacks me instead. One of the best changes to Sanctum 2 is that the walls have been halved in height though, so you can jump on top of them. Although most of the enemies can still reach you there, and it's quite hard to find a safe place.

In addition to a comprehensive campaign, each map is played in an endless mode where you have to persevere through so many enemy waves as possible and then compare its success against friends. You can also activate various tests of strength for each map, and thus further increase the challenge.

It's difficult to find something that I don't like about Sanctum 2. The game enhances the series' concept and all the intense battles makes it unusually engaging for the genre without reducing the planning that's needed to defend properly. Perhaps it would have been nice to be able to save some time in the fairly long levels and it irritates when I get knocked out and get stuck in the environment. That isn't anything that takes away the fact from Coffee Stain Studios that they managed to take an already innovative concept and polish it up to a new level.

This is a polished and content rich game for the price. But it is the increased participation and the dynamics of the fighting that makes the game a definite recommendation for anyone who has the slightest interest in this hybrid genre. Sanctum 2 dares to violate the conventions and expectations and will be a fun and powerful experience because of it.