Shattered Galaxy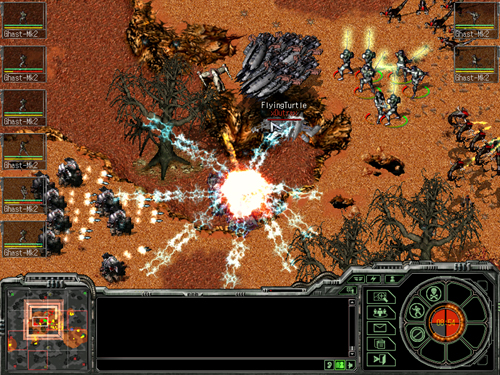 Game Description and Comments
Shattered Galaxy is one of the oldest and most popular MMORTS (massively multiplayer online real-time strategy) games in the industry. Due to the game's MMO nature, players can only have a small fraction of the units that retail RTS games like the Command & Conquer and Warcraft games have at their disposal. This allows players to form regiments in order to play together like MMORPGs. If each player had a screen of full of units, the game would be to tough to play in groups. Grouping and teamwork is essential in this game because solo players will be overwhelmed.
Key Features
Small number of units to command.
RPG elements involving levels and stats.
Battles are won by holding various vital areas on maps.
Every single unit gains experience.
Groups are known as regiments.
Victory rules vary between different maps.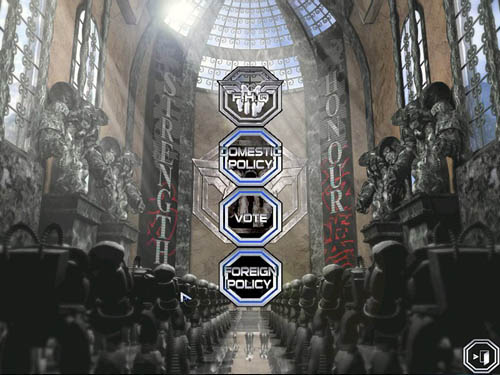 Select Reviews (Edited for Presentation)
Rating: 10
Author: Kanbei
Comment: I like this too, but I think what phantasma said may be a bit outdated. Wulu is gone. I haven't seen it once and I have been playing for months. In addition, the nice community that he or she was a part of is gone too. No more call outs for mistakes, but no more people helping you much either. People never really work together in the game now. For example, people will nuke their own teammates just for fun.
If you are new do not ever join the faction Troy. The people there are rude and obnoxious and wont even answer the most basic questions. Helike is better at that, but Pompeii is the best with the most teamwork and the most wins. I've done every faction now and Pompeii easily owns them all!
Let me explain the unit types further: There are 4 types of units:
Infantry-Ground well, uh...infantry
Mobile- all mobile units: tanks, AA launchers, bunkers, repair triages....
Aviation-Any non-organic thing that flies. Everything from bombers to things that use fire.
Organic-Anything that lives (basically the Aliens). Most can evolve and get stronger, but it is also linked to your mech ap (mechanical aptitude) and your education.

No unit type is better than another. They all just differ on our style of play. Units within the same type, however, can be much better choices than others. For example, Hawks (fast moving Aviation ships) would be much more preferable to fight Owls (like hawks, but slower and stronger) than Phoenixes (unbelievably slow, very short range for flame attack).
Rating: 10
Author: Phantasma
Comment: Shattered Galaxy 2006 is very different. For example, the name "wulu" is now a widespread word used in place of calling someone a newb. Wulu is a character so moronic that his name is now shunned. Anyways, the new world of SG is all tactical and nobody ever just sees it as a game since they are always screaming at each other and calling each other wulus for there mistakes.
Anyways, the game play is very addictive and I can't stop playing, but I wish pelicans still had lasers. They made a pretty good decision on the music because it is something you can listen to for hours on end and not get annoyed with it. I also really enjoy using the "arbs" "ballista's" and the "trebs" and the "vultures" acting like a mortar. The arbs launch rounds of explosives into the enemy from afar and the one downside is their speed. All the ballistic things are slow. Anyways, they are the only ballistic thing that can be "phased" by the majority of people using them because it is the only ballistic unit with enough room to equip phasic armor. The ballistas shoot air with flak, the arbs shoot the ground with bombardment, the vultures are basically flying arbs, and the trebs are cloaking arbs/balistas but much weaker.
I don't like to point out the mistakes but it seems that whenever you want your units to go to a specific spot they end up spread out all over the place. There are also plenty of bullet rounds, lasers, carpetbombs, and nukes flying in every direction and somehow the landscape remains untouched. I just wish they would change that because it is weird seeing a nuclear explosion destroy all these units, but the grass and trees somehow remain spotless. I guess that is asking too much because it is really a great game.
Pricing Model
Shattered Galaxy can be played for free but with stat and level restrictions. To fully experience the game, you will need to pay $9.95 per month.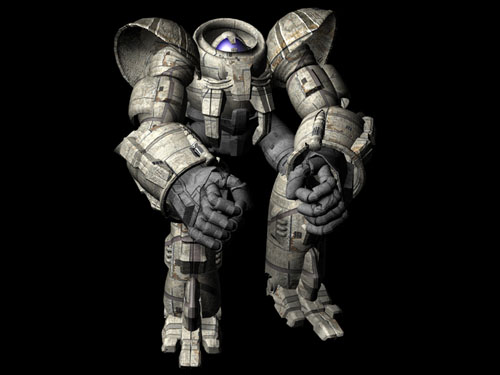 Past Featured Online Games of the Week:
Global MU Online
Hardcore action MMO that is very similar to Diablo and can be played for free up to level 60.
Eudemons Online
Free fantasy MMO with a great pet system that allows players to assemble their own special fighting forces.
Deicide Online
Free 3D MMORPG with a very innovative class system.
Archlord
Fantasy MMORPG where one player can rule over the entire game world.
Hero Online
Free martial arts MMORPG with a fighting system that can capture your imagination.
Ferentus
Beautiful fantasy MMO where you can hire NPCs to fight along side you and that is currently in Open Beta.
Titan Quest
Beautiful action RPG that plays similar to Diablo and offers free online play.
Industry Player
Online business simulation game that allows you to match your business wits against thousands of other players.
Space Cowboy Online
Free 3D MMO with both MMORPG and MMOFPS elements that has large scale nation wars and upgradeable space ships.
Furcadia
Free MMOSG or massively multiplayer online social game driven by a wide range of player-created content.
Myth War Online
Free MMORPG with a huge variety of pets, hand-painted graphics, and a very different combat system.
War Rock
Free online tactical shooter with realistic weapons and vehicles.
Tibia
Free MMORPG with a huge player base and multiple player worlds with different playing modes.
Face of Mankind
Innovative MMO where role-playing is key and the players are in control, Face of Mankind.
Dark Ages
Often overlooked pay-to-play MMO that offers a 10 day free trial.
Kingdom of Loathing
Free Online RPG where sarcasm and humor reign supreme.
Albatross 18
Innovative game that combines a free MMO with fantasy Golf.
Lands of Hope
Very deep MUD with thousands of graphics that offers free play up to Level 100.
Dark and Light
MMORPG that boasts over 15,000 square-miles of land in its game world, Dark and Light.
Wheel of Time MUD
Free text-based RPG/MUD based on one of the greatest fantasy novel series ever.
Trash
Online RTS game that supports up to 24 players at once and lets you play the human side of the human-mutant conflict for free.
Blood Clans
Free Online RPG with 3D graphics and a focus on playing in clans.
Navy Field
War strategy MMO with RPG elements that can be played for free until level 30.
Guild Wars Factions
Stand alone campaign with new PvP and guild features that also offers free online play.
Starport: Galactic Empires
Free graphical strategy game where you can either play on a persistent server or try to win a 2 week game period.
Rakion
Free 3D MMO with great graphics that offers plenty of PvP action.
Auto Assault
Action 3D MMORPG where you can blow nearly anything up.
Monster and Me
MMORPG intended primarily for younger audiences that is free to play and focuses on pets.
The Saga of Ryzom
Beautiful 3D MMORPG with an intriguing storyline and considerable character freedom.
GunBound
Innovative shooting game with cartoony graphics that lets you face other players in front of an audience.
Shadowbane
A PvP oriented MMO with both RPG and RTS elements.
Silkroad Online
A 3D MMORPG with both historic and fantasy worlds.
RF Online
A sci-fi MMORPG with anime graphics that focuses on PvP.
Renaissance Kingdoms
Very interactive free online RPG with great political and economic aspects.
Xiah
Free 3D MMORPG with a martial arts theme that gamers may want to avoid for the foreseeable future.
Endless Online
Small fantasy MMORPG that has anime graphics and is free to play.
Little Fighter 2
Arcade-style fighting with very colorful characters that can be played online.
Hobo Wars
Free Online RPG with heaping doses of originality and humor.
Neocron 2
Controversial MMO that offers both FPS and RPG elements.
Anarchy Online
Major sci-fi MMORPG with both a pay-to-play and a free version, Anarchy Online.
Eve Online
Science-fiction MMO that gives you considerable freedom in space, Eve Online.
Supreme Destiny
Free 3D MMORPG with both an English and a Korean version.
Guild Wars
Retail RPG with free online play that won GameOgre.com's Best Gaming Value award for 2005.
Thang Online
Free 3D MMORPG with a huge focus on action and a unique monster system, Thang Online.
ROSE Online
Cartoon-style MMORPG where you can have a major effect on the gaming world.
Conquer Online
A free MMORPG set in an ancient Chinese Kungfu world with nice anime-style graphics.
Rubies of Eventide
A free MMORPG that melds 3D graphics with incredibly deep gameplay.
Ragnarok Online
Popular MMO with cartoon graphics and several innovative features, Ragnarock Online.
Ashen Empires
Medieval Fantasy MMORPG that was once known as Dransik.
Pardus
Free Massive Multiplayer Online Browser Game (MMOBG) where you can trade or pillage in space.
FlyFF: Fly For Fun
Check out a free MMORPG with colorful graphics and solid gameplay where players fly on boards and broomsticks.
Puzzle Pirates
Assume the role of a pirate on the high seas in this puzzling free MMORPG.
Maple Story
Take a look at a MMORPG with cartoon-style graphics that is free to download and play.
GunZ
A game that lets you live out your action movie fantasies online.
BattleMaster
A little-known free Online RPG with strong strategy elements.
Adventure Quest
Take a closer look at one of the more colorful free online RPGs.
Knight Online
Check out one of the best free 3D MMORPGs.
RuneScape
GameOgre.com takes a closer look at one of the more popular Free MMORPGs.