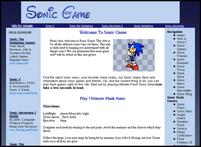 Play sonic the hedgehog games online. Many games to choose from and no registration required. Just simply play free!
Total Rating: 8.21
Reviews: 14
Review Archive
Post Date: 18:10 02-03-2015
Rating: 9
Author: axwellshm
Comment: Love sonic games. I am a big fan of Sonic itself. Played it since SEGA was "everyday happines" 🙂 .. Gonna rate it with 9/10.
Post Date: 22:46 08-12-2014
Rating: 8
Author: paksupro4
Comment: This is free nice game. I am fan of series of sonic and i love all Sonic's games. Nice graphic and gameplay is awesome. Everyone who like sonic should try this . I like game and i rate it with 8/10
Post Date: 17:16 04-09-2014
Rating: 9
Author: Garagos
Comment: Great game, played this before. The most important thing here was speed and collect golds.
You should try also this one. 🙂
Post Date: 09:20 31-12-2013
Rating: 9
Author: keller07
Comment: it is very good game that i ever play. It have really a good graphics even if it is only in a browser and i want to play this game anytime anywhere.
Post Date: 13:30 24-12-2011
Rating: 8
Author: Thedarkboy
Comment: This game is a great game you can play when you're bored. I played it several times. It's pretty easy though. Not very challenging but still very good
Post Date: 11:39 22-12-2011
Rating: 7
Author: KuroTsuna
Comment: Sonic is a nice game, but it's not a game that you want to play it the next time. This game is just killing some time.
Post Date: 10:51 25-06-2011
Rating: 9
Author: cooldude671
Comment: Sonic is awesome.
Post Date: 18:43 01-10-2010
Rating: 8
Author: Vocal
Comment: These sonics game are great.The graphics are sonic feel and it has many stuff.It still kept the sonic traditional way.Keep up the speed sonic!8/10
Post Date: 00:12 02-03-2010
Rating: 8
Author: joker
Comment: Sonic can still be fun to play. Unlike other games Sonic should get a pass on graphics.
Post Date: 11:08 15-01-2009
Rating: 7
Author: jared.
Comment: Its really fun and sometimes funny and i love sonic games And i think they really cool ive played most of them and they all good its probly gonna keep going strong for long
Post Date: 23:40 11-01-2009
Rating: 8
Author: alistaly
Comment: One of teh funnest games especially on consoles. I love the game and so you will no matter what age it will keep you busy especially with the pretty wide range of games in the sonic series there aheap toplay an d keep you busy o nevery console. Might not have thebest graohics but it has the funnest style of things to do and complete. In most sonics tehre will be a range of characters from you to choose from with each of them having there own special power which makes them strong in there own way. A great game for all at any age with fantastic things to do.
Post Date: 22:15 29-05-2008
Rating: 10
Author: Axeforhire66
Comment: Sonic games are alot of fun. Classics
Post Date: 01:01 18-10-2007
Rating: 5
Author: ROCK67
Comment: People this is a cool game!!Try It out!!Im a gamer so iknow about every game there is out there!!!I have every hardwear there is and every game there is
Post Date: 13:47 21-08-2006
Rating: 10
Author: dac280
Comment: Sonic is great character and is reknown throughout the whole world,a 10 out of 10 is in order.