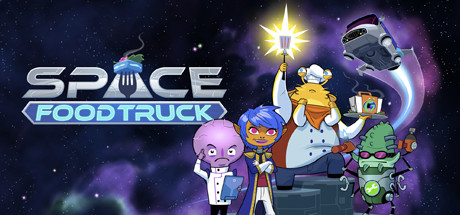 One Man Left's fifth game is  Space Food Truck, a 1-4 player cooperative card adventure for PC, Mac, and Linux. After tons of improvements to gameplay, graphics, and usability over the past four months, the game finally leaves Early Access today at 4pm ET.
If you'd like a Steam key to stream or review the launch version, just reply and let us know!
Space Food Truck is our most ambitious project to date, combining four unique jobs into one cohesive, cooperative adventure. It's tough, it's funny, and we've honestly had as much fun playtesting it as we had making it.
Below, you'll find a few important links and some general information about the game and our company.
About the Game
Supports 1-4 players locally or online.
3 Difficulties: Mild, Medium, and Thai Hot
Games last 1-2 hours, save and stop anytime.
Resume your offline games online, or vice versa.
Invite friends or match randomly.
Our procedural galaxy holds new surprises every play through!
25 Achievements to tackle, plus 8 Steam trading cards to collect
In Space Food Truck, players work together to warp around a procedurally-generated galaxy, search for exotic ingredients, craft tasty recipes, and scramble to the planets craving each dish. There are four roles to choose from: Captain, Engineer, Scientist, and Chef; each with their own unique play style and contribution to the mission. To win, your team must finish every recipe objective before the ship is torn apart by space pirates, wormholes, the terrifying monster that lives in your vents, and more.
Mechanically it's a deck building game with a cooperative twist. Each player must add new items and powers to their own collection of cards every turn. Choosing cards wisely is critical to doing your job and surviving the escalating hazards of deep space.
Space Food Truck will  launch on Steam at $17.99 USD (10% off the full price of $19.99) for the first week.