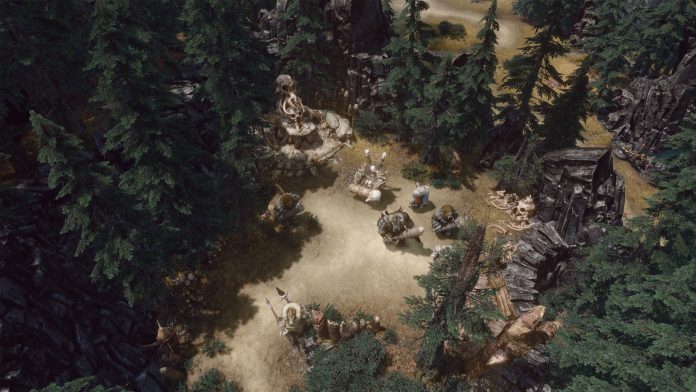 In Spellforce 3: Fallen God, the "trolls" look and sound mighty familiar. In fact, these brutish monsters even carry spiked clubs! Thus, it should not be a shock that this game draws in the attention of GameOgre.com. You can also play Book of Ra for another online game with lots of excitement. Even still you can even check out Luck Lady's Charm Game.
Game Description
Spellforce 3: Fallen God is a stand alone expansion for Spellforce 3. In fact, it is the second stand alone expansion after Soul Harvest. Although this expansion just launched, the original game by THQ Nordic launched all the way back in December of 2017. This game combines RPG (roleplaying game) and RTS (real time strategy) elements to make a compelling game world. You get to control a troll with supporting characters and need to set up your party like an RPG before setting out in the game world. You equip weapons, armors, abilities, and traits. You can also craft and make buildings. You can play campaigns alone or you can play with other players. To level your characters up you will need to be logged in online.
This expansion adds 20 hours of gameplay and reintroduces trolls with their own campaign. You do not need to know anything about the original game or to have even played it. Unlike other playable races, the trolls use a tiered approach to unit creation meaning that units can be used in different roles instead of all grunts etc. In addition, gear from other races can be add to troll gear to improve the gear!
Game Features
SpellForce 3: Fallen God combines RTS and RPG gameplay for an exciting mix of roleplaying and real-time battles.
Fallen God is a standalone expansion to SpellForce 3.
Single-player campaign features Trolls and their brutal battle for survival with a playtime of around 20 hours.
Customize your heroes by combining skill trees and abilities to create the perfect heroes for your strategy!
Explore Urgath and solve its mysteries using hero interactions with the world.
Tiered approach to unit creation.
Craft powerful weapons and armor from other races to give your Trolls the edge in battle.
Sharpen your battle strategy in an improved sector-based RTS system.
Make the best use of each unit's strengths to ensure victory.
Final Thoughts and Rating
Despite the obvious appeal of the ogre like trolls, Spellforce 3: Fallen God is not only a great stand alone expansion, but a great game in its own right! Believe me, that can not be said about all games with ogres in them! This RPG/RTS Hybrid offers a very fresh approach to standard RTS fare that should increase interest in the original game of the series. That said, this game gets a 9 out of 10 club rating!