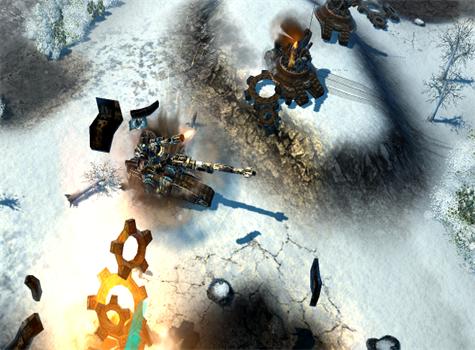 Choose your side and join fast-paced, tactical missions against players of other factions. Or steal resources from marauders everywhere in the country, to improve, repair or individualize your steel colossus. The dynamic between action oriented Player-versus-Player mission and the long-term enhancement of your own steel colossus makes this game a fresh installment in the genre of multiplayer PvP games.
Post Date: 14:24 12-02-2015
Rating: 8
Author: axwellshm
Comment: Interesting MOBA/Strategy game i must admit. From building to crushing your enemies with power of machines, this is pretty good game. Graphics and sounds are really good. Gonna rate 8/10.
Post Date: 10:34 02-01-2015
Rating: 7
Author: arZ
Comment: Steel Legions is a machine MOBA. You can choose 4 factions that they fight. The Graphics are really cool. All machines use steam. This game you can play on facebook and you have to download Java. I give this game a note of 7/10
Post Date: 20:31 05-11-2014
Rating: 7
Author: Mihajlo
Comment: Steel Legions is fast-paced war machine MOBA game. You can choose between four factions (Phoenix Empire, Pandora Rebels, Golden Territories and Tundran Warriors), they create, level up and customize you tank. I rate this game 7/10
Post Date: 15:06 10-05-2014
Rating: 10
Author: BaNaNiCa
Comment: This is one good game for mee, fast game, good graphics and i would recommend it to everyone! 🙂
Post Date: 20:21 12-03-2013
Rating: 8
Author: PolanWalker
Comment: This production is a free browser based MMORPG. This one offers us a fast action face to face action. In this game we are fighting with other online players using freat steam driven combat vehicles. This is an alternativeworld where is no petrol and all machanical devices and machines are powered by steam. Game is preety nice and give big fun from playing. I think this game is a great proposition to all online players. For me game is good made piece of work. I rate this game 8/10 🙂
Post Date: 00:16 07-03-2013
Rating: 10
Author: Mordekaiser
Comment: Steel Legions is a very Fast Game The Graphics are great also its a browser game so no Download just play it off facebook if you have it also there are alot of players and its quite a bit for fun you start out with decent machines and this game has RTS elements and MOBA elements and RPG elements This game is alot of different Genres put into one i recommend this game for anyone 10/10
Post Date: 14:08 11-10-2012
Rating: 9
Author: Thedarkboy
Comment: This was a pretty nice game. I really like the combat of the game. It's very fun and you never get tired of it. The missions are also well made, they are very exciting. The graphics are also very good. Not many problems you can find about that. The only negative thing I can think of is that it might take a while before you can compete against other players. But I guess it's like that in all games
Post Date: 11:15 07-08-2012
Rating: 8
Author: PolanWalker
Comment: Reading about it and i think its kind of good game. If i will have some free time i will check it 😀 Based on reading articles 8/10.
Post Date: 22:00 16-11-2011
Rating: 8
Author: dmt_2000
Comment: This game is a fast paced tactical games it is a pvp game if you like pvp games or tactical games or side games then you should try this game out
Post Date: 13:28 30-10-2011
Rating: 9
Author: champking5
Comment: Start your avatar and get in the game! This fast-paced with really enjoyable missions decreases your boredom by a lot! Keep lvling and working hard, you got your self a big force!