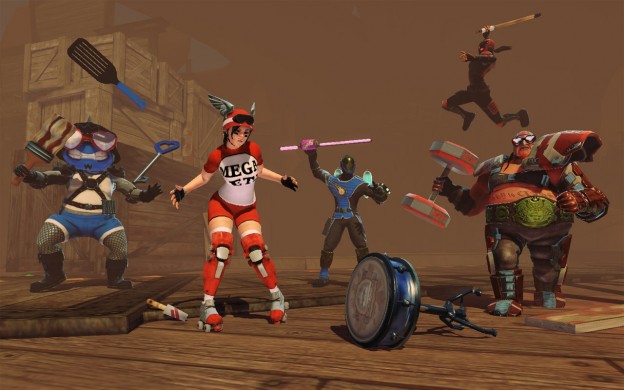 Super Monday Night Combat is a free-to-play third-person shooter multiplayer online battle arena (MOBA) video game developed and published by Uber Entertainment for Microsoft Windows. It is the second release set in the Monday Night Combat universe and a sequel to Monday Night Combat
Post Date: 13:57 13-02-2015
Rating: 8
Author: axwellshm
Comment: This game is great MOBA, like the design of the whole game mostly. Graphics are kinda cool , and sounds are not bad either, also it has some similarities with the TF2 (my opinion) and it's really good shooter game. So yeah, i'll rate 8/10.
Post Date: 16:12 07-11-2014
Rating: 5
Author: Mihajlo
Comment: Super Monday Night Combat (Super MNC) is third person shooter with MOBA elements. Characters are called Pros and there are 18 different ones divided in 5 roles. I rate this game 8/10.
Post Date: 08:58 14-10-2014
Rating: 8
Author: FrendlyLeBlanc
Comment: Uh this is funny MOBA game… I didn't play her but know about her because my friend play her… It's pretty good game when watch and i think to i will start her.
Good game 8 🙂
Post Date: 08:24 14-10-2014
Rating: 7
Author: arZ
Comment: Super Monday Night Combat ( Super NMC ) is a free to play multiplayer online third person battle arena or MOBA. The developer and publisher is the company Uber Entertainments. Release date from this MOBA was in year 2012, April the 18th ant the original released was on XBOX.

Super Monday Night Combat is a game inspired by the popular defende of the ancients or DOTA. Its a thirth-person game. Super Monday Night club is similar to other mobas. The game begins like all other mobas with a matchmaking system. They are three types of games. 5v5 mobe man Super Crossfire and Turbocross, and 5vBots Super Blitz. But the most popular game mode is the 5v5 mode. The players in Super Monday Night are called "Pro", something like in League of Legends, "Summoner". SO after you enter the matchmaking and pick a team ( Crossfire / Turbocross or Hotshot / Icemen) you need to pick a character that you will play in the game. They are six different classes in the game, and sixteen champions at this moment. The champions are:

Assault: This character got medium health and mobility but high burst damage. Overall its a good character, not hard to play. His primary weapon is assault rifle and his secondary Granade launcher.

Tank: He got a short range but really high damage, high health and is really slow. His primary weapon is Jet Gun and secondary Rail Gun.

Support: Its class with moderated health, got nice fire power and big armour. This character is really easy to play. His strength comes from his ability to buff team mates and hold down areas with turrets and artilery strikes. His primary weapon is Heal/Hurt gun and secondary weapon is Shotgun.

Assassin: Is the hardest character to play in game because of the low health and because its a mele character. The mobility of assassins is really hight and damage is hight too. The primary weapon from Assassins is a dagger, secondary weapon Shuriken Launcher.

Gunner: Is something like a tank but less aggressive character. Is really easy to play. This character got high armour, slow speed, and he can shield his allies.
Really good defender in his game. His primary weapon is Minigun and secondary Mortal Launcher.

Sniper: Maybe the hardest class in this game. He is a sharp shooter, with a heavy damage at a distance, but is really weak in a close battle. His primary weapon is Sniper Rifle, secondary weapon SMG.

Wascot: Really funny to play bur really hard to master. His primary weapon is a coin Launcher that fires fake coins which explodes after a time or explode when
the enemy touch them. His secondary weapon is heart breaker and its a mele weapon.This character got some nice debuffs for the enemy.

Captain Spark: Extreme hard to play and to learn. His primary weapon is a sword and secondary weapon ray gun. Really mobile character. Can blink. Really fun to play too.

Karl: Is not a hard character to master. Really high base health with nice mobility. Overall maybe he best champ in game for me. His primary weapon is handle and secondary is bouncing bubbles ( bombs )

Megabeth: His primary weapon is rocket Maam and when you hit a target with this weapon it splash around and deal damage. Secondary weapon is Bearing Hates. Overall good champ and easy to play. Good for beginners.

Cheston: Something like a big gorilla. He can use Roar to heal and buf himself His primary weapon is Tommy gun and secondary Family Jewel. Really tanky character. Really good 1v1 character can deal lot of damage, but is little bit slow.

Veteran: Is a mele champion master of close combat. His primary weapon is Flying Falcon and secondary Hot seat. He got hight health and really high damge.

Combat Girl: The easies champ in this game, recommended it for beginners. She can summon combat kitty turrets with a powerful laser beams that deal a lot of damage. Her primary weapon is combat healer and secondary nail gun. Combat Healer can heal her.

Leo: The only character that is something like a mage in this game. Really easy to play and fun. His primary weapon is Mona Laser and secondary Balestra.

Gunslinger: Hard to play. She got the ability to increase her fire rate and the power of shooting. Got two weapons Lucindas as a primary weapon and the secondary weapon is love pistol. Personally my favourite champ in this game.

Artemis: Is a sharpshooter. Shoorpshooter form long distance. Her primary weapon is something like a bow, skewer and secondary foie gras. She can debuff enemies.

After you pick one of the sixteen champs he game can start. The main objective in this game is to destroy the moneyball. The moneyball is defended by enemy team and
many turrets. After you destroy the turrets and kill many enemy players you gain money and experience like in all other moba games. For money you can spawn more minions, buff your character or buy health potions . You dont need to buy any items like all other mobas. The team that destroy first the moneyball wins the game. Easy rules for much fun. Really funny and interesting game. I played it maybe six months. This game got nice graphic and cool sound with cool soundefects. I rate this game with 7/10.