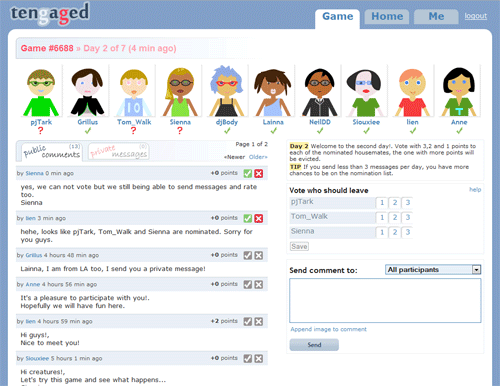 Tengaged is a social game where you can meet new people, with some rules similar to the Big Brother TV show. Basically you enroll in the game and once 9 more participants enroll then the game starts. Each game last for 7 days and each day you have to interact and know the other participants by sending public or private messages to the group as well as rating the messages. Each day an algorithm process who among the participants should be nominated by calculating many indicators like number of negative and positive votes, number of messages sent, how you have rate other's messages, etc. The list of nominees (3 contestants) will be voted by their housemates and the one with more points will be evicted from the game. Each day one of the participants is evicted, and at the end of the 7 days the list of winners will be generated by the algorithm.
Post Date: 12:48 13-10-2012
Rating: 1
Author: Thedarkboy
Comment: I don't really get this "game" at all. I spent about 10 minutes on it before I stopped. I didn't enjoy it at all. It might have been better if I would have any friend to play with though. I don't really know since I played it alone. Well, I can say that it's nothing for people who play alone. Not a good game.
Post Date: 17:27 07-03-2009
Rating: 3
Author: darkem
Comment: IT looks o.k but not that good