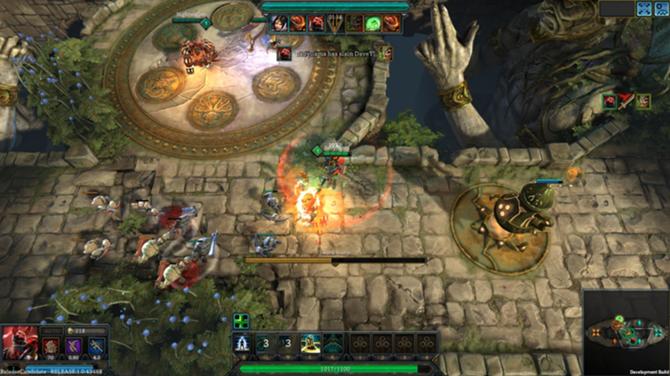 TOME: Immortal Arena is an in-browser, no-download, MOBA that features fast-paced matches.
Post Date: 08:31 15-04-2015
Rating: 8
Author: LosmiK
Comment: Tome: Inmortal Arena is a fast and fun MOBA ideal for the beginners in the genre. However, hardcore gamers may quickly get bored because of its simple mechanics.
Post Date: 14:04 13-02-2015
Rating: 9
Author: axwellshm
Comment: Map reminds me on Twisted Treeline map in League of Legends. I can say that gui is also connected with the LoL, but the graphics, the map style, is just perfect. Just look at the picture. Every detail is story for itself. SO with the good map design, goes and good looking graphics. I will rate this game, since it's a browser game, a 9/10.
Post Date: 22:59 25-11-2014
Rating: 7
Author: drbrekalo
Comment: TOME is and MMORPG browser game, i got reffer to it by PhantomL0rd a LoL Twich streamer, good game to kill board, easy and fast match finder but stilol needs some work on it, by far ive plyed i like it and giving it 7/10
Post Date: 18:02 06-11-2014
Rating: 8
Author: Mihajlo
Comment: Tome: Immortal Arena is arcady-styled browser based MOBA game. Characters are called guardians, there are 20 different ones with 4 unique spells and they're devided by six elements (Creation, Air, Water, Fire, Earth, Death). I rate this game 8/10.
Post Date: 14:37 29-08-2014
Rating: 8
Author: arZ
Comment: Tome Immortal Arena

Because there are no review for this game I have chosen Tome Immortal Arena to review as first. I played this game two – three weeks, before I start to play League of Legends and Dota2. Really enjoyed the game play. So here is the review:

Tome Immortal Arena is a free online multiplayer game(MOBA). Its a browser game! You dont need to download the game, just create an account and its ready to play.
Developer from this game is a company KIXEYE. This moba is not so popular like League of Legends, Dota or Smite because they are no tournaments and championships with big prize money like in other MOBAs. Two teams withe each three players are fighting each other and the goal of the game is to destroy the enemy towers and the enemy base.KIXEYE are preparing a five vs five mode. At this moment its possible to play just the three vs three mode. Something funny about this game is, in all mobas you are moving you character with a left click on the mouse, in this moba its the right click. So you need some time to learn it 🙂

In Tome Immortal Arena, Player is controlling a single champion just like in other moba. They are not so many champions in this game like in the other more popular mobas.
They are about twenty champions in this game. Every champion got his unique skills and spells. They are two different roles in this game.Tank, a champion with lot of health and armor or a Mage that can cast many different sorts of spells. Spells consume resources. You dont have
any cooldown, you just spend mana. You can spam your skill till you waste your mana. They are just two roads that connect the two bases … not like in other mobas. Minions are spawning randomly on the map and for killing then you get gold and experience point. For gold you can buy better items and gaining experience you can upgrade you unique champion skills. Every champion one passive, three basic skills and a ultimate skill.Every week you have a free rotation of champion like in League of Legends.But you can also buy a champion with real money if you want or you can buy a skin for you favorite champion.

The graphic is awesome and sound is really nice too.
For a browser game really good game. For playing this game
you dont need to download a game or a game client… you just need a browser and Flash player update.

Pro: Its a browser game, you dont need to download it.
Nice graphic and good sound in the game. Was really honestly surprised playing this browser game!

Cons: Not so popular, and not so much champions to pick.
Just one game mode at this moment (3v3).

I recommended this game when you are bored, or when you dont have much time to play other games. One game takes maybe 10-15 min to finish it.
I rate this browser game with 8/10!