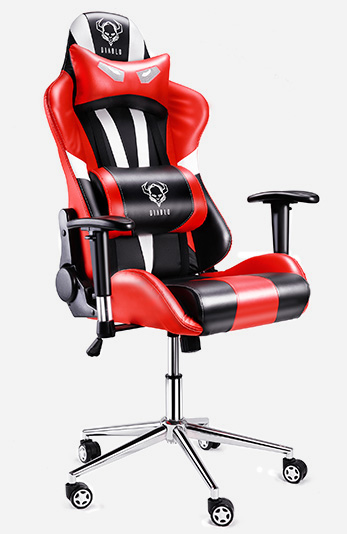 Let's be real, usually, when setting up your gaming equipment, the chair is the last thing that comes to your mind. Unfortunately, this should be the very aspect you start with if you want to get a safe, comfortable, and healthy gaming. Yet, setting out to choose the best gaming chair is never an easy undertaking. A lot goes into making that perfect decision. Not to worry, now that a good chair is what you are looking for, you are right where you need to be. Strap in, we take you on a spin around few tips that will go a long way to landing you the right chair for the game. Speaking of spinning, you can also go to bet365 for a bonus code. 
Decide the perfect style for you
These chairs come in a collection of different designs and styles. The most sensible thing to do is get one that best fits your desired type. Some of these include the racing car ones. They are not perfect for long hours of gaming although they are comfortable and look pretty cool. Another great chair is the type you will often find in the office. They may vary in design, but they make for an ideal option for long gaming hours. So if you are usually on your desk, then this one might serve you better.  The other common designs and styles include rocker chairs, pedestal, bean bag and PC gaming chair among others.
Features are a must-have
Of course, you can't find a chair that doesn't pack in several features. But what matters most is how those features are going to improve your experience. The type of features you desire is all up to you. For instance, in case you are going for an immersive one, then the audio system will really count. If you are bent on getting the best luxury, then a chair with cup-holders and such features is for you. Some of these chairs even have a storage compartment where you can store a few kinds of stuff and equipment. Well, that would be a much welcome addition too.
How good is the ergonomics?
Efficiency and convenience aside, let's talk matters comfort. To choose the best gaming chair, you should get one that offers an unparalleled comfort. This proves essential if you game for long hours. You will be dealing with those needles and stings after every session spent on a clunky chair. And with an uncomfortable chair, you will have a hard time concentrating on the action. Above all, the last thing anyone wants is to stand up after every 20 minutes to deal with a sore back. Nevertheless, keep in mind that it is advisable to take a break quite often – maybe after an hour or so.
What use do you have for it?
The way you intend to use your chair usually helps you choose the best gaming chair for the job. Some want a chair they can use to play games on their personal computer. In this case, a computer gaming chair proves unbeatable. Others will be playing on their console. Hence, a conventional gaming chair will work well. Fortunately, these chairs sports features that are built for gaming, so it's all about considering your intended use. With that in mind, finding the perfect fit becomes super easy.
Make sure it is compatible with the rest of your system
The configuration of your chair and your rig setup is critical, and you need to get it right. Luckily, you can check whether this is the case before buying your next chair. And thankfully, most of these chairs work perfectly with a wide array of gaming systems. These range from PlayStations to Xbox One and PC as well. Don't forget though, that not every chair will work wonders with any system. So checking beforehand can save you a lot of hassle later on.
Get what you pay for
It might sound trivial, but you definitely need the value for your buck. It's always best to start by cutting out your budget so you know what chair to go for. And with an endless range of options, finding one within your budget won't be a challenge. That said and out of the way, you need to ensure you don't overspend on the purchase. Most importantly, don't settle for less, you should get the quality that you are paying for. Ensure to check whether the construction, material and overall quality of the chair match the cost that you are fronting.
Comfort and health are crucial
Let's face it, one of the reasons anyone would look for a particular gaming chair is the comfort. Comfort can be relative, as no one experiences it like another. However, some of the features in these chairs can tell you just how comfortable it can get. If you want to be sure about this, you can check on a few aspects that count.
These include headrests, armrests, and sometimes footrests too. In other chairs also come with lumbar support and removable massager pillows. All of these usually go a mile further than just the luxury. Most of them help in keeping your health safe despite long hours of gaming. The ideal back and neck support can save you the dreaded aches and pains in these parts.
To wrap up, it becomes apparent that a gaming chair is important for you in many ways. The key issue now is to choose the best gaming chair that can take your experience a notch higher. With any of these aspects under the microscope, you will easily find a one that fits your needs. Remember to check out a few other aspects like technology, the material as well as how cool the chair is too. As you get out there to make your perfect choice, you will know what to go for. Gaming can't get better!