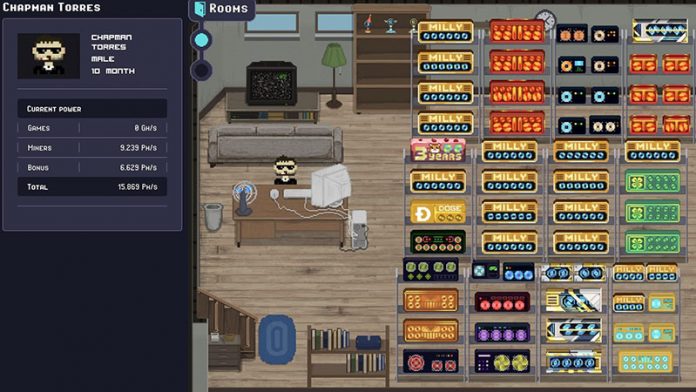 If you're into gaming then you won't have been able to avoid the hype around crypto games. The possibility of earning money while gaming seems pretty amazing and so it's not surprising that there has been a huge growth in the number of games available.
So, the next question is, which games have caught our eye as a great way to combine gaming with earning a bit of extra cash? In this guide, we've picked out our top ten.
Games to Win Cryptocurrencies
So, without further delay, here are our top ten favorite play to earn crypto games!
In Roller Coin, you take on the role of a cryptocurrency miner who needs to monitor and manage his small mining farm. However, rather than farming your fruit and veg, you're now mining Bitcoin (BTC), Litecoin (LTC), Ethereum (ETH), Dogecoin (DOGE), and the native currency of the game, RLT.
Roller Coin gets into our top ten list because it provides the option of playing for free. Do remember though that to make a profit you will need to make a financial investment first.  
This is one of the most popular games offering the chance to win money or cryptocurrencies. This is thanks to its internal market that  allows you to change or sell your creatures in exchange for crypto, usually Ethereum (ETH).
Axie Infinity's system consists of granting rewards for playing the adventure mode or PVP. There the players who have their team ready will be able to win cups and climb among the players with the highest score, those who are in the first position then receive special prizes.
One of the games that have stood out the most during the last days of 2022 has been Splinterlands. This is because its card game mode, which mixes concepts of NFT, action, and more, has caught the attention of a large number of users.
In addition, there are four different game modes:
Ranked Battles
Here you'll battle against other players while gaining experience through winning matches and raising up the ranks. As you move higher in the leagues, the amount of DEC awarded increases.
Practice Mode 
A great opportunity to get I some practice in creating your team before going into a battle. This mode allows you to try out different strategies before entering a battle. 
Challenge Mode
This mode allows you to challenge a friend without there being an impact on your ranking. Another great way to try things out before going into battle for real.
Tournament 
Every day there are several tournaments, which require a DEC fee to join. If you're good enough you can win big and rise up the rankings!
This is one of the most fun NFT games to earn cryptocurrencies on the market, especially if you are a fan of third-person shooter games. This game is based on the popular Supercell game that many know, called Brawl Stars.
Thetan Arena has the same concept, what differentiates it from Brawl Stars, is that it's developed in blockchain and each character that is acquired is an NFT that can be sold in the marketplace.
This is an attractive GameFi video game with which you can earn crypto in a number of different ways. This game has monetized pretty much everything!
It also has an incredible MOMOverse (metaverse) that is under development. We think this will then rocket this game into one of the best available.
Among the NFT games with the highest monthly transaction volume is Farmers World. 
In this video game, players acquire land and begin to develop their mining, agriculture, or breeding farms. If you're farming skills are good enough you can earn crypto through the sale of your produce. But watch out for the wild animals that can create havoc in seconds!
Bomb Crypto, may look very familiar to many gamers and that's because it's based on classic Konami game, Bomberman, which many of us spent way too many hours playing!
This game has had rapid growth in its volume of active users since it allows you to enter the game with an investment that is pretty low when compared to other similar video games. 
Upland is a video game based on the EOS blockchain that has been capturing the attention of a large number of users. In it, players have access to a map that focuses on the real world. However, access to this metaverse is only possible by acquiring a space in which to develop the strategy to win.
Notably, Upland land is being sold as an NFT, and it's getting scarcer. For this reason, it would not be surprising that in a short time these are listed for a few hundred thousand dollars.
In Alien Worlds you'll be mining the native cryptocurrency of the game (Alien Worlds or TLM) almost automatically. However, the process can be speeded up depending on the mining tool the player has. Of course, those who start playing for free will have a basic shovel, which can be exchanged for a more advanced one with purchase.
Unlike other options mentioned, Alien Worlds is a free blockchain video game.
This role-playing and battle royal type game has become hugely popular with play to earn gamers. Since it has a visual resemblance to Fortnite, the main difference is that in LightNite the skins have a unique value, since they are NFTs.
The game consists of acquiring and coining skins that are obtained in PVP battles. These can be sold or exchanged in the market that the platform owns for cryptocurrencies, depending on their rarity, their value could be higher or lower.