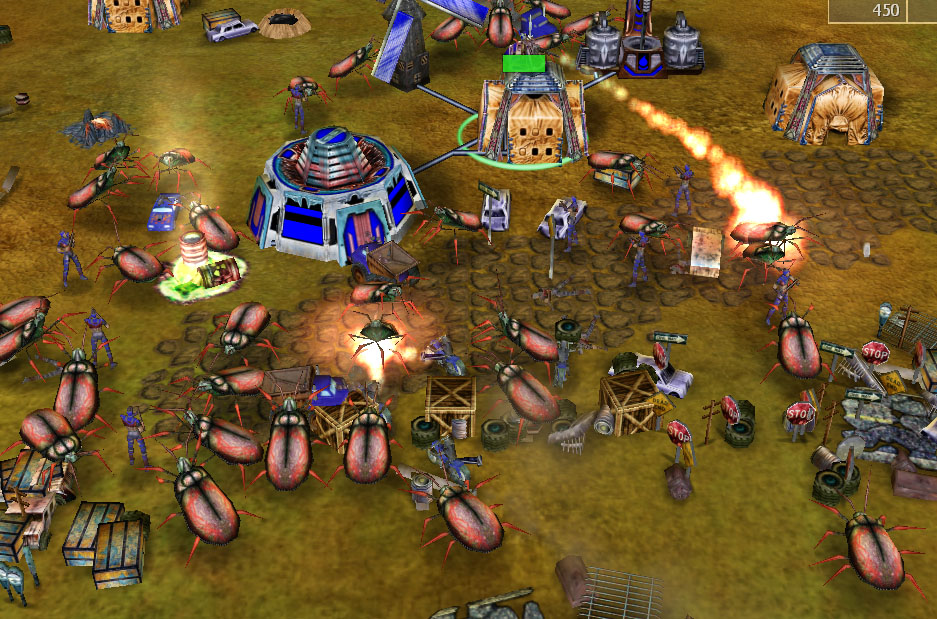 Game Description and Comments
Trash is a RTS that can be played offline as a single player game or online as a multiplayer game. There are only two sides to play, either as humans or as mutants. The game get its rather unique name from its primary resource, trash. Trash not only is used to construct your army, but also offers some interesting twists as well such as being able to reuse trash from destroyed enemy units. Pipes are also crucial to the game they make it possible for you to transfer resources between buildings and serve as a huge target for both you and your enemies. Other nice aspects of the game include the use of high ground as a major advantage, requiring line-of-sight to see into walled bases, and not being able to simply mass produce everything to win.
Trash's solid gameplay is bolstered by very colorful graphics. As can be seen in the screenshots, the graphics are very cartoon-like. Yes, you can find better graphics from RTS giants like EA and Blizzard, but the graphics are very impressive for a lesser-known game. Overall, Trash is one of the better RTS games that you won't find in stores.
Features
Up to 24 players can play at once.
Destroyed units can be a valuable resource.
Demo version allows you to play the human for free.
Major focus on teams working together.
Share resources with your teammates.
Lobbies in place for matchmaking and tracking your stats.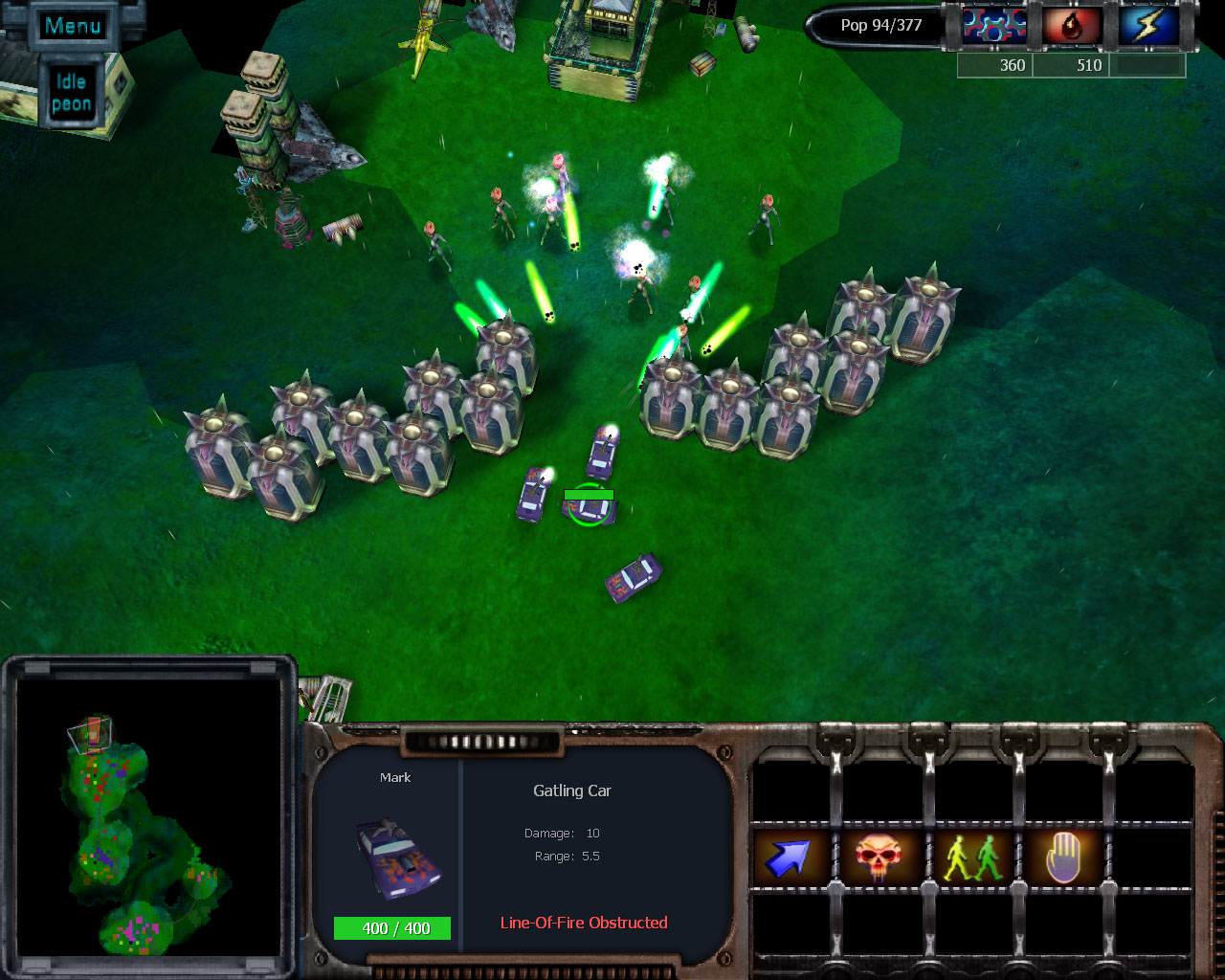 Select User Reviews (Edited for Presentation)
Rating: 10
Author: Toet
Comment: A very good game! Its unique upgrade system, the two sides (human and mutant), the amazing teamplay and the nice community make this game one of the best I've played yet.
Rating: 7
Author: Mr. Peel
Comment: Fun little RTS with a cool theme. Not a game I would play as much as something like C&C, but its good when you want something different.
Rating: 10
Author: Trent
Comment: Amazing RTS game! Unique gameplay and the storyline is great! Also, a great community. Teamwork is definitely the key to the game. The creator Mark Currie sure made a good one!
Pricing Model
Trash offers a demo version, but requires a one-time fee of $19.95 for the full version. The demo version allows you to play unlimited times as the humans, but you can only play on one of the maps. The download size is only 20 MB.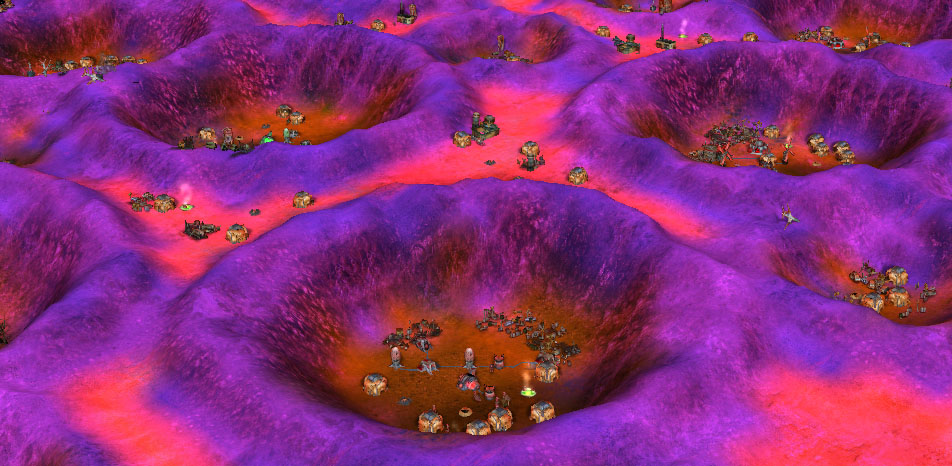 Past Featured Online Games of the Week:
Blood Clans
Free Online RPG with 3D graphics and a focus on playing in clans.
Navy Field
War strategy MMO with RPG elements that can be played for free until level 30.
Guild Wars Factions
Stand alone campaign with new PvP and guild features that also offers free online play.
Starport: Galactic Empires
Free graphical strategy game where you can either play on a persistent server or try to win a 2 week game period.
Rakion
Free 3D MMO with great graphics that offers plenty of PvP action.
Auto Assault
Action 3D MMORPG where you can blow nearly anything up.
Monster and Me
MMORPG intended primarily for younger audiences that is free to play and focuses on pets.
The Saga of Ryzom
Beautiful 3D MMORPG with an intriguing storyline and considerable character freedom.
GunBound
Innovative shooting game with cartoony graphics that lets you face other players in front of an audience.
Shadowbane
A PvP oriented MMO with both RPG and RTS elements.
Silkroad Online
A 3D MMORPG with both historic and fantasy worlds.
RF Online
A sci-fi MMORPG with anime graphics that focuses on PvP.
Renaissance Kingdoms
Very interactive free online RPG with great political and economic aspects.
Xiah
Free 3D MMORPG with a martial arts theme that gamers may want to avoid for the foreseeable future.
Endless Online
Small fantasy MMORPG that has anime graphics and is free to play.
Little Fighter 2
Arcade-style fighting with very colorful characters that can be played online.
Hobo Wars
Free Online RPG with heaping doses of originality and humor.
Neocron 2
Controversial MMO that offers both FPS and RPG elements.
Anarchy Online
Major sci-fi MMORPG with both a pay-to-play and a free version, Anarchy Online.
Eve Online
Science-fiction MMO that gives you considerable freedom in space, Eve Online.
Supreme Destiny
Free 3D MMORPG with both an English and a Korean version.
Guild Wars
Retail RPG with free online play that won GameOgre.com's Best Gaming Value award for 2005.
Thang Online
Free 3D MMORPG with a huge focus on action and a unique monster system, Thang Online.
ROSE Online
Cartoon-style MMORPG where you can have a major effect on the gaming world.
Conquer Online
A free MMORPG set in an ancient Chinese Kungfu world with nice anime-style graphics.
Rubies of Eventide
A free MMORPG that melds 3D graphics with incredibly deep gameplay.
Ragnarok Online
Popular MMO with cartoon graphics and several innovative features, Ragnarock Online.
Ashen Empires
Medieval Fantasy MMORPG that was once known as Dransik.
Pardus
Free Massive Multiplayer Online Browser Game (MMOBG) where you can trade or pillage in space.
FlyFF: Fly For Fun
Check out a free MMORPG with colorful graphics and solid gameplay where players fly on boards and broomsticks.
Puzzle Pirates
Assume the role of a pirate on the high seas in this puzzling free MMORPG.
Maple Story
Take a look at a MMORPG with cartoon-style graphics that is free to download and play.
GunZ
A game that lets you live out your action movie fantasies online.
BattleMaster
A little-known free Online RPG with strong strategy elements.
Adventure Quest
Take a closer look at one of the more colorful free online RPGs.
Knight Online
Check out one of the best free 3D MMORPGs.
RuneScape
GameOgre.com takes a closer look at one of the more popular Free MMORPGs.