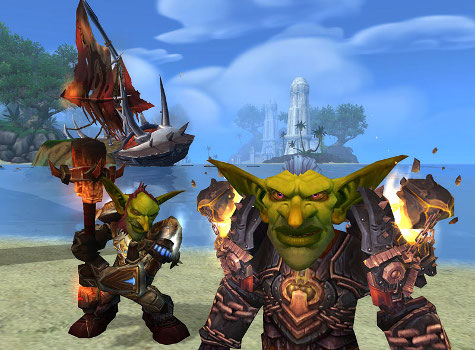 Second round match in MMORPG Showdown 3.
The Match-Up
This match was intriguing because it pitted the world's most popular MMORPG which charges a monthly fee against a rising star among free MMORPGs. That said a free MMORPG normally has the advantage over a pay-to-play MMO because some gamers do not pay for any MMOs. Furthermore World of Warcraft did not beat a free MMORPG in MMORPG Showdown 1 or 2. In fact WoW lost to the only other free MMORPG that it has faced when it met Guild Wars in the finals of Showdown 1. The potential for an upset was even greater considering that Perfect World has been one of the best reviewed games on GameOgre.com while World of Warcraft has an ample supply of reviewers who either love or hate the game. Perfect World is an example of a free MMORPG that does many things well such as great customization nice graphics a huge number of quests and a territory PvP system. With all that in mind this match more delivered the excitement it promised. The voting was back-and-forth all the week and the tiebreaker voting even ended in a tie. In the end World of Warcraft barely won 6.47 to 6.46. If the deadline for voting had been one hour later Perfect World would have won because a couple of votes came in late. World of Warcraft moves onto the semi-finals while Perfect World could be a favorite to win next year.
Tale of the Tape
Still the world's most popular MMORPG with over 11 million subscribers.

Had an extremely successful expansion with the Burning Crusade.

Second expansion Wrath of the Lich King is a huge hit as well.

GameOgre.com's 2004 2005 and 2007 Online Game of the Year.

Constant updates and patches have made it into one of the best-made MMORPGs yet.
Versus
Free to play.
GameOgre.com's Reader's Choice for Online Game of the Year.

Different versions in different areas of the world.

Based on Chinese mythology.

The English-speaking International version was launched in the fall of 2008.

One of the best reviewed games on GameOgre.com.
Select Comments For World of Warcraft (Edited for Presentation)
Rating: 10
Author: richell7
Comment: World Of Warcraft has a brilliant story line an amazing combat system and over 1200 quests! Although its 10œ a month you've got to think about what your getting for it. Well I can only tell you a few things;
1. Lots of classes and races that make player customization massive!
2. Unique skills and weapons.
3. Fits to your pace whether you are a hardcore or a casual gamer.
Bad points;
1. Could only take you a few weeks to get to your max level (playing 5-7 hours a day and missing lots of game content like professions).
2. Around level 40 you'll start to struggle with armor and weapons so casual gamers might get a little stressed.
Rating: 10
Author: shizen656
Comment: It is the most played MMORPG in North America need i say more? Certainly because most people leave it at player base but it is much more than that. It is crafted from the deep pockets from the folks over at Blizzard and as a result they have created a WORLD a massive universe that has managed to go beyond being just a game but something else entirely. I've never played Perfect World but i have toyed with many other MMORPG's F2P and P2P and I keep coming back to Blizzard's simple addictive and successful formula.
Rating: 10
Author: clickmehere
Comment: WoW is a great constantly updated game with a fully edited website 2 expansions a entire world bigger then earth itself to explore 8 different races to choose from including 2 Different Regions (Horde and Alliance) and 7 Job Classes with bonus skills like blacksmithing fishing herb lore and much more. All worth 20 bucks if you ask me.
Rating: 10
Author: xcriminal013
Comment: This game beats Perfect World by far so don't even bother comparing it. Of course Perfect World's character customization is phenomenal but the gameplay is terrible! Slow and laggy combat with cheap rewards from repetitive quests make Perfect World a terrible game. Perfect World is not better because it is free. Seriously $15.00 a month for WoW is only .50 cents a day. This game has way more dungeons content races classes skills mounts and quests (not to mention fun pvp) than any free or p2p MMORPG I've ever played. This game is what got me into MMORPGs.
Rating: 10
Author: fun828
Comment: Great game with great people and great lore. it is so much fun with so many choices from race to class. Each class is different in every way. If a game like this has been up for so long and has been doing so well it won't be beat by a free-to-play MMO.
Rating: 1
Author: yarrow
Comment: This game is ok. Takes little to no skill. If you can tolerate the immature player base you'll have to learn to tolerate the mundane repetitiveness of quests. You have to suffer through the same mindless grind of raiding for months to get that one piece of gear that every single other toon of that class has.
The only reason this game has reached the level it has reached in numbers is because it is super easy carebear mode. WoW also benefits from mainstream media like its tv commercials. That is what draws in such huge numbers. They are selling it to the kiddies who put stock in what looks cool but not necessarily in what is actually good. Good solid games don't need such trendy tricks to draw in a good player base they can rely on the content and substance of their games. And no new dance emotes is not substance.
Select Comments for Perfect World (Edited for Presentation)
Rating: 5
Author: fun828
Comment: Perfect World is an ok game. I like the races and how you can fly and all but I have seen it all in wow before. Yea I think WoW is better. WoW is better polished when it comes to the look of the interface and the quests are just about 100% more fun and original.
Rating: 3
Author: iron zeppelin
Comment: This game is good but it's already obsolete. Aion is looking like it can do everything that this game offer and up it 200 notches. Just look at the flying and character creation. Its PW on steroids. This game lacks decent graphics a coherent storyline and anything to keep you playing past level 30. While I hate WoW with a passion its definitely a more gripping game than this one.
Rating: 0
Author: richell7
Comment: Very little support and a large download The community is ok but all in all I was very disappointed with the outcome of the game. I would think twice before downloading this.
Rating: 8
Author: aaddron
Comment: Great game! The quest aren't really that original and it has its problems but it's a solid well rounded experience.
Rating: 10
Author: serpintine
Comment: Great game but gets slow after 60. It took me about 2 1/2 weeks to get to 60 (veno's rule). There are not a lot of quests to level you so it is grinding. However the creators did a great thing giving the chance for the high level characters to actually interact with the lower level characters. This game is the best F2P game there is. The graphics are great. The customization for your character is the best I've seen in a game. The crafting system is a good although they could make the drop rates a little bit better. The PvP system is also pretty sweet with Territory Wars.
The Voting
World of Warcraft received a total score of 6.47
Perfect World received a total score of 6.46
The Result
World of Warcraft Wins!