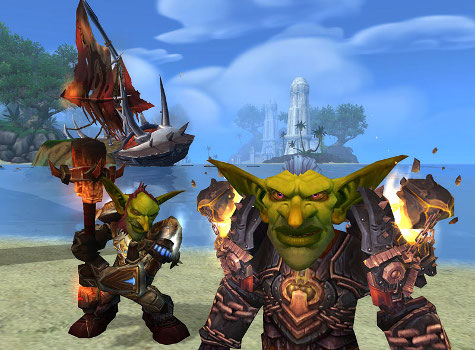 First round battle in the MMORPG Showdown 2 series.
The Match-Up
There was once a time before it was launched that Vanguard was considered by many gamers to be the big WoW killer. Vanguard was set to reinvent the genre with such features as having no instances player-owned ships and a new diplomacy system that depends on strategy rather than just combat. The idea was to provide a deeper more interactive MMO experience than World of Warcraft. In practice however the game has never lived up to the lofty expectations that many gamers had for it due primarily to very buggy launch. The game has improved somewhat since its poor launch but it has not been able to quite establish itself as a major force in the industry yet. Thus it was no surprise that WoW jumped ahead early in the voting and never looked back.
Tale of the Tape
World of Warcraft
Still the world's most popular MMORPG.

Had an extremely successful expansion the Burning Crusade.

Second expansion Wrath of the Lich King has been announced.

Has improved PvP considerably by allowing players to report AFKers.

Has several grinds such reputation PvP honor and experience.
Versus
Vanguard
Focuses on the hardcore MMO players.

Attempts to be the top alternative to WoW.

Terrible launch that was plagued with bugs.

Diplomacy system is a nice innovation.

No instances.

Player owned housing and ships.
Select Comments For World of Warcraft (Edited for Presentation)
Rating: 8
Author: NeoLlamster
Comment: Good overall game with decent graphics and addicting gameplay. So addicting in fact that several people have died from exhaustion or thirst while playing WoW for several days straight.
Rating: 10
Author: maxmurder
Comment: World of Warcraft is the best and better than any other game. WoW should win this tournament especially with the new expansion!
Rating: 8
Author: jackin9
Comment: This game is wonderful! The graphics are great even on a low end computer. The gameplay is great too with all the raids and instances! I love this game but you will get addicted to it after a while. This game is even better now since the expansion came out!
Select Comments for Vanguard (Edited for Presentation)
Rating: 10
Author: ogikarma
Comment: This is the MMO with more depth content and thought than any other MMO I have ever seen. The only sad thing is for that same reason it suffers from many bugs and problems.
Rating: 5
Author: turtlefuzz
Comment: Vanguard had the potential to be a great game but ultimately it failed. The game just has way too many bugs. A re-release may do it justice.
Rating: 4
Author: excalibar
Comment: Vanguard has great potentials but simply failed to deliver in the end. While initially fun the game fails to captivate its customers and lacks contents/updates that would justify its monthly fees.
The Voting
World of Warcraft received a total score of 8.71
Vanguard received a total score of 4.83
The Result
World of Warcraft Wins!