4 Story
Review Directory Intro ...
Want to know what other gamers are saying about an online game that you are interested in? Good because this is where gamers can give their opinions about different types of games such as Online RPGs, MMORPGs, Online Shooters, and Free Games.

If you don't want to leave a review, simply click on the link or the screenshot on a game's review page to go to its website.

Signing up is free and allows you to review games, post in the forums, and submit games for review. The forums allow you to ask questions, share tips, and discuss games after you have reviewed them. Let your opinions fly !.!
Free Keys!
There are 4951 giveaway key(s) left for this giveaway.
You must log in to get a key.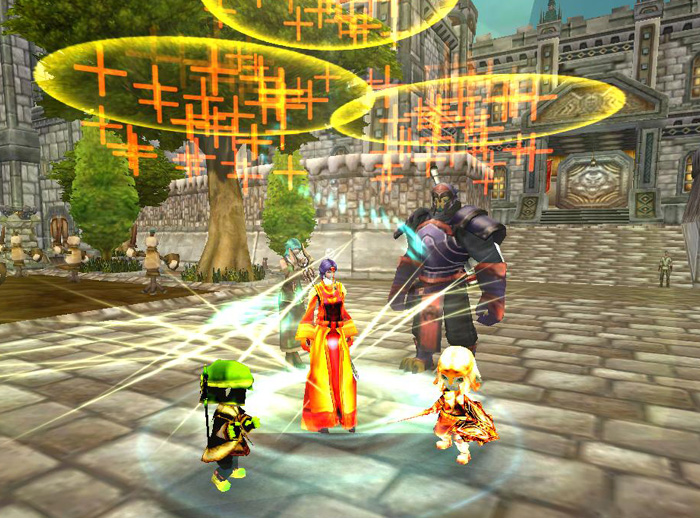 4STORY Online is a full 3D Graphic MMORPG. It provides Zoom In/Zoom Out, Camera rotation for changing the view point. You can make your character the hero in the virtual world through numerous wars against your enemies. In order to be a historic hero, strengthen your weapons and grow up strongly. Stronger weapons and armors will make you survive in this Chaos. Three kingdoms are facing each other without a bit of yield, advocating each history and truth of those three kingdoms. One hero, who is born to figure out the truth that was buried in hundreds of thousands of years, is you who jumped into this world of chaos. Quests that surpass space and time, fading from past to future, even into memories of others. Large scaled war system placed everyday and everywhere simultaneously. 4STORY is the fourth story that you are telling.

Total Rating: 6.55
Reviews: 40
Review Archive
Post Date: 18:34 03-06-2015
Rating: 5
Author: grijev123
Comment: this is a good game and interesting mmorpg

Post Date: 14:22 18-02-2015
Rating: 10
Author: Xicor97
Comment: Game is rly interesting i like how it looks and GAMEPLAY is rly good 10/10 from me :D

Post Date: 09:58 10-08-2014
Rating: 10
Author: andrej213
Comment: 8/10 because of really cool graphic and nice animations, u must try this game if u didnt

Post Date: 19:25 10-06-2014
Rating: 9
Author: Shokata
Comment: Very nice MMORPG ! :)

Post Date: 11:43 05-06-2014
Rating: 8
Author: bloga99
Comment: Very good MMORPG.

Post Date: 12:27 02-05-2014
Rating: 6
Author: ivekvv256
Comment: This is a fun MMORPG thta will never keep you bored. Gameplay is cool and you can battle versus other players and try to be the best. You also have got many quests which will keep you occupied. 6/10

Post Date: 15:48 27-04-2014
Rating: 7
Author: Aki013
Comment: I like full 3D graphicm just for MMORPG.Skills are interesting for clases , PvE are great :).But there people play usually PVP..7/10

Post Date: 11:51 21-04-2014
Rating: 5
Author: UchihaGuy
Comment: its good but it can be better...graphics are kinda bad and skills are not so good animations are kinda bad too but its interesting...i would play it if i am a true fan of it, in other reasons i wouldn't.

Post Date: 09:27 05-04-2014
Rating: 8
Author: DancinGDeaD
Comment: Can be better :)

Post Date: 20:23 30-03-2014
Rating: 7
Author: cemex
Comment: Another good free mmorpg game, with fine graphic and good gameplay, interesting characters and story

Post Date: 16:16 13-05-2013
Rating: 5
Author: raven8er
Comment: This game is fair, decent graphics, and gameplay. The main thing I don't like about it is the forced pvp. I happen to be one of the players that play for the story(pve). So I usually do badly at pvp having not done very much of it. Other than that, I would play this game more, which is saying something seeing that I currently am playing 5 other games.

Post Date: 20:54 26-08-2012
Rating: 8
Author: PolanWalker
Comment: Good gameplay conected with nice graphics and good realised idea give that kined of games :D 8/10 ;D

Post Date: 20:15 20-07-2012
Rating: 8
Author: Dmt_2000
Comment: Really fun game great graphics good Detail nice gameplay nice options nice social system i give it a 8/10

Post Date: 01:23 20-07-2012
Rating: 8
Author: dj messi
Comment: Really cool graphics i think ill give it a 8/10!

Post Date: 10:15 10-06-2011
Rating: 1
Author: Genyimaru
Comment: It was a good game before the employee started by zemi for themselves and to write their friends with the gm tools options on their weapons and armor. and no one cares that they now have the best weapons. the normal players have no chance against them. upgrade a normal player must invest $ 2,000 or more for his weapon to. that's not fair.

Post Date: 08:55 13-04-2011
Rating: 5
Author: dantabletennis
Comment: Its an ok game.... but it neaves more innovative gameplay :)

Post Date: 12:57 08-04-2011
Rating: 1
Author: bucky
Comment: wannabe wow....
is it me or all game developer are just idiots with no
creation of it own at all...

Post Date: 20:11 11-02-2011
Rating: 6
Author: Adrian
Comment: This game is almost exactly like "Gates of Andaron". That being said, the game has good graphics, and player-base....6/10.

Post Date: 03:21 11-02-2011
Rating: 7
Author: sasuke24
Comment: 4Story is a 3D MMORPG. This game has quite a good graphics and lots of special features. Also the combat system is nice. But somehow this game failed in their server. The server oftenly goes down and make the gameplay fun into ruin.

Post Date: 03:48 17-01-2011
Rating: 8
Author: mr.turtle16
Comment: i wouldnt quite call it a wow clone nor original...its fun and like wow adictive....pretty graphix and nice interface!!!!


worth checking out

Post Date: 14:26 11-01-2011
Rating: 3
Author: johnthemon23
Comment: Another crappy asian F2P MMO with nothing original or interesting about it. Will bore you to death. Play LOTRO if you want F2P.

Post Date: 06:21 05-12-2010
Rating: 7
Author: EcLuD
Comment: 4Story is an MMORPG too seemed to World of Warcraft, where 3 kingdoms vie for power. It has many quests (missions) and the possibility of crafting (create custom items).

Post Date: 23:12 09-08-2010
Rating: 0
Author: futurekiller
Comment: everything is good but only problem is that game isnt unique they kinda copied perfect world international on there game call the three kingdoms plus they copied ariea games the one that made last chaos but at least soem of the weps arent bad and your pretty strong

Post Date: 14:26 24-03-2010
Rating: 7
Author: mpampasakak
Comment: this game have a lot of fantasy,very good graphics.the quests are cool and the plyers too

Post Date: 00:17 02-03-2010
Rating: 7
Author: joker
Comment: 4Story is not a free version of WoW. There are better MMORPGs to get a free taste of WoW.

Post Date: 01:39 09-02-2010
Rating: 5
Author: futurekiller
Comment: I tried the game and it was ok but still it was very boring i think runescape and warhammer online and dreamlords and so on are a whole lot better games then this but its decent

Post Date: 02:56 08-12-2009
Rating: 10
Author: knykitty
Comment: I have played this game for about 4 months. I especially like this game because it's free to play. I am in craxion and playing an archer 50lvl.

Post Date: 20:53 31-10-2009
Rating: 6
Author: Review Meister
Comment: 4 Story is good, but I think Dragon Oath is better

Graphics: 7
Gameplay: 8
Community: 6
pVp: 5
Long Term Stay Impression: 7

Not bad, but it does not offer as much as other free mmos.


Post Date: 22:06 25-10-2009
Rating: 8
Author: EvansfromtheHeavens
Comment: This game reminds me a lot of World of WarCraft. Ofcourse World of warcraft is better but it has a monthly fee that gets in the way:D.

Post Date: 03:17 04-06-2009
Rating: 8
Author: tydawg51_m
Comment: i give this game a freakin 8!. Better then must mmorpg games i have played. I think a person can really get into this game and get adicted to it.

Post Date: 13:20 31-05-2009
Rating: 5
Author: maquis1578
Comment: joão cesa

Post Date: 10:33 22-05-2009
Rating: 7
Author: aimeer1983
Comment: The Graphics are to cartoony for my liking but still neat looking

Post Date: 03:40 16-03-2009
Rating: 8
Author: Spadez88
Comment: good graphics, fun game play and real friendly players. combat system is fun and class's are pretty balanced even if there is like only 5 with 3 races. pvp is fun and guilds are great. down sides....music blows and crafting systems are really pointless. gear is very limited in customization as well as chracter design. got a cartoony feel to it but over all its really fun if you get past a few flaws. over all a 8 fun factor i just wish i did not uninstall it.

Post Date: 00:01 12-03-2009
Rating: 9
Author: jmlyan
Comment: just like wow, it's a clone of wow

Post Date: 11:48 07-02-2009
Rating: 8
Author: ThePunkGamr15
Comment: Great game fot time killing and i mean that positive. For MMO gamers who like World Of Warcraft is this the free copy of it ;). But my rate is an 8.

Post Date: 08:04 07-01-2009
Rating: 5
Author: TheBird
Comment: Not my kind of game .....Besides why go for less if there is so much better availleble.
And for Zapleaf..Those that always compare WOW with any other game are mostly very young kids....Wow is their only thing they knew.
So ignore that.
If Wow was that great they would be gaming at the moment they posted their comment.....And they wouldnt be looking for another game.


Post Date: 02:22 23-11-2008
Rating: 9
Author: littleman7
Comment: After a relatively quick and painless download, i jumped right into the character creator. The first thing i noticed is that it asked you to pick between 2 different realms. one centered around a more mystical concept, and one centered around a more militaristic concept. All 6 classes and and all 3 races are available to each. Moving on, i took a look at the 3 races, Human, Werebeast and Fairy. The humans were obviously pretty standard looking, with a certain rugged feel to them. The fairies seemed almost like something that jumped out of an Asian anime MMO, having heads twice the size of their bodies and big spiky hair in many different and obscure colors, but they actually looked like fairies which was a nice touch. The last race was the Wearbeast, and while not looking as cool as the fan art depicted them as (and being in need of some serious head enlargement), they were still pretty awesome looking. I decided on a Werebeast Summoner because that seemed to be more up my alley than anything else, although i wouldnt have been opposed to an archer. After doing the first few generic "kill x amount of creatures" quests i got into the slightly more innovative ones such as "raid the knoll camp and find all the labeled boxes" after a few hours of this i realized something very strange. i was having fun. you know, FUN, that thing gaming used to be before it felt like a second job.

So in summary, yes, this game is a free version of WoW, but unlike most games, it rips off World of Warcraft very well instead of just doping a half assed job of it,

Post Date: 20:17 22-10-2008
Rating: 5
Author: zapleaf
Comment: @ nickelar

Im sick and tired of all your game nerds saying another wow clone.

Post Date: 18:08 11-09-2008
Rating: 8
Author: Mr. Peel
Comment: Cool game. I like the fact that you are the hero because few, if any, MMORPGs have that.

Post Date: 15:37 10-09-2008
Rating: 5
Author: nickelar
Comment: The little WoW clone that could.

xD