Aika
Review Directory Intro ...
Want to know what other gamers are saying about an online game that you are interested in? Good because this is where gamers can give their opinions about different types of games such as Online RPGs, MMORPGs, Online Shooters, and Free Games.

If you don't want to leave a review, simply click on the link or the screenshot on a game's review page to go to its website.

Signing up is free and allows you to review games, post in the forums, and submit games for review. The forums allow you to ask questions, share tips, and discuss games after you have reviewed them. Let your opinions fly !.!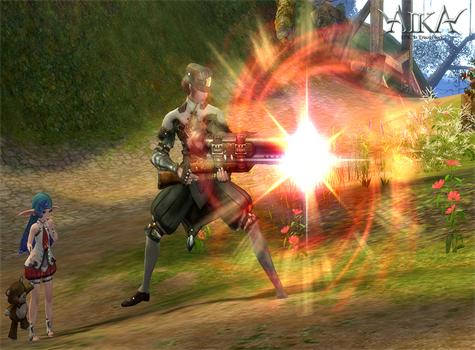 In addition to traditional MMO features like quests and item crafting, Aika presents a large scaled PvP system that range from small dungeon groups of 6 all the way up to wars of 1,000 vs. 1,000. Its highly developed user experience also features a PRAN system and sophisticated in game voice-overs. Aika is presented in dramatically stunning graphics; however, the game client boasts a small client.

Total Rating: 7.64
Reviews: 11
Review Archive
Post Date: 08:07 24-06-2010
Rating: 9
Author: clarabanana
Comment: I really like this game especially the concept of pran they are so cute. I can't wait to play it again. I've been playing Aika NA for sometime now but I think I'll be transferring to Aika global so that my other friends could also play Aika. :)

Post Date: 05:38 24-06-2010
Rating: 9
Author: emmychan
Comment: I'm not gonna lie here. I LOVE THIS GAME. I've played it for hours so far. The community is AMAZING. It's so easy to find people to talk to in this game its ridiculous. The first day I joined I found people (of high level to!) to help me run dungeons. That was a surprise for me. I had just come from playing Perfect World and was used to people ignoring you unless you were the highest level in the game. That sort of attitude makes it hard to play a game. But not this game the people in this game actually talk to you REGARDLESS OF YOUR LEVEL! It's nice not to HAVE to play the game alone.
Now there is one glaring issue with this game, and no I'm not talking about the gender locked classes (which is another issue), its bots. There's a lot of bots that spam both the normal channels in town and the shout. The bots CAN be annoying and make talking difficult. Still the quality of the game and the community outweigh this problem and the bots do have there advantages. The bots do make it easy for you to get points in PVP as they are easy to kill.
Pros:
Nice graphics. (while not Perfect World amazing the graphics do hold there own amongst free mmos)
Prans (Their cute, you can dress them up, the talk to you and help you battle. What MORE can you want.)
A FRIENDLY COMMUNITY! (FAR to many games have a community of people who are unfriendly or ignore new players. This game from my experience is not one of them.)
Good PVP (nation PVP and almost HOURLY nation vs. nation battles
Cons: Gender Locked Classes
Pve channel isn't truly pve
A lot of bots

The Pros very much outweigh the cons. It's worth a play for sure.
Heres some pics of game play from my own folder.
http://emmychan.gamerdna.com/images/9ezDaaR/capture0008-jpg
http://emmychan.gamerdna.com/images/eQjDaaO/capture0022-jpg
http://emmychan.gamerdna.com/images/9ezDaaR/capture0008-jpg
http://emmychan.gamerdna.com/images/n84Dadh/capture0009-jpg-2
Check it out at WWW.Aika.Gpotato.com


Post Date: 12:42 25-04-2010
Rating: 8
Author: thundemp2007
Comment: Aika, also called Aika Online, is a 3D Fantasy MMORPG published by Gpotato with a strong point on Realm vs Realm PVP duel.The important factor of the game's Realm vs Realm duel is that it has a capacity of 1000 vs 1000 battles. I recommend to try out this game because of its beautiful effects and graphics.

Post Date: 18:12 22-04-2010
Rating: 9
Author: infina
Comment: the pvp in this game is great. If you can participate in a castle siege or when going on a big raid with your country, that's when you're experiencing what this game is about!

There's not a lot of customizing possible, but that's only to decrease the lag in the mass pvp wars.

Post Date: 09:59 22-04-2010
Rating: 9
Author: Pranaresoadorable!
Comment: What I like about the game is the prans! they are so cute! I just don't like what they did for banning players outside NA! But I couldn't resist the prans' cuteness so I guess I'll just wait for aika global :)

Post Date: 08:34 21-04-2010
Rating: 10
Author: lala06
Comment: love the game!
Let's play Aika Global. :)
They'll be launching the game soon! :)
So excited.

i love the graphics.
love my pran.
love my paladin.
love aika! :)

Post Date: 06:52 10-04-2010
Rating: 1
Author: Jeebus
Comment: Update: GPotato have announced that they will be refunding players outside North America a full refund on a case by case basis?

"Dear Aika players,

Many of you have voiced concerns as to the effect of the recently announced service restriction on existing Aika accounts. We'd like to update you on this matter.

Currently, a decision has not been reached regarding the status of existing Aika accounts which were registered outside of North America. The issue is under intensive review by management. In the event that existing accounts are blocked from playing Aika as a result of this decision, those players whose accounts would be unable to access the game will be issued a full refund on a case-by-case basis of any gPotato purchases they have made specifically for or in Aika.

We are working to resolve this issue as quickly as possible. We will confirm and announce all details by April 30th, 2010. We very much appreciate your patience, and we sincerely apologize for the restriction's negative impact on the Aika community.

- The Aika Team -"

Good luck to all that invested in this game.

To all free players that invested alot of time and effort in this game ... a lesson learnt "sigh". See you all over at Global Aika. Non gPotato firm.



Post Date: 00:28 08-04-2010
Rating: 1
Author: Jeebus
Comment: Currently it seems though not confirmed that new accounts outside North America are currently being banned.

However, after the service update last night, I tried to create a new account and found that it would work on the forums and �Allods Online� but not on Aika Online.

Seems the GMs have (in their favour) come to a compromise, by allowing all existing clients to remain, thereby allowing cash item clients to continue with their online gaming .

To charge ahead and actively ban paid customers outside North America would of resulted in a world wide law suit. This would be filed under Intent: To mislead �mismanage � opening of the cash shop items one week before an announcement was made to ban ip addresses outside north america ... licensing for world wide gaming under dispute. Only in this context would a world wide suit over ride gPotatos existing terms and conditions.

Once Global Aika is up and running , will existing clients outside of North America be transferred over to this new site. It stands to reason that this could likely be inevitable, based on existing payed clients whose current inventory will remain intact and unaltered.

I do not believe gPotato will actively credit existing payed customers outside North America, by transferring full credit over to Global Aika where players are to restart � rebuild their characters by creating new characters.

However the question remains, will Aika Online be North American based and Global Aika world wide. I believe so, as there seems to be some dispute over gPotatos world wide gaming license for "Aika Online".

gPotato will wait for Global Aika download to be implemented before transferring world wide accounts to this company.

I do believe that they are currently in negotiations, and have already implemented the new changes of Global Aika to cater for a mass clientele transfer from Aika Online.

Then why open Aika Online to to wide world - then let players outside North America buy things, then ban them 1 week later? Good question. Ask them.

Just my take

Before even considering to waste your time downloading and playing this game ... think back to Allods Online??? Fear of Death controversy ....

Now we have a Aika Online Bs/controversy. Seems gPotato are getting famous ... but for the wrong reasons. Aika Online is indeed a stunning game ... great graphics, great gameplay, all good :o)

So I spend hours playing and leveling up my character ... waiting on the item shop to open, so I can upgrade my character with better equipment ... then this BS happened.

Then I read this announcement. http://aika-forum.gpotato.com/viewtopic.php?f=3&t=8541&sid=ddace40617543d943fe94123a02e15ad

Dear Aika players,
We have an important announcement to bring you tonight. Starting tomorrow night after our weekly scheduled maintenance, we will be restricting our area of service for Aika Online to North America, given Gala-Net�s status as the North American publisher for Aika Online. This decision may result in gPotato blocking IP addresses which originate outside of North America (for Aika only � other gPotato games will not be affected). We sincerely apologize for any inconvenience this action causes, and we encourage you to email us at aika_support[at]gala-net.com with any comments or concerns you may have.
-The Aika Team-

------------------------------------------------------------------------------------
COMMENTS:

This is not acceptable in my opinion, this is absolutely no warning to a game that has already started their cash shop. This announcement doesn"t state if existing players will be able to continue or not.

While this has always been a possibility, this is the absolute worst way GalaNET could of handled this. Your management needs to get a clue and stop driving customers away - if existing customers are effected by this ban, will you be refunding all their money from the cash shop? Some of my guild members have spent hundreds on the cash shop already and they aren"t within the USA. We deserve answers.

Important update: With this announcement, I have decided that if gPotato block existing accounts - I will be moving myself and my guild to AIKA Global if possible (including our American players). I ask that other guilds threaten the same and hopefully we can force gPotato"s management"s hands in this major issue.
-------------------------------------------------------------------------------------
COMMENTS:

This company is building itself a reputation ... no doubt ... I can"t foresee players investing money in the game/s surrounded with so much controversy.

Seems the only way for Devs to pay attention is to voice concerns on gaming review sites ... and twitter. Trust me ... I went through all of this debacle with the "FoD" on Allods online.

http://www.massively.com/2010/02/23/allods-online-releases-updated-statement-solicits-player-input/

I have to say, they accept money from outside of North America ... then surprise you with an IP Ban. Sounds like a world wide law suit.

Fair Trading Act: Unfair trade practices

The Act also prohibits specific unfair trade practices such as:
Bait advertising

Bait advertising is advertising goods at a price which is likely to act as a lure to customers where you do not have a sufficient supply of those goods. A possible defence to a charge of bait advertising is to supply a "raincheck". A raincheck entitles the customer to future goods which are the same or similar to the goods at the advertised price.


gPotato + Aika Online = Con

Will gPotato refund money to all customers outside of North America ...NO



Post Date: 06:05 26-03-2010
Rating: 8
Author: mirrorheart
Comment: i give it an 8 cuz the pvp system is awsome,cool class system, etc. but i just cant get over the way you move, you dont just turn you curve.it may not sound bad when you start but its ANNOYING!ah well if you can get over that good game lol =)

Post Date: 02:57 25-03-2010
Rating: 10
Author: ruisro
Comment: I love Aika and I have downloaded the client.

Post Date: 05:09 22-03-2010
Rating: 10
Author: many702
Comment: Aika is great, but do not review the game if you have not even downloaded it yet.