Albatross 18
Review Directory Intro ...
Want to know what other gamers are saying about an online game that you are interested in? Good because this is where gamers can give their opinions about different types of games such as Online RPGs, MMORPGs, Online Shooters, and Free Games.

If you don't want to leave a review, simply click on the link or the screenshot on a game's review page to go to its website.

Signing up is free and allows you to review games, post in the forums, and submit games for review. The forums allow you to ask questions, share tips, and discuss games after you have reviewed them. Let your opinions fly !.!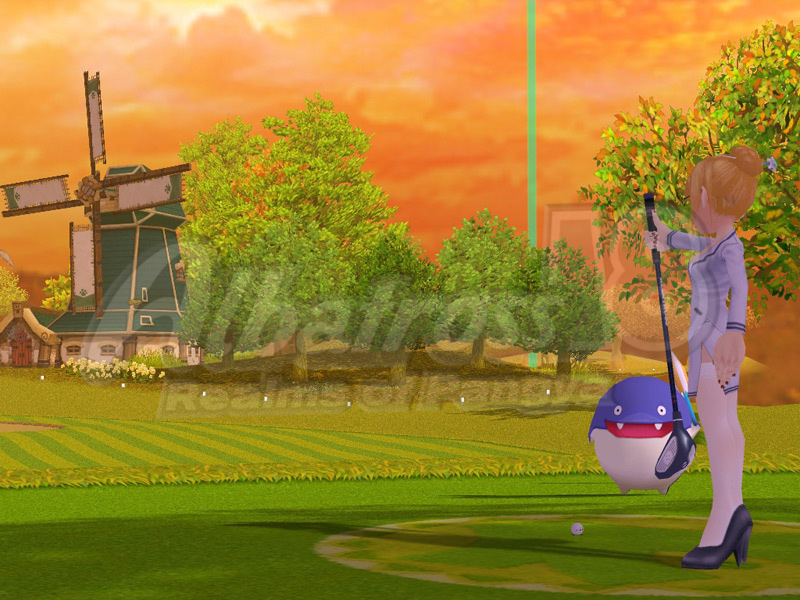 Innovative free sports MMO with amazing graphics. Customize your avatar and play on cartoonish fantasy golf courses.

Total Rating: 8.55
Reviews: 29
Review Archive
Post Date: 11:26 09-09-2009
Rating: 10
Author: krisjo
Comment: Albatross 18 is awesome.

Post Date: 05:01 21-03-2009
Rating: 5
Author: daileron
Comment: great fantasy sport while talking with friends you can play golf and upgrade items

Post Date: 11:40 07-07-2008
Rating: 6
Author: tsunetsuki
Comment: This is an awesome game with cute graphics and great gameplay.

Pros:
-Quick start up and not too tedious on your CPU
-Light gameplay. It's something you can play for 3 hours or 15 minutes and you can have just as much fun.
-Great community. Most people are pretty friendly and will wish you luck in your game.
-Cute 3D graphics. The character designs are great and each one comes with it's own set of clothes and items but you have to put down the $$ to access most of them.
-Nice extras. You can create your own games, party rooms, and tournaments, play lottery, or even practice alone.

Cons:
-If you want to get ahead in the game, you're going to have to buy their currency (i forget what it's called)for improvements. Most of the free stuff is extremely expensive and money is hard to get when you're getting about 10-100 pang per game (it depends on some things though)
-There are some n00bs and foreigners in the game. I said the community is great but every one has it's bad apples. About a third of the community can't (or won't) speak English. In every tourney I've played, I've encountered people chattering away in their home language. I once played a 1 on 1 game with a French guy who didn't know much English so we communicated through smilies. So, if you're looking for lots of friends, you'd better be multilingual. Also, among English and non-English speakers, there are a good amount of hardcore players who like to boost their skills. It's not really that bad but these people are the ones creating tourneys in the hard courses and then calling you n00b when you don't take the popular shortcuts.
-Game kills computer from time to time. I don't know if it's just my computer but occasionally, the game will either freeze (and I have to restart) or crash my computer entirely.

Overall, this is an awesome golf game, especially if you're playing it from time to time but if you're hoping to be the best of the best, you'll have to pay for it, literally.

Post Date: 19:53 04-10-2007
Rating: 10
Author: Kayasha
Comment: The graphics are great, the community is not bad, you actually get to use your BRAIN in the game, and it's always fun and entertaining. the only problem I have with it is that I used to play Japanese Pangya before it, and this one a little more behind and a little less stable. I do imagine that it will get better in the future and with the long awaite release of Season 3.

Post Date: 22:33 23-09-2007
Rating: 8
Author: vertzero
Comment: im not a golf fan but this is really good

Post Date: 07:19 28-07-2007
Rating: 9
Author: Tolo
Comment: Fun game and good community. Nice to have a sports mmo to get away from the norm hacking and slashing.

Post Date: 15:18 16-07-2007
Rating: 10
Author: nerd4lyfe
Comment: This game is great. Graphics and animation are real good. Although the game has cartoon grapics the golf physics are perfect. Everyone in the game are really friendly. I've never seen a cheater in the game. This game never gets boring.

Post Date: 04:26 14-07-2007
Rating: 9
Author: billbeap
Comment: Like others I am not a golf fan but this game makes it a blast!

Post Date: 02:22 16-05-2007
Rating: 7
Author: jhhj
Comment: i know everything about this game :D
very nice game. u cant deny. always fun, i promise and i hate golf. graphics still nice, nice animations too. developers always come up with new courses and items every two months. many events like christmas and easter when all players get small gifts. 30 player tournies. nearly no bugs in this game.

u will need alot of time to learn the physics of the game just like real golf. the phisics arent like in reality. u cant expect that.

but u wont have fun at this game if u dont buy a club set for real cash and some other items. u can get every item u need by playing but those are very bad.
however paying 10$-20$ once should be enough for one year or even longer. be aware keep one character. everytime u set up a new one u have to buy new items.

and some other ppl here talked about stealing. this game stole everything all sounds remind me of super mario 64 and they even have peach's castle there. but funny i love super mario.

they have serious problems with cheaters there. some ppl use calculator programs which tell them how to adjust for the shot. only thing which can be really annoying. some ppl set up second accounts to better their statistics and to be "above the average player". o.O

7 of 10:
+ the gameplay is convincing and much fun. concept well thought-out. good developer team.
- u have to pay. cheaters. no life ppl who put all their energy into this game and brag about their "skills". o.O

Post Date: 09:20 26-03-2007
Rating: 7
Author: omnislash
Comment: good game even though im not into the golf scene. u can enjoy it without the premium items. fun courses and kept me entertained. so it did its job for a bit.

Post Date: 20:09 14-03-2007
Rating: 8
Author: like clockwork
Comment: Yeh,Fun game.Im sorta into the golf scene and i liked this game alot.Without prem items you are sorta grippin the short end o' that good ole stick.Prems raise alot of stats.

Post Date: 00:17 21-01-2007
Rating: 10
Author: O~Ren Ishii
Comment: So I used to play Flyff. Then one day back in July '06 it was down for maint. and I was bored. So I found THIS game (off of GameOgre, tyvm!) and I haven't been back to Flyffing since. The courses are fun, the graphics are cute, the avatars are even cuter, with a pretty good customization system. The game is free to download and play, and you can buy premium items if you chose. Yes, that way you DO have it easier, but despite what some people previously have said, it ISN'T expensive! You can invest $5-$50 at a time. Since July I have spent about $20. I still play this game more than FF-12, which cost me $50. Look for me. O~Ren(rose)Ishii, NotSoPro guild.

Post Date: 23:12 10-12-2006
Rating: 6
Author: Charger XD
Comment: It's pretty fun but I'm not much of a golf person.

Post Date: 23:43 24-11-2006
Rating: 9
Author: MMMMMMM
Comment: Rly good, only problem is that the people who pay have it a lot esier

Post Date: 14:52 07-11-2006
Rating: 9
Author: hmmmwhatsthis
Comment: i have been playing golf for a few years bought tiger woods games since 2001 and even hotshots and outlaw golf now when i seen this game i thought they were copying some of those but theyr not loks close but the best part is u can play againts other poeple looks like a game that you would find out for ps2 or xbox community is good graphics are alright and then thers the screenery awsome woul be a 10 if i didnt think they stole the grpahics from hotshots golf 4

Post Date: 19:05 22-10-2006
Rating: 10
Author: playerzCHAMP
Comment: kashi-Zoa i got a few words for ya ur comp is bad buy a new 1 no else had problems with this game i didnt even get a virus after downloading the game 5 times justto see if u were right and next time learn how to play b4 u write comments just cause u are bad at golf doesnt mean u should put this game down go out and practice till u get better

Post Date: 18:39 07-08-2006
Rating: 3
Author: Kashi-Zoa
Comment: Unlike Everyone else who reviwed this game I today will gladely be your Blacksheep. I sighned up for this game and downloaded it on a boredom day. When I first tryed sighning in my computer crashed and froze up. I shut off the computer and re tryed the game...and it worked. So to say this game made it really hard to actually start playing. Now with that out of the way I will tell you a few things. I have been playing golf-Games forever. Ive been playing them years and years on a consle. I Dont want to brag or anything but when it comes to golf, Id say after 3 years of experience I know what Im talking about. Whe I started playing this game I noticed right away how laggy it was. It was terribly slow EVEN after I bought the best graphic card, and Installed all there drivers on My computer. Nope...Still lags like hell. But I got used to it. I lerned how to deal with the non-stop laggage. Next I noticed that half the items in the shop need to be bought with real money,Game credits, which in this game is called: Cookies. I hate games that force me to constantly buy there preimium items. and since its a competitive game Ill repeat what"jocksteeluk" had to say. If you dont buy the premium items you will struggle againts the premium players. Lastely Ill say one more thing. The physics in this game are: HORRIBLE. Listen to this. I was Scout With a drive of 230yards, and i had to make a shot that was 220 yards away to get it onto the green. If I screwed up this shot, I would be penetalized for out of bounds because I was golfing On a floating island in wiz wiz. But I thought to myself, and noticed that the wind was blowing 9m, behind me so it will give the ball so much extra drive, Just incase I screw up. Well I didnt. I hit it perfect power and impact...PLUS the 9m wind and the ball didnt even make it across the island. I repeated this shot 3 times, and I ended with a score of +9. Thats not the only incident either. I was in a sand trap close to the green, so I needed to use my sandwedge to get me out. My SW had a maximum drive of 30 yards, and the flag was 15 yards away. So i hit the ball with full impact out of the sand wedge, and it hit the top of the hill , and landed back in the sand trap. Conclusion: Its a valiant game, with cool graphics... But the people who made this game I think just read a golf rule book, and desighned golf anime based.... I very much dislike this game....

Post Date: 23:05 03-08-2006
Rating: 10
Author: ski
Comment: Season 2 has just started, basically, its a huge update on the original game. Now more than ever, this is a game worth checking out.


Post Date: 23:15 29-07-2006
Rating: 8
Author: jocksteeluk
Comment: This is a fun partially free game with reasonable longevity. The game gets alot better if you are prepared to pay cash to purchase "Cookies" which you trade for premium items otherwise you may find yourself struggling against the premium players. All in all id recommend this game althouhg i wouldnt purchase anything from the premium content myself

Post Date: 22:35 14-07-2006
Rating: 10
Author: steven2812
Comment: really good game.. just theres more items u gotta pay real money for then game currency.. otherwise great awesome!

Post Date: 18:12 07-07-2006
Rating: 10
Author: PS3 Please Come Out!
Comment: the download dosent bug me theres other games out there that take Ages To Download But Back To The Game i never thought i would be instreted in golf but this amazes me i love the fact that u can change ur character and give them new clothes and caddies and stuff and the gameplay is really simple but i love tourtament mode

Post Date: 04:22 07-07-2006
Rating: 10
Author: Mr. Peel
Comment: I will give it a 10 because I don't care about the download and its best online sports game I have played. Try downloading Ragnarok Online if this file is too big for you :).

The way they have taken a boring game like Golf and made it into a MMORPG is just awesome to me. Nothing beats looking good in my snappy threads:).

Post Date: 03:50 07-07-2006
Rating: 6
Author: korben
Comment: It is funny but I won't give it a ten. Nice graphics. Something they don't tell you before you register: you need to download a 166Mb file in order to play

Post Date: 20:06 05-07-2006
Rating: 9
Author: Pepsi Or Coke?
Comment: Wow I Never Knew Golf Would Be So Fun The Most Amazing Thing I Think About This Game Is The Tourtaments its organized unlike them other games
download and play this game

Post Date: 13:13 05-07-2006
Rating: 9
Author: Banger
Comment: Oh yeah, this is something different. Not a golf nut, but this game really makes it fun for a change. I love dressing up my guy.

Post Date: 18:15 02-07-2006
Rating: 10
Author: 2 Many Skillz
Comment: I Gotta Say im suprised!!! First i thought golf u gotta be kidding what kind of online game would that be??? Boy Was i wrong!!! first off the graphics are amazing and its not like u need a state of the art computer to play it my computer is pretty old and it runs smooth and perfect. now to the gameplay its really good its easy 2 and u can earn pang to give ur avatar diffrent stuff this is the best mmosg (massive multiplayer online sports game) i ever played

Post Date: 04:44 02-07-2006
Rating: 10
Author: The Soul Reaver
Comment: A Breath Of Fresh Air!!! i never thought i would love a golf game so much great community its simple to get into i mean a monkey can play this game u can earn pang to buy ur character new outfits and caddies and equipment the graphics are beautiful if ur looking for online golf this is the grand champ.

Post Date: 05:27 28-06-2006
Rating: 10
Author: azncrew1
Comment: This game surprised me, wow! It has awesome graphics, and very nice game and sweet kewl ppl to meet. Not only that it has tournaments and all this clothing that looks pimping. I recommend to download this game. Cuz it'll leave u speechless. um... g2g play albatross18. P.S. way better than shot-online and all those confusing games

Post Date: 20:30 22-06-2006
Rating: 10
Author: Ski
Comment: This game has taken over my life ! Its a massively online golf game which is easy to pick up and very rewarding. The graphics and audio are superb (just turn off the background music !), and the playibilty is fantastic. With a friendly community and wide variety of characters and courses you really cant go wrong with this. Add to this an amazing array of items and equipment to buy with the ingame money(pang, earned by playing), and an excellent levelling system there is no reason not to try this. You will be addicted !! See you on the green !