Alien X
Review Directory Intro ...
Want to know what other gamers are saying about an online game that you are interested in? Good because this is where gamers can give their opinions about different types of games such as Online RPGs, MMORPGs, Online Shooters, and Free Games.

If you don't want to leave a review, simply click on the link or the screenshot on a game's review page to go to its website.

Signing up is free and allows you to review games, post in the forums, and submit games for review. The forums allow you to ask questions, share tips, and discuss games after you have reviewed them. Let your opinions fly !.!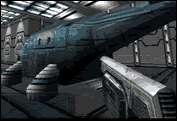 Contact has been lost with a research station in outer space. You are sent to investigate in this first-person shooter.

Total Rating: 5.95
Reviews: 39
Review Archive
Post Date: 11:53 20-04-2015
Rating: 6
Author: axwellshm
Comment: I don't like this piece of the flash game. Could have been done better. 6/10.

Post Date: 17:14 22-10-2014
Rating: 5
Author: paksupro4
Comment: Alien X is a good shooter (flash) game.
It didnt surprise me with any thing but its playable.
dont expect too much from this game. 5

Post Date: 18:21 01-09-2014
Rating: 7
Author: FrendlyLeBlanc
Comment: Alien X is good flash game... That is shooter game but nothing special.. I can rate this with 7

Post Date: 10:47 01-09-2014
Rating: 7
Author: arZ
Comment: Alien X is a cool flash game. Its a first person shooter with a nice graphic and sound. The point in this game is to kill all enemies in each levels and collecting the key cards. You can get four different weapons, Pistol, Cannon, Flame thrower and a rocked launcher. Not so hard game. My vote 7

Post Date: 20:08 07-08-2014
Rating: 6
Author: FrendlyLeBlanc
Comment: Its not interesting for me.... 6

Post Date: 12:10 07-08-2014
Rating: 5
Author: Marks
Comment: Very good game.Graphics is good.

Post Date: 19:40 24-04-2014
Rating: 6
Author: Gavra10
Comment: Its a very good game :D

Post Date: 15:41 05-04-2014
Rating: 5
Author: kocsoban
Comment: not bad game

Post Date: 03:53 22-04-2013
Rating: 8
Author: FoxWMB
Comment: A good old fashioned shockwave game, using simple 3D rendering to create a very interesting first person shooter.

The game's backstory places player in the role of a corporate agent, assigned from his chief to investigate the loss of communication to a research station. Upon reaching the station, he receives a distress message from a scientist, just moments before he's killed by an unknown creature. This prompts the agent to go in and try to save the day.

The object of the game is simple, get to the end of each level, while killing as many enemies as possible, though it ain't necessary to kill them to progress to next level. To get to next level, player simply needs to collect all the keycards to unlock the door leading out of the level.

The controls in this game are pretty basic for a first person shooter, with the WSAD keys used to move around, space used to jump, C for crouching, R for changing weapon, P for pause and mouse used to look around and shoot. However, game allows the player to fully customize the controls.

In order to eliminate enemies, player can use one of 4 different weapons. Plasma pistol, Ion cannon - which is essentially a machinegun, a flamethrower and a rocket launcher. Ion cannon, flamethrower and rocket launcher require ammo in order to be used, while plasma pistol uses energy to fire and recharges on its own after some time.

From sound point of view, the game sounds very good, with the atmosphere being quite ominous, fitting for a space station overrun by death dealing monsters.

Visually, the game uses quite simple 3D models, though they're all quite detailed which shows developers took a lot of effort to create this game, and to do it right as well. Some models are a bit glitchy, but that doesn't really present an issue.

Overall, a good game, though it had potential for more. It has a backstory, but that's only used to setup the fact player is on a spacestation shooting at monsters, the fact remains story isn't developed continually throughout the game, which is unfortunate as it would have made this nice shooter into something even better.

Current rating - 8 out of 10



Post Date: 19:00 10-02-2013
Rating: 6
Author: PolanWalker
Comment: This production is a first person shooter game. Game story is just like all other games of this type. We must to get to one point in the game. Off course while going to that point we must to kill all enemies in our way. Game have nice graphics and sounds. Gameplay is very simple and whole game give fun:) I think this game is good idea to spend free time. I rate this game 6/10 :)

Post Date: 15:18 01-01-2013
Rating: 7
Author: Mordekaiser
Comment: Pretty Fun game its kinda like doom with the art style and the graphics but the game play is different if you have played doom and enjoyed it this game is worth checking out because you will most likely have a blast oh and also you can kill stuff so added bonus

Post Date: 17:46 12-07-2012
Rating: 8
Author: PolanWalker
Comment: Like that kind of old school games. Long time age I played it and have fun. Meybe i supose to play again :D

Post Date: 03:17 24-02-2011
Rating: 5
Author: sasuke24
Comment: A old FPS...... I used to play this game before. The game is surely an enjoying one.

Post Date: 20:57 20-01-2011
Rating: 4
Author: Adrian
Comment: Fun little shooter, reminds me sorta of DOOM, same feel, except your in a spaceship. Can use some more guns though...

Post Date: 19:33 07-12-2010
Rating: 5
Author: EcLuD
Comment: mm for be a flash game, its nice seriusly the blood efect are funy but its ok for playinf for a litte time 8/10

Post Date: 19:13 04-12-2010
Rating: 7
Author: champking5
Comment: I used to play this at school to. Went to download.com and download this awsome game. The bosses were fun.

Post Date: 14:33 01-10-2010
Rating: 7
Author: Vocal
Comment: It was okay.Though a tutorial would be helpful.The graphics were okay since this game is old.The shooting is alright.Bosses were easy and some were hard.Which make this game exiciting.If you are bored,and a fan of Aliens this is the game for you.an 7/10

Post Date: 03:54 26-09-2010
Rating: 6
Author: RandomZ
Comment: it's alright for a flash game. Not really much of a challenge for those experienced in FPS games. But since it's a Flash games, it's simple, fun and enough entertaining to waste away some time on it

Post Date: 16:00 21-09-2010
Rating: 6
Author: Aj Anderson
Comment: not bad for a browser based shooter but ive seen more things better then this in my life anyways your new to fps this is a game to start you of with

signed
.............................
Aj Anderson :)


Post Date: 14:05 07-07-2010
Rating: 7
Author: AlBundy
Comment: Not bad for a shooter

Post Date: 01:28 09-02-2010
Rating: 5
Author: futurekiller
Comment: uhh is this even an online game?

Post Date: 03:04 24-11-2009
Rating: 6
Author: Blackfire72
Comment: it barely has any blood so this you can play this game without any worry tomtamtimmy.

Post Date: 05:17 21-07-2009
Rating: 5
Author: tomtamtimmy
Comment: Does AlienX have blood and gore? Because i cant stand blood and gore.

Post Date: 13:18 23-05-2009
Rating: 8
Author: Freecol
Comment: Good game, and if you are going to review it, review it, wats the point in reviewing a game if you dont put anything down?

Post Date: 12:00 18-03-2006
Rating: 5
Author: xxlinkinpark
Comment: none

Post Date: 06:29 07-03-2006
Rating: 10
Author: nevarine
Comment: this games fun, thats all

Post Date: 13:04 05-02-2006
Rating: 5
Author: frank56
Comment: none

Post Date: 01:59 05-12-2005
Rating: 1
Author: chuckieisbad
Comment: none

Post Date: 03:29 01-12-2005
Rating: 5
Author: rizzer
Comment: none

Post Date: 22:08 22-11-2005
Rating: 9
Author: Loony Loser
Comment: none

Post Date: 22:13 11-11-2005
Rating: 5
Author: shadowkidd
Comment: good

Post Date: 22:46 18-10-2005
Rating: 4
Author: Sharpshot
Comment: hmmm i give it a 4 since the graphics r cool

Post Date: 13:19 06-10-2005
Rating: 5
Author: krall067
Comment: none

Post Date: 03:49 05-10-2005
Rating: 9
Author: raxer92
Comment: this game s graphics are pretty good for an online
game. its very difficult at times

Post Date: 16:29 27-06-2005
Rating: 1
Author: DaMaZeUs
Comment: none

Post Date: 22:09 03-06-2005
Rating: 5
Author: Darkwarror7
Comment: none

Post Date: 02:17 28-05-2005
Rating: 5
Author: hawkeye_man
Comment: none

Post Date: 20:25 06-01-2005
Rating: 10
Author: Ghost
Comment: none

Post Date: 08:15 11-10-2004
Rating: 6
Author: vulypok
Comment: none