Auteria
Review Directory Intro ...
Want to know what other gamers are saying about an online game that you are interested in? Good because this is where gamers can give their opinions about different types of games such as Online RPGs, MMORPGs, Online Shooters, and Free Games.

If you don't want to leave a review, simply click on the link or the screenshot on a game's review page to go to its website.

Signing up is free and allows you to review games, post in the forums, and submit games for review. The forums allow you to ask questions, share tips, and discuss games after you have reviewed them. Let your opinions fly !.!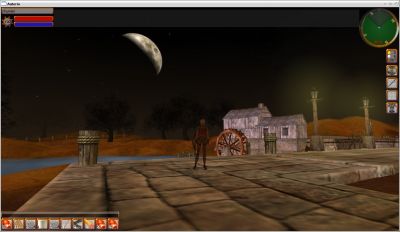 Auteria is a fantasy world within our real world. You can choose between 3 characters when you enter Auteria. When you arrive there, you are able to develop the skills of your character. There will be more skills, more lands, more quests as the game is developed.

Total Rating: 6.44
Reviews: 9
Review Archive
Post Date: 09:34 15-12-2014
Rating: 5
Author: arZ
Comment: Auteria is a fanrasy world game where you need to pick o ne of three different characters. You need to learn your char skills and train him. Complete quest. Looks like an interesting game. Graphic is average. I rate this game with the note 5/10!

Post Date: 22:48 10-04-2013
Rating: 7
Author: Mordekaiser
Comment: This game is different then most mmos so i took interest to it right away but it lost its feel after a few hours it lacks a few things that i cant put my finger on also the graphics were very nice for a game like that 7/10

Post Date: 21:24 11-11-2012
Rating: 6
Author: PolanWalker
Comment: Nice stuff :D 6/10

Post Date: 10:16 27-02-2011
Rating: 6
Author: dantabletennis
Comment: I agree with darkhawk, but i do not like the game it gets boring after a couple of days!!

Post Date: 08:28 26-04-2010
Rating: 7
Author: thundemp2007
Comment: Auteria i think an interesting massively multiplayer game.But its better to improve some feautures.Graphics i think is fair and there are many secrets to discover when as you journey.

Post Date: 23:59 12-04-2009
Rating: 5
Author: sethryan
Comment: wow darkhawk likes this game

Post Date: 20:14 22-10-2008
Rating: 3
Author: zapleaf
Comment: Ok, nothing special here. It has some nice features but is still in beta. Its community is not that good. They are very full of themselves and try to stress all the time about how great there community is from others.
Graphics: 6/10
Game-play:4/10
Community:3/10
Overall based on lowest score. "3"

Post Date: 06:41 05-08-2008
Rating: 10
Author: Soirehk
Comment: This is actually one of the most Unique kind of games I had ever played.

Post Date: 17:13 29-05-2008
Rating: 9
Author: darkhawk
Comment: Auteria is a unique and spectacular game.

I love the freedom of movement and the ease of control. Being able to control my characters movements with the mouse is the single most powerful freedom ever in an MMORPG game ever my controls are set up like this Left click is single attack right click is run and scroll bottun is set to slot #1 in my inventory (AHS) I also love being able to escape a battle with only 4 hp and 7 mana with out my freedom of movment this isn't possible. I really enjoy being able to move and cast my spells I move in and get surrounded by monsters smacking them with my wepons and blocking with my shield and then start casting the spells. I really think that the freedom of moving my character with my mouse is #1 reason I love Auuteria
(AUTERIA)
I love shortkeys OMG I use them so much 1= AHS 2 =ICE STONES 3=FIRE STONES 4=FS 5= empty 6= empty 7=empty 8= empty 9=wine/beer 0= MANA RESTORE

M=manu window N =repair

QQ I Love that damn Q it was very tough getting used to it but after getting used to it I can't imagine life without it.

I can run up jump over someone land in front of them spin around and hit q click them and trade faster than anyone else in game.

(other games )
(moving my character with the keyboard or clicking a area on the screen for my char to go to takes all my freedom away and once again I am forced to click and wait and be bored while my char walks no jumping no swimming no speedy jumps over other chars heads and spinning around ((((((((((((( )to surprise them

Starting without armor or wepons is tough but we were all born nude we had nothing and in Auteria we do have nice players who do offer many items to the new players coming in game (working for your first wepon and armor is a great incentive to level)

Auteria has large maps with suprises all over they are so extremely cool I love the large maps and the graphics I do think we need more creatures more npcs and more maps. With the maps we have we have really done a great job I think.

Iasandor (the land of survival) is the most exciting map of all and it is loaded it so there isn't many safe places on that map it is huge and not a bit of space has been wasted if all maps were loaded like Iasandor then the big maps would be even more of a reason to stay in Auteria.

I dislike harvesting in any game that's just me I harvest to supply my need I actually think I have never harvested in any game and enjoyed it. Harvesting is a part of every game and needs to be but it is a necessary evil in my opinion you only harvest if you need an item you need to work for it there by harvesting or gathering the ings then making it. I am no harvestor and pay to have this done.


Want to know more and want to read the darkhawk tales its easy go to Auteria.com Start your Adventure today.

here is a few screenies for you all (also many videos on youtube) search for Auteria


[URL=http://i64.photobucket.com/albums/h176/drkhwk/1-3.jpg][IMG]http://i64.photobucket.com/albums/h176/drkhwk/th_1-3.jpg[/IMG][/URL]
[URL=http://i64.photobucket.com/albums/h176/drkhwk/2-2.jpg][IMG]http://i64.photobucket.com/albums/h176/drkhwk/th_2-2.jpg[/IMG][/URL]
[URL=http://i64.photobucket.com/albums/h176/drkhwk/3-3.jpg][IMG]http://i64.photobucket.com/albums/h176/drkhwk/th_3-3.jpg[/IMG][/URL]
[URL=http://i64.photobucket.com/albums/h176/drkhwk/4.jpg][IMG]http://i64.photobucket.com/albums/h176/drkhwk/th_4.jpg[/IMG][/URL]
[URL=http://i64.photobucket.com/albums/h176/drkhwk/5.jpg][IMG]http://i64.photobucket.com/albums/h176/drkhwk/th_5.jpg[/IMG][/URL]
[URL=http://i64.photobucket.com/albums/h176/drkhwk/6.jpg][IMG]http://i64.photobucket.com/albums/h176/drkhwk/th_6.jpg[/IMG][/URL]
[URL=http://i64.photobucket.com/albums/h176/drkhwk/7.jpg][IMG]http://i64.photobucket.com/albums/h176/drkhwk/th_7.jpg[/IMG][/URL]
[URL=http://i64.photobucket.com/albums/h176/drkhwk/8.jpg][IMG]http://i64.photobucket.com/albums/h176/drkhwk/th_8.jpg[/IMG][/URL]
[URL=http://i64.photobucket.com/albums/h176/drkhwk/auteria2008-05-1721-53-43-29.jpg][IMG]http://i64.photobucket.com/albums/h176/drkhwk/th_auteria2008-05-1721-53-43-29.jpg[/IMG][/URL]
[URL=http://i64.photobucket.com/albums/h176/drkhwk/auteria2008-05-1721-54-34-56.jpg][IMG]http://i64.photobucket.com/albums/h176/drkhwk/th_auteria2008-05-1721-54-34-56.jpg[/IMG][/URL]
[URL=http://i64.photobucket.com/albums/h176/drkhwk/auteria2008-05-1721-54-34-96.jpg][IMG]http://i64.photobucket.com/albums/h176/drkhwk/th_auteria2008-05-1721-54-34-96.jpg[/IMG][/URL]
[URL=http://i64.photobucket.com/albums/h176/drkhwk/f.jpg][IMG]http://i64.photobucket.com/albums/h176/drkhwk/th_f.jpg[/IMG][/URL]
[URL=http://i64.photobucket.com/albums/h176/drkhwk/ff.jpg][IMG]http://i64.photobucket.com/albums/h176/drkhwk/th_ff.jpg[/IMG][/URL]
[URL=http://i64.photobucket.com/albums/h176/drkhwk/fff.jpg][IMG]http://i64.photobucket.com/albums/h176/drkhwk/th_fff.jpg[/IMG][/URL]
[URL=http://i64.photobucket.com/albums/h176/drkhwk/ffff.jpg][IMG]http://i64.photobucket.com/albums/h176/drkhwk/th_ffff.jpg[/IMG][/URL]
[URL=http://i64.photobucket.com/albums/h176/drkhwk/fffff.jpg][IMG]http://i64.photobucket.com/albums/h176/drkhwk/th_fffff.jpg[/IMG][/URL]
[URL=http://i64.photobucket.com/albums/h176/drkhwk/ffffff.jpg][IMG]http://i64.photobucket.com/albums/h176/drkhwk/th_ffffff.jpg[/IMG][/URL]
[URL=http://i64.photobucket.com/albums/h176/drkhwk/m.jpg][IMG]http://i64.photobucket.com/albums/h176/drkhwk/th_m.jpg[/IMG][/URL]
[URL=http://i64.photobucket.com/albums/h176/drkhwk/n.jpg][IMG]http://i64.photobucket.com/albums/h176/drkhwk/th_n.jpg[/IMG][/URL]
[URL=http://i64.photobucket.com/albums/h176/drkhwk/screenshot_003-00009.png][IMG]http://i64.photobucket.com/albums/h176/drkhwk/th_screenshot_003-00009.png[/IMG][/URL]
[URL=http://i64.photobucket.com/albums/h176/drkhwk/screenshot_003-00010.png][IMG]http://i64.photobucket.com/albums/h176/drkhwk/th_screenshot_003-00010.png[/IMG][/URL]
[URL=http://i64.photobucket.com/albums/h176/drkhwk/screenshot_005-00007.jpg][IMG]http://i64.photobucket.com/albums/h176/drkhwk/th_screenshot_005-00007.jpg[/IMG][/URL]
[URL=http://i64.photobucket.com/albums/h176/drkhwk/screenshot_005-00012.jpg][IMG]http://i64.photobucket.com/albums/h176/drkhwk/th_screenshot_005-00012.jpg[/IMG][/URL]
[URL=http://i64.photobucket.com/albums/h176/drkhwk/1-2.jpg][IMG]http://i64.photobucket.com/albums/h176/drkhwk/th_1-2.jpg[/IMG][/URL]
[URL=http://i64.photobucket.com/albums/h176/drkhwk/screenshot_004-00004.jpg][IMG]http://i64.photobucket.com/albums/h176/drkhwk/th_screenshot_004-00004.jpg[/IMG][/URL]
[URL=http://i64.photobucket.com/albums/h176/drkhwk/untitled-3.jpg][IMG]http://i64.photobucket.com/albums/h176/drkhwk/th_untitled-3.jpg[/IMG][/URL]
[URL=http://i64.photobucket.com/albums/h176/drkhwk/Giant.jpg][IMG]http://i64.photobucket.com/albums/h176/drkhwk/th_Giant.jpg[/IMG][/URL]
[URL=http://i64.photobucket.com/albums/h176/drkhwk/fish.jpg][IMG]http://i64.photobucket.com/albums/h176/drkhwk/th_fish.jpg[/IMG][/URL]
[URL=http://i64.photobucket.com/albums/h176/drkhwk/MAGII.jpg][IMG]http://i64.photobucket.com/albums/h176/drkhwk/th_MAGII.jpg[/IMG][/URL]
[URL=http://i64.photobucket.com/albums/h176/drkhwk/Magic.jpg][IMG]http://i64.photobucket.com/albums/h176/drkhwk/th_Magic.jpg[/IMG][/URL]
[URL=http://i64.photobucket.com/albums/h176/drkhwk/BringIT.jpg][IMG]http://i64.photobucket.com/albums/h176/drkhwk/th_BringIT.jpg[/IMG][/URL]
[URL=http://i64.photobucket.com/albums/h176/drkhwk/santa.jpg][IMG]http://i64.photobucket.com/albums/h176/drkhwk/th_santa.jpg[/IMG][/URL]