Bang Howdy
Review Directory Intro ...
Want to know what other gamers are saying about an online game that you are interested in? Good because this is where gamers can give their opinions about different types of games such as Online RPGs, MMORPGs, Online Shooters, and Free Games.

If you don't want to leave a review, simply click on the link or the screenshot on a game's review page to go to its website.

Signing up is free and allows you to review games, post in the forums, and submit games for review. The forums allow you to ask questions, share tips, and discuss games after you have reviewed them. Let your opinions fly !.!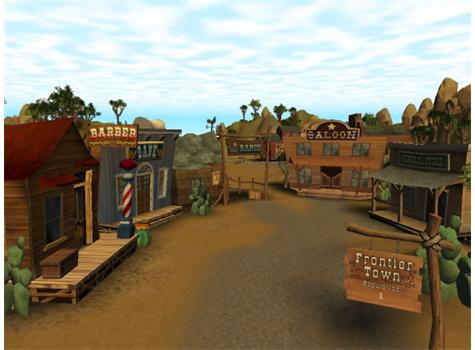 Multiplayer online tactical strategy game in a 3D Wild West setting, yee haw! Fast-paced hybrid of turn-based and realtime strategy gameplay with a healthy helpin' of rootin' tootin' antics!

Total Rating: 7.36
Reviews: 25
Review Archive
Post Date: 12:02 01-04-2015
Rating: 10
Author: Sle91
Comment: A really fun game to play. I really enjoy it and play it still. I love Wild West games and this is one of the better ones. I rate it 10/10. :)

Post Date: 23:34 14-01-2015
Rating: 10
Author: OgiPro1
Comment: Very fun game.

Post Date: 14:42 11-12-2012
Rating: 8
Author: Thedarkboy
Comment: I think that Bang Howdy was quite amusing actually. It was fun almost all the time. The only problem for me was that it was kind of easy. I don't think that games should be too easy, they should be challenging. This game wasn't, but it was still fun almost all the time.

Post Date: 23:18 10-12-2012
Rating: 6
Author: Mordekaiser
Comment: Great game kinda wierd i didnt really like it but it was still fun the graphics are good but the style of the graphics are not so good kind wierd and i did not like it that much there are better games out there i rate it 6/10 not to good not to bad

Post Date: 19:15 10-12-2012
Rating: 7
Author: PolanWalker
Comment: Game have realy original and very nice graphics. Also sound side of game is very good. Good alternative to all other traditional games. This is something new for me :) Multiplayer trybe is better for me. I think this game can be recommanded for anyone :) I rate it 7/10.

Post Date: 12:29 25-08-2012
Rating: 6
Author: PolanWalker
Comment: For me ok :D NIce graphics and gameplay. 6/10

Post Date: 03:35 22-09-2011
Rating: 6
Author: Webber
Comment: Bang! Howdy is not my first choice for a wild west game. To me Outlaws by Lucas Arts is the best western game ever. Bang! Howdy want to be cute too much imo.

Post Date: 01:52 21-09-2011
Rating: 7
Author: Joker
Comment: I would not say that BH is my type of game since I am not not a huge western fan. Pirates are better imo XD. Anywho, The best part was playing in a browser.

Post Date: 03:38 04-03-2011
Rating: 5
Author: sasuke24
Comment: A fine game. The grpahics is moderate and the gameplay is nice.

Post Date: 01:52 20-02-2011
Rating: 8
Author: EcLuD
Comment: Haha, I had fun, the graphics are not bad at all, the sounds fit the game, the story is typical for games of "west"as it were, in short. 8 / 10


Post Date: 21:56 21-01-2011
Rating: 8
Author: Adrian
Comment: This game has a single player and multiplayer game mode, and the multiplayer section is in fact the better part of the game. I just recently starting playing the game...and I'm liking it already 8/10.

Post Date: 20:23 03-01-2011
Rating: 9
Author: dantabletennis
Comment: Wow i love the western films and i love this game!

Post Date: 01:55 28-09-2010
Rating: 8
Author: Noche
Comment: For those of you who are bored of the traditional fantasy-set online games, this is a pretty good alternative. The Wild West setting is pretty well-done; graphics are more than decent and the sounds are entertaining. It also has an element of slightly more intelligent combat than the usual hack-and-slash or turn-based moveset battles. In order to win consistently, you actually gotta think. :)

I've always liked Fire Emblem, and for people who enjoy that type of strategy game too, this might appeal to you.

Post Date: 17:38 05-03-2010
Rating: 10
Author: jared.
Comment: I still love Bang Howdy.

Post Date: 18:18 15-01-2009
Rating: 10
Author: jared.
Comment: Its an awesome game i love it lots of people would also if they got to know how 2 play it Its got Great sound songs and also online chat Thats mostly for the 10 and also its got Games And 2 diffrent towns Its really a great game It is a time waster u can make friends and enemies some of the people on here are A**holes :)

I think its much better than the other phew game three rings have made eg..puzzle pirates and whirled those are also good but not as good

and also many people used 2 play like 785 people normally in the town but Now only 150-200 people play becoz The 3rd of 5 towns is not out yet Called boom town oh ya and also u can earn badges which is fun back 2 boom town its the 3rd of 5 towns and its been in the making since like a year or a half a year ago and still not out there are many rumors of it coming out soon but i doubt that.10 outa 10 for me :D

Post Date: 16:45 27-04-2008
Rating: 8
Author: jjdragon60
Comment: this game is a pretty good strategy game, great graphics, and its a great time waster. try it if you like strategy!(lol, puzzle pirates)

Post Date: 20:27 11-04-2008
Rating: 3
Author: Marz777
Comment: not bad for a free rts. all i can really say.

Post Date: 09:06 15-03-2008
Rating: 0
Author: Dakkaza
Comment: I tried the game but after 20 seconds the game shut down and I was attacked by viruses! I tried again and the same happend. Thats why I give this a 0!!

Post Date: 03:07 11-02-2008
Rating: 10
Author: kite12
Comment: 1. this is not a kidie game

2. its a good rts for begginers of rts

3. many units

so there u have it


Post Date: 09:21 07-11-2007
Rating: 8
Author: coolcaleb8
Comment: catchy for a while gets boring you might go back to it its free unless you want to get to the second town but theres about 20 ppl the with 4 games for the 2 towns but there making 5 its alright but not many ppl

Post Date: 12:35 16-09-2007
Rating: 6
Author: mmoking
Comment: Its sorta fun for a while. Right up until you figure out thats its like a kiddie fire emblem but without the cool characters, sweet satifying feeling when you pmmel an enemy of the cool characters. In my opinion these companies are running outof good ideas! Oh well at llest its mildly ENTERTAINING unlike some games (cough-cough) (rune-cough-scape-cough-cough)

Post Date: 05:38 05-05-2007
Rating: 7
Author: Pwner300
Comment: Doesn't change much.

Post Date: 13:35 26-11-2006
Rating: 7
Author: cremlaw
Comment: It's pretty fun, but it's to young for me.

Post Date: 07:29 20-10-2006
Rating: 10
Author: loerdcraexy
Comment: I have tested this game and it was realy fun:D
Try it folks

Post Date: 04:35 22-08-2006
Rating: 7
Author: ReviewMan
Comment: Like Puzzle Pirates, I love the setting. Pirates and the Wild West are both great for games. I think there should be more wild west games because pirate games seem to finally be getting popular. HOWEVER, the game is a little to cutey-pie for my taste to make it great. Not bad though.