Battlefield Heroes
Review Directory Intro ...
Want to know what other gamers are saying about an online game that you are interested in? Good because this is where gamers can give their opinions about different types of games such as Online RPGs, MMORPGs, Online Shooters, and Free Games.

If you don't want to leave a review, simply click on the link or the screenshot on a game's review page to go to its website.

Signing up is free and allows you to review games, post in the forums, and submit games for review. The forums allow you to ask questions, share tips, and discuss games after you have reviewed them. Let your opinions fly !.!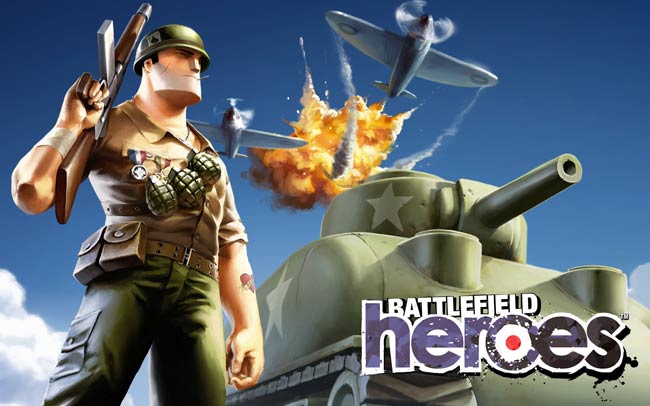 Battlefield Heroes™ is a brand new Play 4 Free game from the people that brought you the multi-million selling Battlefield 1942™ and Battlefield 2™. It's a fun cartoon-style shooter which caters to players of all skill levels — easy to pick up and play, but with deep character development.

Total Rating: 7.83
Reviews: 18
Review Archive
Post Date: 18:08 29-06-2010
Rating: 0
Author: dikke
Comment: stupid,worst game ever made exept if you call warrock a game its so idiotic with this stupid game
you can choose 3 different guns thats it its for little babys that arent allowed to play REAL games the graphics are yust... piontless to mention that its very unrealistic and yust really bad if you play it i hope u get this message and stop plating immediatly i hope because it SUKS

Post Date: 05:23 09-06-2010
Rating: 8
Author: Joker
Comment: Battlefield Heroes is not very realistic because of the cartoon like characters and attempts at being funny. The game can also be a clusterbomb waiting to happen if you get ignorant teammates like I did once. However, it can be very addictive with a good team that stays together. I understand the graphics are meant to attract casual gamers, but it is too cartoony imo.

Post Date: 03:03 05-06-2010
Rating: 9
Author: 506dude
Comment: When i first looked at this game i thought it is for little kids, but i was wrong. This game is simple addicting and amazing. first off you choose a side. I went with royals but you choose. Then you choose from three classes. Gunner,commando, and soldier. i went with soldier but i found most popular to be commando. thenn you go on the battlefield. There are more than 6 maps now, used to be 4. You use w,a,s,d to move and you can also get in vehicles, te best part to me. But you are limited in the shop. Most items cost battlecash, which you have to use freal money to get. Overall i found battlefield heroes to be my favorite 3rd person shooter, also great graphics,gameplay, and vehicles

Post Date: 20:33 30-05-2010
Rating: 9
Author: BT786
Comment: Good FPS, I had lot's of fun playing this one! Played for about 17 hours and couldn't get enough.

Post Date: 04:37 03-04-2010
Rating: 8
Author: Captain_Review
Comment: I love how everyone has power-ups in this game. That makes it a lot more fun. :D

I am telling you this game is a bundle of fun. It does get stupid sometimes because soldiers only kill others with like 100 bullets and with a sniper it takes about 5-6 bullets. For me this game is funny and Quake Live is really boring to me. Honeslty speaking, both these games aren"t good, but I will go for BFH.

Post Date: 08:27 19-11-2009
Rating: 10
Author: Xbd
Comment: It is a very very very nice game

Post Date: 10:08 28-07-2009
Rating: 9
Author: fille625
Comment: I were lucky to get a beta key... and now when it's out for "real", my PC is broken!!! :(

Post Date: 05:30 12-07-2009
Rating: 10
Author: purewitz
Comment: Best online map shooter ever. That goes for TPS and FPS.

Post Date: 03:53 06-07-2009
Rating: 8
Author: NeonDragon
Comment: I'm currently playing the beta. IT IS fun to play. There is LOTS of character customization. The downside to this right now is that the majority of the stuff cost battle funds (real money). But you can pay more for the stuff to keep it for unlimited time. The gameplay can get pretty slow pased though but as well can become very hectic at times. None the less it is REALLY fun to play. No there arent very many weapons but keep in mind it IS only the beta.
One thing i h8 about it is that people seem to prefer nationals. I went with royal because it was a challenge but its no fun because the nationals usually win by a land slide. at least when i play. Thats why i give it an 8.

Post Date: 22:40 04-07-2009
Rating: 7
Author: awesomedrako
Comment: It's a good shooter, the inclusion of vehicles, and the fact that it is played right from the browser (plus it's a really small download) gives it bonus points, however, I can't rate it higher than 7 because of ONE reason.

What is that reason?

It is the fact that the game is SLOW! Characters move slow unless you are in a vehicle, so it always takes a long time to get to the other people. It is a good solid game, and it allows for tactics to be made because of the way maps are structured and the inclusion of vehicles, however, it is too slow-paced to be too fun. The whole point of shooters for me is that they excite me, give me an adrenaline rush, this game, sadly, doesn't.

Post Date: 17:24 02-07-2009
Rating: 2
Author: seryph420
Comment: Graphics are okay, gameplay is slowpaced. Lack of weapon and map selection. Servers can be sponsored, which allows for server "balancing". The lack of creativity of character gets a 10, you either get to play american or nazi, though they call them nationals and royals. I give it a 2 for the sociality of the players, which is slowly fading even before release.

Post Date: 22:21 24-05-2009
Rating: 5
Author: Freecol
Comment: I give it a 5 because I wasnt accepted to be a Beta tester. :(

Post Date: 21:47 01-05-2009
Rating: 9
Author: nathan1100
Comment: I heard BFH should be coming out this summer at the latest. This game Look EPIC

Post Date: 21:53 07-04-2009
Rating: 8
Author: notch
Comment: I won't give it a 10 since it hasn't came out but I predict that it will be better than Quake live :p.

Post Date: 16:48 24-02-2009
Rating: 9
Author: wither
Comment: I can't wait either. I am looking more forward to BFH than Quake Live. BFH seems more epic to me for some reason.

Post Date: 14:36 10-02-2009
Rating: 10
Author: fille625
Comment: They will soon open another beta, can't wait!

Post Date: 02:39 09-11-2008
Rating: 10
Author: Pitro
Comment: I think it may be released before 2009 but not sure. This and Qyuake Live need to released right now! Both should be great.

Post Date: 20:59 29-05-2008
Rating: 10
Author: Axeforhire66
Comment: This game looks like alot of fun, but they won't release the dates for it or anything. Still really excited though.