Bushtarion
Review Directory Intro ...
Want to know what other gamers are saying about an online game that you are interested in? Good because this is where gamers can give their opinions about different types of games such as Online RPGs, MMORPGs, Online Shooters, and Free Games.

If you don't want to leave a review, simply click on the link or the screenshot on a game's review page to go to its website.

Signing up is free and allows you to review games, post in the forums, and submit games for review. The forums allow you to ask questions, share tips, and discuss games after you have reviewed them. Let your opinions fly !.!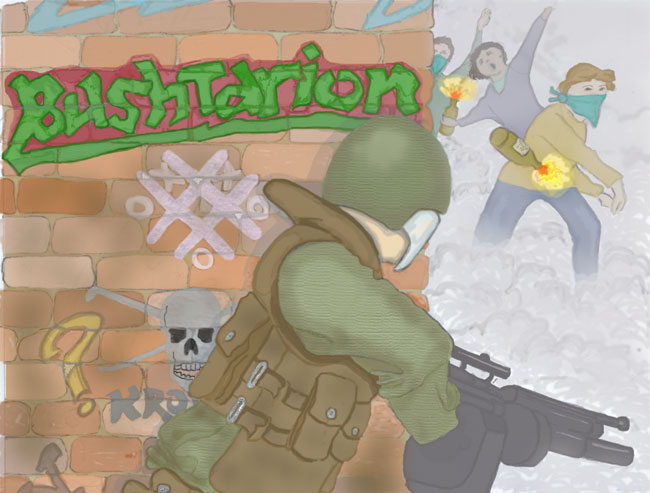 Bushtarion is a free web-based strategy game in which you get to head up your own gardening company, and ally or war with other companies.

Total Rating: 5.73
Reviews: 15
Review Archive
Post Date: 16:12 30-07-2015
Rating: 0
Author: User Name
Comment: 1

Post Date: 22:34 19-04-2015
Rating: 8
Author: Sle91
Comment: Not a bad game at all. It's strategy game where u own a gardening company and fight the competition. I found the game really amusing and fun to play. :) U can play multiplayer or single player mode. The game is really interesting and I rate it 8/10. Definitely worth trying out. :)

Post Date: 07:24 17-09-2014
Rating: 8
Author: FrendlyLeBlanc
Comment: This is solid strategy game and funny but just in start. When i started to play singleplayer mode i was interesting about game but after 10 minutes i was booring. Then i went to play multiplayer with other players and that is more funny then singleplayer mode a lot. You have 6 technology ( don't remember names because played this before 1 and more year )...
I can rate this game with 7,5 because graphic is very good, singleplayer bad while multiplayer very good too.
So i am ratting this good strategy game with 8 :)

Post Date: 19:05 23-12-2012
Rating: 6
Author: PolanWalker
Comment: This game is a free online strategy game where we can become one of six powerfull nations: protestors, thugs, military, robotics, special operations or fantasy. For true thats not nations just the technology to choose. When we choose technology line we must to set our tactics and play style and then we are ready for real fights. We can play solo or with other players. The main purpose is to het bigger and bigger areas to develope our technologies and earn more monay. Game is pretty cool and give big fun from playing :) I rate this game 6/10.

Post Date: 14:09 27-01-2012
Rating: 5
Author: Thedarkboy
Comment: This game isn't that good as some people say. I don't think so. It's fun in the beginning and it's good that it's free. But it isn't really the games that I like. It doesn't fit me at all.

Post Date: 06:25 22-02-2011
Rating: 8
Author: EcLuD
Comment: Well, to be a web game, I found very interesting as the game evolves, it takes some strategy to move forward and as the images are fine. 8 / 10

Post Date: 22:01 28-01-2009
Rating: 10
Author: Tapey
Comment: Brilliant game, the community is very helpful in my experience it is also impossible to get bored of. I generally get bored after a month with any online game, this is the only one that has held my attention. It has recently been updated to age 5. If there was ever a time to sign up now is the time.


P.S.
I can assure people that peoples accounts don't get locked for no reason. I have had other people playing on my internet connection and have never had an issue.

Post Date: 21:11 25-07-2006
Rating: 10
Author: ZeMonkey
Comment: Nice game and great community.
Pretty good at finding cheaters as you can read a few posts lower ;)

Post Date: 21:08 25-07-2006
Rating: 10
Author: Rachet
Comment: Good game, mostly fun community, and the problems mentioned below are avoidable by following simple rules that are explained in the user agreement.

There are official helpers and other people on the forums and on IRC who would be happy to help explain the game.

Give it a whirl :D

Post Date: 20:59 25-07-2006
Rating: 10
Author: marv
Comment: Not a game to get bored of easily. Recently updated!

Post Date: 20:56 25-07-2006
Rating: 10
Author: nickcarswell
Comment: Awesome game, never got bored of it and ive played it for years, loads of stuff to do, hugely diverse and regularly updated. quick and effective system to get rid of cheats meaning we have a fair and fun game.

Post Date: 00:14 21-07-2006
Rating: 0
Author: tttttt
Comment: This game bans people for no good reason. Thats y i give it a 0, no i give it -52.

Post Date: 20:30 21-11-2005
Rating: 1
Author: Scoobydoouk
Comment: The mod in charge seems to ban people without explanation or proof.
I have not been banned but three friends have.
They have asked why and have not been given accurate reasons. They have offered to show credit card details, proof of address. But have been ignored.
The site owner does not have the will or the inclination to respond to them or us.

I wouldl avoid till it becomes more professional

I feel that even saying this will result in a ban from the game for me.

If anyone else is having this please let him know he cant treat people like dirt like this.

Ignoreing is more insulting than flaming

scoob

Post Date: 20:14 21-11-2005
Rating: 0
Author: Ravette
Comment: They don t know how to run their system, nor do they account for people who have more then one pc on a router line, or even on a seperate line. I give them a zero for not invesgating before banning people cause they live in same house.

Post Date: 20:10 21-11-2005
Rating: 0
Author: jawahim
Comment: I rate this game as a zero because if you have more than one computer in your house and more than one person playing the game, your account is automatically targeted for deletion,we have contacted the admin Azzer to attempt to peacefully settle this, by offering digial pictures of the 3 pcs and well as the 3 users, we even offered credit card information to proove that there were 3 people on 3 computer with 2 ip address s 1 being throu a router and he refuses to accept it. so if you have a house hold with more than one person with more than one computer that wants to play forgt this game, you get supected of multi accounts and get locked out and banned. this is not a game that is cable lan connection friendly and the admin is not very good to work with to resolve issued, we have all left the game and taken the 30 or 40 people we brought with us to find something else to do