Dark Ages
Review Directory Intro ...
Want to know what other gamers are saying about an online game that you are interested in? Good because this is where gamers can give their opinions about different types of games such as Online RPGs, MMORPGs, Online Shooters, and Free Games.

If you don't want to leave a review, simply click on the link or the screenshot on a game's review page to go to its website.

Signing up is free and allows you to review games, post in the forums, and submit games for review. The forums allow you to ask questions, share tips, and discuss games after you have reviewed them. Let your opinions fly !.!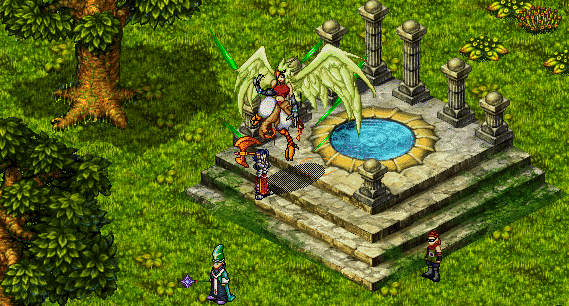 Dark Ages is an online role-playing game set in a fantasy world of faeries and magic. Dark Ages allows you the player to create your own characters choosing their name, gender, hairstyle, hair color, and path. You can battle monsters as a mighty Warrior, protect and heal as a Priest, use powerful magic as a Wizard, use the devious skills of a Rogue, or discover virtue and power with martial arts as a Monk. Once immersed in the world of Dark Ages, you can partake on quests, discover new lands, defeat powerful monsters, collect rare items and much more.

Total Rating: 7.12
Reviews: 17
Review Archive
Post Date: 20:51 01-09-2008
Rating: 10
Author: Vitrubio
Comment: This a very cool game, and it could be addictive, I have been playing it for about 7 years!!!!, and my character VITRUBIO is not complete, great interaction with players, to do quests or go hunting you need a lot of skills there are stron player that you can trust, ARENA, (where you fight against other players) is what i love of this game, there are Arena Clans, usually the most powerfull players are in Arena Guilds (clans), and they fight often in arena for the control of it. It is funny how a Guild take control of arena, they kill other clan memebers till they stop comin to arena. super game

Post Date: 10:29 07-07-2008
Rating: 5
Author: Samsta
Comment: Dont you have to have a coupon to create account?

Post Date: 20:33 06-03-2008
Rating: 8
Author: awesomedrako
Comment: Really! wat is wrong wiv all u ppl who judge a game ONLY by its graphics! i mean, as long as the game is fun, wich this is... oh, and runescape DOES NOT hav better graphics than this anyway, and its a really bad game

Post Date: 17:33 21-02-2008
Rating: 0
Author: beanieboy
Comment: dude tihs game looks bad and has really bad graphics . if compared to runescape this game would lose so everyone who reads go back to runesape.


Post Date: 18:51 25-12-2007
Rating: 10
Author: Deeman22701
Comment: This game is now free to play, with a few restrictions. It is well worth a few hours of investment. Visit the website for details, it has a fantastic online overview.

Post Date: 02:06 11-12-2007
Rating: 1
Author: dirk
Comment: dont even want to play due to bad graphics and 2D

Post Date: 22:35 11-03-2007
Rating: 10
Author: alexalexalex
Comment: its fun but probly get boring but i play this when i am borded like i do with runescape but i still like it

Post Date: 15:04 11-02-2007
Rating: 7
Author: evan4455
Comment: This game looks sweeeet. And for ppl who dont like 2d games well id rather not worry about the bad graphics I worry more about the storyline backing up the graphics!:)

Post Date: 22:08 20-12-2006
Rating: 10
Author: Masterflame
Comment: it took me a while but, once you get into the game and get higher levels, more stuff opens up to you and i think its one of the best games i have ever played

Post Date: 04:35 05-12-2006
Rating: 9
Author: Auticus
Comment: coming from Omnivorous you should listen to the info, being he plays DA, as do i but i have no need to explain anything because he already did

Post Date: 16:48 09-10-2006
Rating: 4
Author: Hero786
Comment: not that good the graphics need ALOT of work and the story isnt good either

Post Date: 18:25 22-06-2006
Rating: 10
Author: DragonLord
Comment: i wouldnt pay for it but from that picture it looks like a classic like final fantasy 5 or something.i love the graphics nice i am getting bored of the amazing modern graphics bring back the oldies its hard to explain just think youve been playing eve for 6 months you see it it looks extremely old but i can see the amazing path of an mmorpg underneath hmmm how to explain...aha runescapes graphics are bad 3d and bad 2d and sorta 16 bit bad graphics its just good anyway im going on i must stop lol!well i can see the badly animated movement already amazing like 2 screens every second memories are already rushing back!


Post Date: 18:07 12-06-2006
Rating: 10
Author: Ultima123456
Comment: Graphics look awsome 16bit ROCKS this looks feels plays like an awsome game

Post Date: 15:02 27-05-2006
Rating: 9
Author: Omnivorous
Comment: The cartoonish graphics may make you giggle the first time you see it, but underneath the simple graphics is a deep and complex role-playing world. I have been playing it for 3 years now, my character still developing. You can be active in politics, whether it is to write laws or uphold them. You can hunt to get stronger and beat other people in the arena, or you can just hang out and make friends :) The only MMORPG that managed to hold my attention for this long, and I've tried -alot- of RPGs. The owners of the game sold it to a different company too now, who seem much more dedicated and interested in developing the game further. They are constantly updating the game with new content, new hunting-areas, new quests, new items, new abilities and spells.. Try out the free trial and try to meet some people while you try it! :)

Post Date: 18:03 12-08-2005
Rating: 2
Author: ModX
Comment: i cant stand 2d games

Post Date: 00:34 20-03-2005
Rating: 9
Author: Roland
Comment: Nice game, at least take the trial.

Post Date: 11:41 29-09-2004
Rating: 7
Author: Jubei
Comment: Not bad, but too cartoonish for me to pay for.