Dark Eden
Review Directory Intro ...
Want to know what other gamers are saying about an online game that you are interested in? Good because this is where gamers can give their opinions about different types of games such as Online RPGs, MMORPGs, Online Shooters, and Free Games.

If you don't want to leave a review, simply click on the link or the screenshot on a game's review page to go to its website.

Signing up is free and allows you to review games, post in the forums, and submit games for review. The forums allow you to ask questions, share tips, and discuss games after you have reviewed them. Let your opinions fly !.!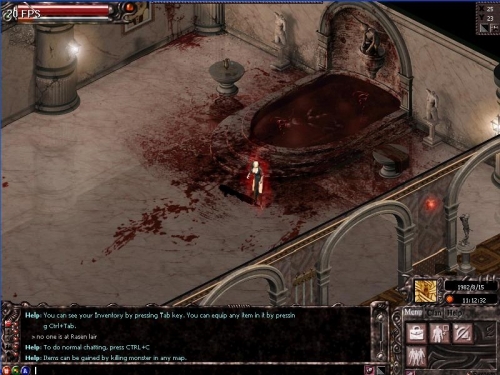 Free MMORPG with a vampire theme. This is the English version.

Total Rating: 6.67
Reviews: 42
Review Archive
Post Date: 17:43 02-07-2015
Rating: 8
Author: LosmiK
Comment: A solid game, I played it, not bad.

Post Date: 23:40 29-01-2013
Rating: 10
Author: Mordekaiser
Comment: Great game graphics are nice the art style is like baldurs gate and there is alot to back it up there is a few things i like about this game one good graphics two good maps /art style three combat system i really enjoyed this game worth checking out for sure and its free all the way 10/10

Post Date: 20:52 04-10-2012
Rating: 8
Author: PolanWalker
Comment: Baldurs Gate style :D I love this from first sight :D 8/10

Post Date: 04:11 23-02-2012
Rating: 7
Author: buzzsaw
Comment: Dark Eden is cooler than it looks in the screenie above xD. Any vampire fan would be brain dead not to play DE. It is the first vampire mmorpg after all. For regular mmo players I would only rate a 7 since the vampire theme is by far the best thing about it.

Post Date: 23:41 22-02-2012
Rating: 10
Author: dj messi
Comment: DarkEden is a 2D MMORPG that currently has a giveaway on GameOgre.com. http://www.gameogre.com/forums/contests-events-giveaways/23401-darkeden-premium-card-key-giveaway.html

Post Date: 06:19 30-01-2012
Rating: 10
Author: gamegenre
Comment: A Vampire MMO that is similar to Diablo

Post Date: 04:14 26-11-2011
Rating: 10
Author: scaredbro
Comment: Good game review might as well read my review on darkeden here!

Post Date: 12:03 31-07-2009
Rating: 8
Author: Spitfire112
Comment: I'd give this game an 8... i love the game, i used to play it alot, but then it somehow got forgotten, and when i next tried it, it didn't let me play it, i don't know why, but after writing this i will reinstall this.
+
1.Good PvP
2.Fine Graphics (I think)
3.It's Cool

-
1.Bugs
2.Hackers
3.Hackers
4.Hackers...

The thing that makes me lower the number for this game is the count of the hackers in-game... when i last played it few years ago, everyone used speed hack outside the Ouster city, that was lame ass crap.
But so... overall number from me is 8
It's worth trying and your time!

Post Date: 11:17 02-03-2009
Rating: 7
Author: bigrog711
Comment: This is a great game. I would give it a 10, but there are a few things that need work.

1. The translation, it seems "Joymax" was in a rush. There are soooo soooo soooo many typos that it looks like a 2nd grader wrote it. What's up with the "Holly Water", are vampire allergic to the water from Christmas shrubbery?

2. Some, not all, people in the community are childish. Reminiscent of a kid with a magnifying glass, and an ant hill. We, the majority, want to have fun and suck blood or pierce undead hearts. While a few insist on calling people "noobs", and insist on killing the lesser leveled individuals in the attempt to feel more powerful than they really are. In game, or in real life.

3. Speed Hackers... 'nuff said.

I suggest you give this one a try, as it breaks the monotony of the age old MMORPG genre. One more note I would like to add. Once you register with "Joymax", you must also accept the "DarkEden" user agreement on the "DarkEden" website.

Post Date: 01:18 25-02-2009
Rating: 3
Author: x3phayz
Comment: This game sux bad, I love it though :). Being completely objective here, DE is going into a wastebasket and then an arsonist is going to light it up so it never gets discovered again. Woohoo.

Post Date: 10:31 22-12-2008
Rating: 8
Author: LILIUM
Comment: Honestly, I'm very biased about this game, lol. I love it. XD But anywho, trying to be even remotely objective here, the PvP in DE is so boss you could just sit there and spam all your skills on other races for foreverrrrr. (:

Not enough ousters though, which I hate. I'm a vamp at heart but ousters are so fun. d: I think the game is unbalanced because vamps are overpowered (by number) and since there's so many, there's more of them who are likely to speed hack. That's probably why they have all the bibles. =/

(: When you do meet people on DE, they're sooo easy to get along with. But there are some pricks out there who bitch a lot. d: As nearly everyone has mentioned so far, yes there are hackers. But DC hack hasn't been occuring recently nor has HP hack.

Eventually, the game gets awfully repetitive (specifically training). ;/ But PvP should make you wanna keep playing this game. XD A lot of people move on to different servers because of the hackers in this one but once you get used to the hackers, you'll figure out how to counter them too. d:

I don't know why people say the graphics of DE suck. Artwork, map, character, and monster illustration are lovely. Ermm, there are some skills that look awkward (scarapi, anyone?) and some map bugs (appearing in the black area beyond the walls) but besides that, the graphics are pretty pwn. o_O

JOYMAX sucks, seriously. ;/ They don't do shit about the bugs&hacks, and this December 16th everyone was all hyped about speed hack being banned and bugs being fixed but after server inspection, guess what? They just added another bug! 1 - 5 minutes after inspect, every monster you killed leveled your pet up one level. ;/

If DE got properly patched up, it'd be epic. (: I think more people should play it, so many familiar faces already lol. If it was more popular, JOYMAX would probably feel more incited to improve it. Hopefully.

Anywho, I hope you take the time to at least try out this game. d:

Post Date: 18:23 24-11-2008
Rating: 10
Author: Hustler0ne
Comment: gameplay wise, Dark Eden is a truely uniqe. Combining features from old school cult classics, DE will remind you of the good ol days of PC gaming, games such as diablo and fallout 2 come to mind when your blasting your way through mutants and abominations. When the sub machine guns, vampires, creepy urban enviroment and puddles of blood all come together you get a great original F2P MMORPG that will keep you hooked for long time. DE has been down for some time now but hopefully it will make a comeback, until then be sure to put it on your waiting list.

Bad ass/cool factor: 10
Graphics: 8
Gameplay: 10
Grinding: you"ll enjoy grinding when your out of the safe zone filling mobs with hot led(more often than not you"ll be in a party - aggro raises and you"ll be on the edge of your seat)

Post Date: 09:14 20-06-2008
Rating: 10
Author: darkrobman
Comment: This rocks u can use gunes and swords its alot like runescape
gameplay 10/10
graphics7/10
every thing else10/10

Post Date: 22:54 01-04-2008
Rating: 10
Author: ThundaKatt
Comment: its a great game. but my ancient desktop is going to the trash and im downloading this for my laptop now. but it says the systems down. whats up? updating?

anyways any help would be great.

Post Date: 00:11 15-03-2008
Rating: 9
Author: akiflyer
Comment: Good game! altho you can go everywhere like on the Orginial version, now you have to pay to acess some areas...but its okay, Also if your Somewhat Sensitive to blood or Just young, you Might have nightmares or stomach ache afer afew Hours of game play...xD hey i was 9 when i played this! when it was beta In Korea xD lol good fun game

Post Date: 18:50 05-01-2008
Rating: 10
Author: Voska
Comment: The original Dark Eden is the game everyone loves!Forget the Blood Bible,the Wheel of Fortune,all the new so-called improved versions!The only problem with the original Dark Eden was the anti-hacking protection!I say bring back the old 2d simple great game of The original Dark Eden..
DE gets a 10 from me!

Post Date: 02:02 09-12-2007
Rating: 10
Author: adio01
Comment: Dark eden is back!! awsome game thats now opened with joymax its currently in beta testing and works really well. The game is based one a never ending war between vamps and slayers. Most vampires are alike the only thing that differs is their type of build. Slayers im one of these the slayer has many classes u can level up suck as gun, sword, blade, enchanter, healer ill see u in the game look for me Slayer15

Post Date: 11:53 01-11-2007
Rating: 5
Author: etoille
Comment: Hey anyone out there..please please tell me how to create a character in Dark Eden.I dont seem to know how to.Please HELP! Am really brand new to this game.THANKS!

Post Date: 06:23 02-09-2007
Rating: 7
Author: geohyte
Comment: Pretty good game fun for a long time if you had played before the hacks came out... Questing was apparently possible, but I could never do it since there was always an issue with text running out of the box, and window. Though I do know the community before hackers took over was good. I could go just about anwhere as a hunter, and party with some cool people. Though as a vampire it was almost like the others were just there to take up empty screen space.

PvP was actually decent since vampire who's winning could kill, and bite the Hunter. Also a hunter can use silver weapons, and hurt the vampire to limit there health. Of course both things were reversible. Just that when you played you had to be careful of hiding vampires, and large parties of hunters. Either thing can mean your instant death.

The areas to train for hunters are limited by the large number of vampires playing at any moment. Vampires are similar when it comes down to it. High lvl hunters roam in parties that barely spread out, and instantly kill anything that moves, and isn't one of them. So either way you can train, and have a good time.

Character builds were whatever you chose to put stats into. Hunters could go to a multitude of different weapons, and powerful armors. Same with vampires though they got one type of weapon, and a ton of different armor with various effects. Overall there is no "one" perfect side, or stat build.

Only thing bringing this game down is the lack of things done to remove the hackers in game. They ruin it by killing you all the time, causing the servers to overload to disconnect players, and the items they create to make themselves even stronger.

Post Date: 07:05 29-04-2007
Rating: 6
Author: exodian1
Comment: It was a pretty good game, but got kind of boring once I got high lvl. Too slow to lvl up so nothing to really do. The stupid hackers really annoyed me. Kept on getting disconnecteed. Overall it's a pretty good game I guess

Post Date: 10:59 28-04-2007
Rating: 4
Author: orasis
Comment: It's not bad, a nice little game.. although the enemies/characters are not very balanced.


Post Date: 04:54 06-04-2007
Rating: 5
Author: Adio01
Comment: ok this game is great im just saying i loved it played it all the time then the hacks came out. thats the major downfall of this game. I cant even play it eney more because i get diconnected from all the hackers dont even download now it has to maany server problems. HACKERS STOP RUINING GREAT GAMES.

Post Date: 23:32 01-04-2007
Rating: 8
Author: Aldins
Comment: this game is pretty fun if you are a fan of runescape its just like it but more bloody and with more violance i give this game a 8 verry good job

Post Date: 14:44 11-02-2007
Rating: 4
Author: evan4455
Comment: Weird kind of play modes and so so graphics but kinda boring nothing really to do :P

Post Date: 20:43 22-01-2007
Rating: 10
Author: audron
Comment: definetly a 10/10 in my book. the best mmorgp i've ever played. join the dark side, create a vampire character, go hunt some fresh slayer meat.. i just LOVE(d) it..
too bad those hackers took over, now with the DC hack it's almost impossible to play

Post Date: 12:12 22-12-2006
Rating: 7
Author: NemoPL
Comment: Good game but is over the serwer :/ i love it :P:P:P

Post Date: 20:43 14-12-2006
Rating: 0
Author: yanbo
Comment: Im not even gona try this game, it looks alright and i would like to try it but what sort of dumb website asks for your phone no. and zip code obviously gona spam u also i cant play it cos i dont have a zip code living in the UK

Post Date: 19:31 05-12-2006
Rating: 6
Author: tigruma
Comment: i realy liked the violence in this game but.... hp and speed hackers..... cmon they should do something about it .i give a 9 to the game and a 3 to the antihack system=6

Post Date: 23:45 01-12-2006
Rating: 9
Author: murfyy
Comment: This is an AWSOME game. I used to play it before there were hackers... now its just hacked too much and the game doesnt work... thats a 9/10 for the way the game USED to be

Post Date: 09:19 16-11-2006
Rating: 0
Author: Bloddrake
Comment: This game is so bad that i can't even rate it. Can't play it, to much hacking and the servers is down a lot. and they have not updated it for ca 5-6 moths.

Post Date: 01:39 05-11-2006
Rating: 10
Author: Laniatus
Comment: This game is.... just.... wow. The graphics i must admit need working on but the game play, the community and the ill tempered level 100's whole kick your teeth in for just being there. Hardcore gamers would get stuck into this and you all should as this is a masterpiece

Post Date: 21:31 03-11-2006
Rating: 9
Author: kunta93
Comment: awesome game, runescape shoulda been like this. download is short, so giv it try

Post Date: 02:59 16-10-2006
Rating: 1
Author: ILoveGunzxP
Comment: Zomg hack hack hack hack hack hack hack T~T should have read reviews b4 i wasted time.

Post Date: 12:58 09-07-2006
Rating: 2
Author: SnakeWarlord
Comment: its a good game,but the npc rips you off when you want to turn from good to evil eg. you say you want to give it 50k for good points and it takes 500k and gives hardly any - most people have the hp hack and the 1 hit kill hack so you just get killed by the slayer/vamp easy

Post Date: 16:27 25-06-2006
Rating: 1
Author: A_crying_shame
Comment: I love the game,I do,but Baby_devil1 is right!There are so many hackers that it's killing the server and people can barely play!So rate a 1 for the fact that it can't be played wihtout complecations,otherwaise it's wirth a good 8 due to jerks spoiling it for others!

Post Date: 00:10 13-06-2006
Rating: 8
Author: baby_devil1
Comment: Not a bad game...too bad u can get rich easily though with only a noob character and high lvl character. It was easy. Plus too many people hack and cheat. It's those stupid hackers that doesn't make the game fun. Show offs.

Post Date: 10:25 01-05-2006
Rating: 9
Author: DestzenAED
Comment: I've been playing this for about a week or two now . .I really like it .. the dynamics of it are pretty straight forward .. the playing style is familiar it's like diablo with a whole bunch of barabarians with different builds . .except .. except you can also play vampires which is like .. well . .cutthroat as heck . .anyways .. If you like vampire games. check it out

Post Date: 22:00 19-04-2006
Rating: 0
Author: spiderbyte44
Comment: Lame, I got bored of it very quickly because you don't do anything exciting exept fight undead.

Post Date: 00:50 26-03-2006
Rating: 7
Author: j_kyll
Comment: i dont know who says that game isn t in english.
The fact is the game IS in english.. only the updater is in korean good game but to much deconnection on the internationnal version. Personnaly i prefer the thai version with the english patch. the internationnal version stil have lot of people playing it i give it a 7

Post Date: 20:52 18-03-2006
Rating: 3
Author: Maeko
Comment: EXTREMELY similar to runescape, so there s no point of even downloading it and playing it when you can just play runescape on your internet browser. Also it s not in english which made the game REALLY hard to understand...I don t think this game has long to live anymore, ppl are slowly leaving it until it just gets taken offline...Umm yeah...

Post Date: 03:12 04-12-2005
Rating: 2
Author: Bob Frank
Comment: Too sluggish.

Post Date: 18:40 21-11-2005
Rating: 9
Author: slayer0273
Comment: Ausome.Choose a side from vampire, or a vampire slayer. Create up to 3 characters with weapons, ablilities, and magic. Fight ppl from around the world and choose an alignment. Good or evil. When fighting your own race your alignment goes bad. But fighting the opposite race your alignment goes good. So? Which will it be?