Diablo 3
Review Directory Intro ...
Want to know what other gamers are saying about an online game that you are interested in? Good because this is where gamers can give their opinions about different types of games such as Online RPGs, MMORPGs, Online Shooters, and Free Games.

If you don't want to leave a review, simply click on the link or the screenshot on a game's review page to go to its website.

Signing up is free and allows you to review games, post in the forums, and submit games for review. The forums allow you to ask questions, share tips, and discuss games after you have reviewed them. Let your opinions fly !.!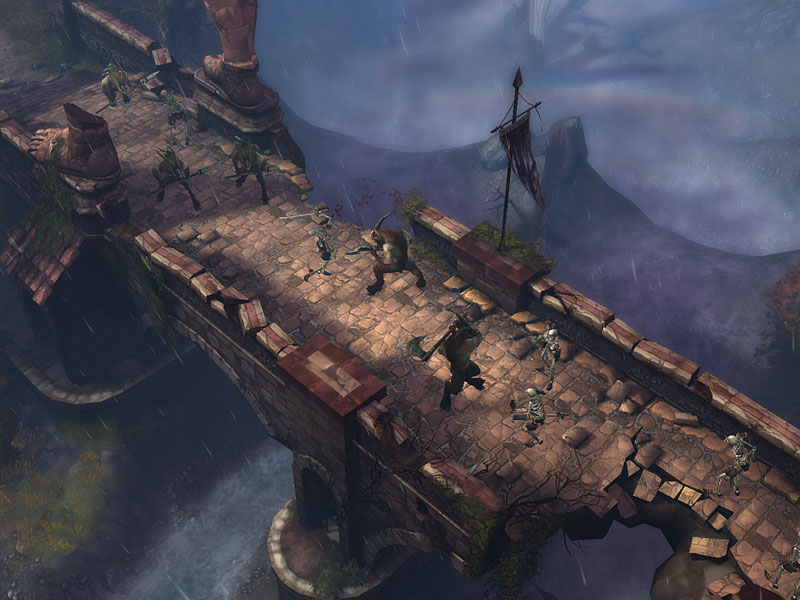 The game takes place on Sanctuary, a world of dark fantasy. Unbeknownst to most of its inhabitants, Sanctuary was saved some twenty years ago from the demonic forces of the underworld by a few brave and powerful heroes. Most of those warriors who directly faced the armies of the Burning Hells -- and were fortunate enough to survive -- went mad from their experiences. And most of the others have buried their haunted memories and pushed the horrors from their thoughts. In Diablo III, players will return to Sanctuary to confront evil in its many forms once again. Diablo III will be a fitting sequel to Diablo II, with the easy interface, fast-paced action, and visceral gameplay that Diablo players have come to expect and enjoy. It will also include many new features that will take the Diablo action-RPG experience to the next level. We look forward to going into much more detail on our plans for Diablo III as development on the game progresses.

Total Rating: 8.13
Reviews: 31
Review Archive
Post Date: 16:27 16-12-2014
Rating: 7
Author: gavrilo3
Comment: for me one of great game what blizzard just destroy with stupid things blizzard in one of greates company in the world and when i sav on one game magazine about this game i was think omg i must play that game is amazing but no anything go in good way as blizzard thing will go the game when release is start to have bugs and a lot of other problems like some disconect errors or something like that but game is still good gameplay is ok but multyplayer is little stupid idk when was this game come out i think omg this game will be one of most played and most fun games but this not happen idk what i to say blizzard made huge mistake when he come out now this game ind where he start to create diablo but i think about long time they do and nothing idk what i to say this game can be more played and more better created buy blizzard to don:t do everything so fast

Post Date: 08:33 11-04-2014
Rating: 9
Author: molnyi
Comment: Diablo 3 is a very nice game, with nice graphics. But to be honest I expected more from it. It's a good game, has some nice classes, and new spell and lvl up sistem is kinda nice, but I liked Diablo 2 more. Game offers a lot of fun and interesting scenes. Boss fights are always good, and kinda hard. You can play game in more difficulties. Game had a real auction house where you could sell items for real money, but that is shut down with diablo 3 reaper of souls that came out. It's an expansion for this game. Overall it's a nice game, and it's really worth money :) Enjoy

Post Date: 06:50 30-03-2014
Rating: 5
Author: bos4kCRO
Comment: Very nice game,nice graphics. I would reccomend everyone to try this game! :D

Post Date: 01:20 21-05-2013
Rating: 5
Author: TrooperJ
Comment: Can u say booooooring? Diablo 3 is a ripoff compared to 2,

Post Date: 19:40 06-12-2012
Rating: 10
Author: PolanWalker
Comment: Many people told me that this game is an Epic production that everyone should try and then he will fall in love with it ;) After trying it I can say that game is really very nice and interesting. We have oportunity to continue our adventure in Diablo world ;) Game gives great fun from play but have very big stuff needs. We must to have very good computer to even start it :( Even that I rate this game as 10/10 :)

Post Date: 01:15 17-08-2012
Rating: 8
Author: imfoddy
Comment: Diablo 3 is a great game, after the years of waiting especailly coming down the stretch I was not as in awe as I thoguht I would be, but the graphics combined with smoothness of gameplay and the storyline were really well done. What is great about the game is that over the next few years it will evolve and improve. The gear was not as well tweaked and scaled as I had hoped, and the modifiers are not as awesome as D2 gave us. But overtime this game will only improve and I see much repeat gameplay in my future.

Post Date: 11:45 27-07-2012
Rating: 9
Author: PolanWalker
Comment: The newest diablo adventures from Blizzard have very good graphics nice game play and meny other superiors :D From me 9/10

Post Date: 20:21 25-07-2012
Rating: 8
Author: Thedarkboy
Comment: Diablo 3 is a great game. The sound is good but it's not something I notice because I'm more into the game so I kind of forget about the sounds. The graphics are great and it adds a certain character to the game. You don't get tired of it so easily. I think it's sad that you can not make your character more unique. Sure, you can have different clothes and and other stuff but it would be nice to be able to change the look more, for example, to change the facial features and beard. One thing I must add is that the cutscenes are the prettiest I've seen, ever. They look like they would be in a real movie, and the details and everything is world class.

Post Date: 16:28 21-06-2012
Rating: 7
Author: Webber
Comment: Diablo 3 is a game that many gamers have waited 12 years for. When you first play you love it. However, it does not last as long as Diablo 1 or 2. The game can played by your self but has to be online. I don't know who would be stupid enough to pay for game items with real money but it won't be me! The latest patch has also pissed off most of the playerbase. All that said, I have to give Diablo 3 an average 7.

Post Date: 03:43 26-05-2012
Rating: 9
Author: Skylar
Comment: D3 is awesome. I played today at my cousin' house. I could not stop playing! I will buy it when I get enough money. The graphics are good with fast action. The story is not bad. The auction house is not bad either. I used game gold to buy what i wanted. I took off 1 point for the high price. 9/10.

Post Date: 14:03 15-11-2011
Rating: 9
Author: Thedarkboy
Comment: Brilliant game!! Great graphics. It's a lot better then Diablo and Diablo 2 if you ask me :)

Post Date: 22:07 01-11-2011
Rating: 9
Author: lumlehsumleh
Comment: that graphics in this game are very good. much better than diablo 2 and 1. it has the same theme though.

Post Date: 06:34 11-08-2011
Rating: 10
Author: Joker
Comment: Diablo3.Guild Wars 2. It doesn't matter that the two games will launch close to each or that Diablo 3 will be an MMO. Diablo 3 will still be awesome!

Post Date: 18:43 09-08-2011
Rating: 8
Author: hatter1
Comment: Diablo 3 is going to be a MMORPG? Disappointed:(. Also why in the world is D3 going to be launch a day before Guild Wars 2? Makes no sense at all. I do not want to choose!

Post Date: 09:53 23-05-2011
Rating: 10
Author: sasuke24
Comment: This is an fantastic game with smooth gameplay and awesome graphics. Diablo III offers a pure hack and slash gameplay as well as a enjoying storyline. The vast range of weapons and skills is another attraction of this game. The game also offers an unique crafting system. The dungeon in this games are extremely addictive to get explored.

Overall the game is pretty well to keep with you. It can surely make you forget the word "bore"

Post Date: 13:43 23-02-2011
Rating: 10
Author: dantabletennis
Comment: Brill everything!!!!!

Post Date: 06:52 31-01-2011
Rating: 10
Author: Adrian
Comment: Much, much better then number 1 and 2, this is a game you can play for hours on end. Great graphics, and music...10/10.

Post Date: 19:12 04-12-2010
Rating: 8
Author: champking5
Comment: This is the best Diablo there is. Im glad they created a 3rd one and made it better. I enjoy playing the new quest as well.

Post Date: 09:52 10-11-2010
Rating: 8
Author: winston9999
Comment: looks ok, just doesnt have the old 'diablo' feeling.

Post Date: 13:54 18-10-2010
Rating: 0
Author: Jericho
Comment: Why would I, as a consumer, wish to invest in Blizzard to buy their new Diablo game, when it is evidenced that they have no control over their 10 year old game Diablo2? They are rampant with spambots, gamebots, hacks, and cheats. Am I, as a consumer, to expect that it will all change by them simply changing the number atthe end of the game title?

As evidenced:
Spambots
http://i271.photobucket.com/albums/jj133/luciferus99/botts.jpg?t=1287406979

Unbalanced character gameplay caused by introduction of new item:

http://i271.photobucket.com/albums/jj133/luciferus99/botts2.jpg?t=1287407406

And, the fact the botters readily identify themselves in the face of blizzards complacency

http://i271.photobucket.com/albums/jj133/luciferus99/botts3.jpg?t=1287408916

I would have to rate their new unreleased game upon what I do know about what they have on the market now. In such a case, I can rate no higher than a "0". You can only expect what you have grown to know in 10 years. And that is precisely what D3 will be as well.

Post Date: 04:57 16-05-2010
Rating: 9
Author: Webber
Comment: Still waiting:). I wish D3 would just come out already. We have waited long enough!

Post Date: 23:43 23-02-2009
Rating: 7
Author: Joker
Comment: Ofcourse, I will buy D3 but i think too many Diablo clones have came out since the last Diablo. Everybody thinks its going to be so awesome but I think alot of people will be disappointed.

Post Date: 04:20 02-02-2009
Rating: 9
Author: clickmehere
Comment: The Game will be very successful. A huge hit, but we will see what trully happens

Post Date: 18:05 18-10-2008
Rating: 10
Author: cmor
Comment: Finally! After enduring counless Diablo clones for years, it is great to see the real thing back. If there had been a Dungeon Siege 3 before a Diablo 3 I think I would have been sick!

Post Date: 19:11 06-10-2008
Rating: 8
Author: cykick
Comment: D3 will be another classic but might not be as big as it could have been a few years ago. Too much time has passed. WoW is now on the scene so D3 might just be a matter of bad timing like the C&C games.

Post Date: 18:10 09-09-2008
Rating: 0
Author: serenicide
Comment: All diablo games were pathetic... this isnt guna be any better..

Post Date: 10:00 21-07-2008
Rating: 10
Author: bindrop
Comment: Looks great so far. Will be HUGE whenever it is released. I mean Diablo 2 is still popular so just imagine what 3 will be like!

Post Date: 10:46 13-07-2008
Rating: 10
Author: gergo
Comment: diablo3 nice

Post Date: 14:43 05-07-2008
Rating: 10
Author: anigous
Comment: From the video it seemed so GOOD. Of course graphics were updated.

Post Date: 18:57 04-07-2008
Rating: 10
Author: nickelar
Comment: Awesome!

Post Date: 12:31 29-06-2008
Rating: 10
Author: oropher
Comment: In one word: Awesome!