Dogs of the Seas
Review Directory Intro ...
Want to know what other gamers are saying about an online game that you are interested in? Good because this is where gamers can give their opinions about different types of games such as Online RPGs, MMORPGs, Online Shooters, and Free Games.

If you don't want to leave a review, simply click on the link or the screenshot on a game's review page to go to its website.

Signing up is free and allows you to review games, post in the forums, and submit games for review. The forums allow you to ask questions, share tips, and discuss games after you have reviewed them. Let your opinions fly !.!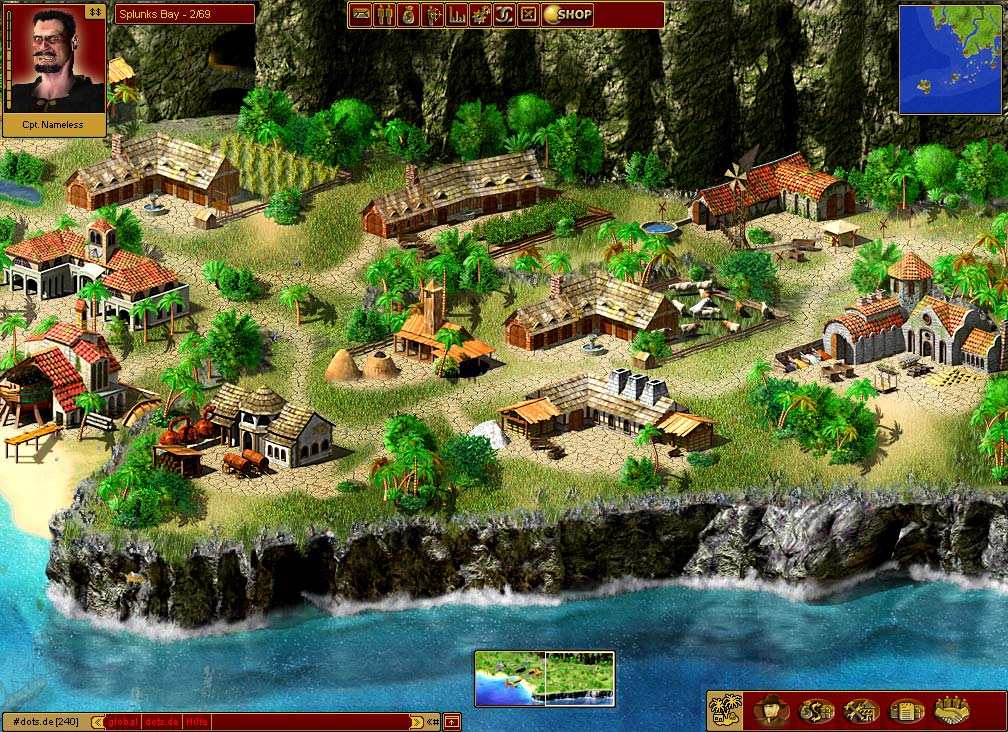 A browser-based Massive Multiplayer Game. You start your adventure as a poor pirate in the heart of the Caribbean fighting and trading your way to wealth and glory. Equip and command your fleets, become famous and rule the Caribbean seas! Hunt for treasures or bounties set on Pirate's heads, accept missions from your local Agent and go on a quest, trade precious goods with other merchants of the Caribbean or produce valuable weapons and ships. Take down your enemies and plunder their ships in real-time player-on-player combat or trade with them on the high seas. There are vile computer generated pirates or peaceful trade merchants sailing in our waters, so keep a good lookout, Mate! Start your own or join an existing Alliance and take part in the Caribbean politics. Create your own beautiful pirate cove with more than 26 possible buildings, build and take command of your fleets using some of the 20 shipclasses and sail between the 500 harbors to complete sales and purchases of the more than 200 different items or plunder one of the offshore fortresses.

Total Rating: 3.90
Reviews: 10
Review Archive
Post Date: 18:58 23-12-2009
Rating: 0
Author: idont
Comment: If your looking for a game where cheating in encouraged, and the only thing that matters is how much money you spend, this game is the best. be prepared to drop at least 500 Euros if you care to compete. If you run into any problems, the dev team will no respond. major problems with lag. the only time the devs are ever seen is once a month when they come online to sell new things for you hard earned money.

Post Date: 16:26 24-11-2008
Rating: 0
Author: TFMonty
Comment: Strongly advise anyone reading this not to start playing this game. It is run by over zealous power hungry mods, who use their bias to benfit themselves. Move on and find something else.

Post Date: 09:28 01-10-2008
Rating: 10
Author: Brigatine
Comment: I have been playing Dogs Of The Seas for a long time and feel that the game is as amazing as ever.
The graphics are great and the npc fighting is amazing, not like other games where npc's are easy to defeat with these you have to have your wits about you.
I have had great in game support from both the moderators and the development team, even though i am not a big pearl buyer. I have worked along side the development team and i can say that they do consult with the moderators as they have their own chat room where the consultations take place.

Since the update the moderation team have been very effective in keeping chat in line. One of the biggest issues is there is always someone that decides that they can avoid the word filters and again the moderators are quick to resolve these issues.

Dogs 3 is a very enjoyable and exciting game, it is enjoying many new players on a daily basis.

In fact it is the only online game that has kept me totally addicted.

10/10 for dogs of the seas 3 and congratulations to the developers and the moderators for an amazing gaming experience.

Post Date: 17:22 05-09-2008
Rating: 2
Author: lusam
Comment: having played this game since jan 2007 i feel i should tell you the facts
the game can be fun and times and could be a great game if there was any customer support
there is no way to reach the parent company and the development team ignores you
the moderaters are members of alliances and have little knowlege of any changes togame
new items and changes are made and players are not told how they work or what they do so it is trial and error
the game is geared for european players and they are given information other players do not have access to
the game is very exspensive to play if you want to be successfull
so if you are looking for a game that cares nothing about the players jump in and spend money
i have played for a long time thinking that sooner or later the parent company would realize that players are important to game but this has not been the case


Post Date: 04:14 10-01-2008
Rating: 0
Author: Chroniclesman
Comment: Since my first review the game has gone under even further changes, and this time I must report that the game has gone from in to sin. There has been three versions of the game and the first version was the best one, kind of like sequals to a movie, the first one is usually the best.

The developers of this game have decided that they should rebuild from the second version and promised that the game would be so much better than any previous versions. However, citing that they must make some money, they have designed this version to be just barely playable without buying in. Let me say this as well, the game is not cheap, and it has taken more than a year to complete considering the game on its third version is only about halfway from being done. While I can appreciate their efforts in providing an online gaming experience for MMO's where no client is required, this has some major drawbacks and I will go further into detail.

1. There is a log out policy where players can logout at anytime, even if being attacked by another player and enforces a 1 minute penalty where your ship is fully defenceless against player or NPC. Unfortunately, this has a major drawback, if you are in the middle of fighting an NPC, that npc will kill you because you cannot log back in for 1 full minute. When you sink, it will cost you either a restore *rare item* or 10 pearls at minimum to restore the ship. Pearls are purchased with real money.

2. The lag can be completely disasterous as there is only one server and it is located in Germany. So for you North American players this can mean poor connection rates and super poor lag.

3. The game is still pretty buggy when logging in and sometimes will hang on the loading screen and it takes a complete reboot of the PC to repair this.

I have been a big part of this game since near the beginning and along with being a GM, in-game news man and Alliance Leader I can safely say that it would be apparent that the developers or do not take seriously the players loyalty or a professional stand when it comes to releasing updates and events when promised. Also please take note that there are some exploits which have been brought to the attention of the developers and still have not been repaired.

I really wish I could say something positive since my last review for Dogs of the Seas, but I am absolutely unimpressed with the way this version was brought in and kept up. Players can been seen fighting verbally with each other in chats, word filters are enabled but only work on a very minimalist level and players have no way to deal with issues as the developers are never available, there are moderators in the game, but again, they have no direction, and are not supported to any degree either, in fact a few days before Christmas, all the devs went on a three week holiday, two of the mods were hacked and their accounts were reduced to rubble. It took almost a week and a half to get the developers in to repair this for them, and at the same time, players are banned for exploits that they never knew were exploits.

All in all, I will simply suggest that you use extreme caution when signing up for this game and please be very caution if you do decide to buy in. The game is very expensive and the uniques you are able to purchase with these pearls are only exhausted by normal game play and you will need to reload your pearl supply quite fast. I am giving this game a very poor rating based on the pretense the game is misleading when it says that it is exciting, like I said, more than half a year since it's release and still cannot even be considered halfways completed for more than just a beta.

Post Date: 22:59 25-11-2006
Rating: 0
Author: Knightwolf
Comment: Man this game is worse than runescape or even AQ!

Graphics: 0/10

Post Date: 19:30 10-05-2006
Rating: 10
Author: ChroniclesMan
Comment: I have been playing this game for quite some time. Since I began, the game has underdone so many positive changes. The community on Dogs of the Seas is very exciting and the players are fantastic. The help system is one of the best I have seen, and the players seem to really enjoy taking part in the supporting process.

The whole concept of being in an alliance is not new, but I feel Dogs of the Seas has added some very keen aspects to them. Battles with players can be exciting, and usually there is a war somewhere within the Caribbean amongst a couple of alliances.

The process for production seems slow at first, but this grows steadily and the ability of a player is based on their production status as well as their battle readiness. Of course, there is something for everyone in this game, you could simply be a Merchant too and dabble in the markets.

I am constantly amazed at how the game evolves and is consistantly getting better. With improved graphics, special events, and real prizes... this game is the first of its kind that I have seen anywhere. And whats best... I can play it from anywhere, because there is no client download. You gotta try it.

Post Date: 19:13 10-05-2006
Rating: 10
Author: tadaaa
Comment: Best browsergame on earth!!! Just try it and be surprised. Best community ever!

Post Date: 17:41 26-02-2006
Rating: 0
Author: shaderun
Comment: i played it (3 minutes!)
no free movent the graphics are 2d movent is text based. limeted char optimazation.
dont even bother trying this. >.

Post Date: 09:19 09-02-2006
Rating: 7
Author: pellnell
Comment: Not great, but still a pretty fun pirate game.