Empire Earth
Review Directory Intro ...
Want to know what other gamers are saying about an online game that you are interested in? Good because this is where gamers can give their opinions about different types of games such as Online RPGs, MMORPGs, Online Shooters, and Free Games.

If you don't want to leave a review, simply click on the link or the screenshot on a game's review page to go to its website.

Signing up is free and allows you to review games, post in the forums, and submit games for review. The forums allow you to ask questions, share tips, and discuss games after you have reviewed them. Let your opinions fly !.!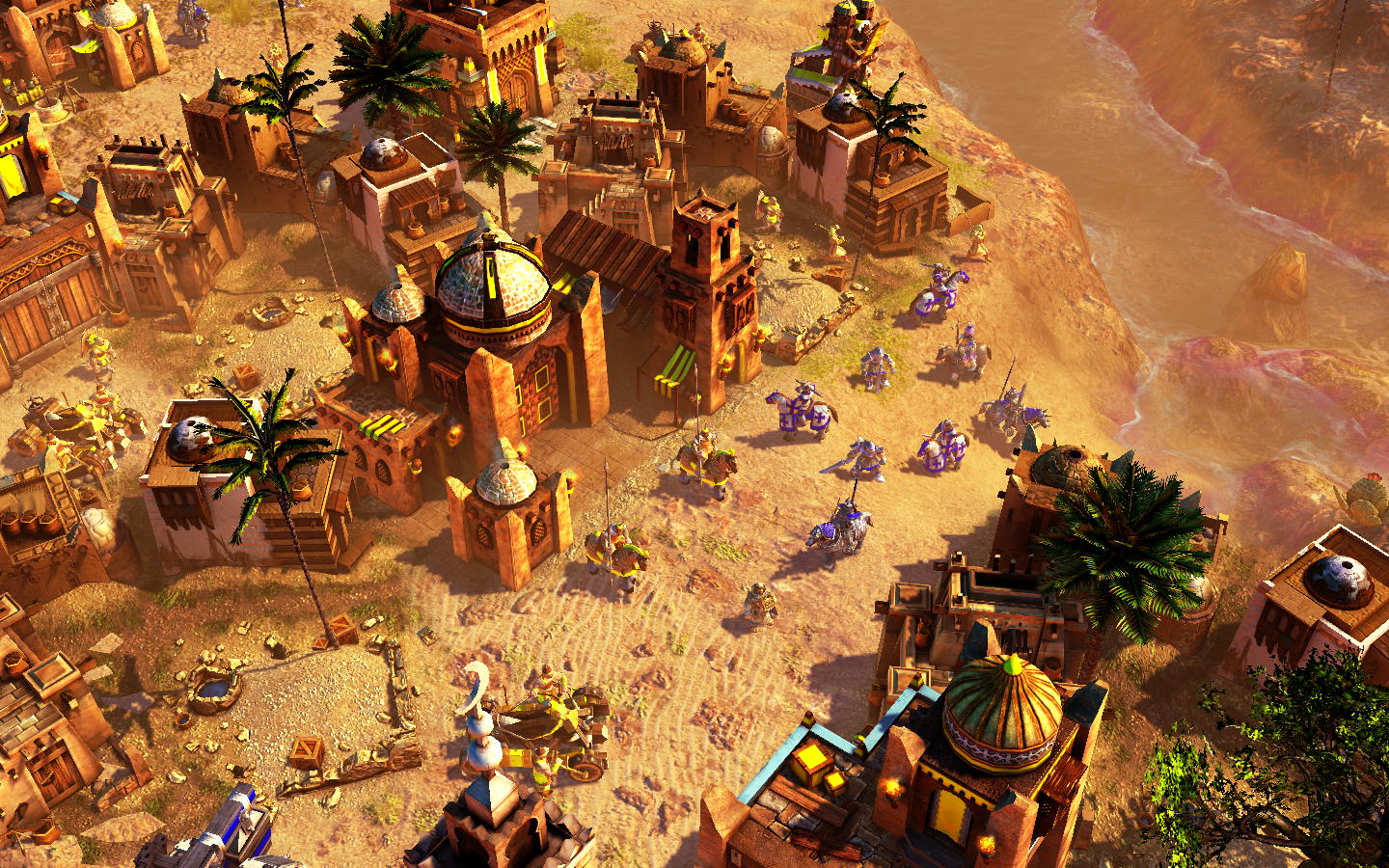 Regardless of what you've played before differing from Age of Empires to Age of Empires 3 this is the game for you! Empire Earth let�s you create your own empire to rule. With a heap of civilizations all based on history to choose from and military weapons including the old barbarians to the future of war, robots you are sure to find something in each epoch for you. There are also great features this includes creating your own scenario or even going online. There are also options before creating your game such as choosing the max population or which age to start with. This has a great gameplay style with amazing 3D graphics. You can even create your own heroes to lead your army to war. There are two different exciting and powerful heroes, the first are Strategist heroes who can heal surrounding allies or lower the morale of others, the other type are Warrior heroes who have great attack power and will increase the morale of the surrounding allies. The epochs in Empire Earth are the Prehistoric Age, Stone Age, Copper Age, Bronze Age, Dark Age, Middle Ages, Renaissance, Imperial age, Industrial age, Atomic World War I age, Atomic World War II Age, Atomic Modern Age, Digital Age and Nano Age.

Total Rating: 7.90
Reviews: 10
Review Archive
Post Date: 18:08 28-07-2014
Rating: 5
Author: Marks
Comment: It is a strategy game that you play today...Graphics Games could say that is not something special.It is very exciting and can hardly get bored if a man loves the game.In the game you can develop the centuries, starting from the stone to the modern era (Prehistoric Age,Stone Age,Copper Age,Bronze Age,Dark Age,Middle Ages,Renaissance Age,Imperial Age,Industrial Age,Atomic Age WW1,Atomic Age WW2,Atomic Age Modern,Digital Age and Nano Age).Also integrated some old wars and then you can play,and can be fixed to whatever you want and to choose which life you want.Of course it can be made its own folder and then insert.Then in this folder, you can only play against bots,and can be inserted through the other players and play online.Before the start of the game you choose the kind of map you want to play, for example,large maps with lots of small islands or folder without water there is still plenty of choice al'll leave that for another time.When you start the game you get five workers and make them much more.Now workers must gather resources to be able to play of course.In the beginning, usually more expensive wood, gold, food and stones.After that make the house and the more houses you have more you will be able soldier.Then you have a barracks that are created by soldiers.Is there a firewall on is usually made of stone and the firewall can be upgraded to be stronger.Then there Airport to the means to the aircraft.I mentioned that the soldiers can be upgraded to be faster, stronger, stronger ...Cyber ??there are the robot and my favorite robot called Tempest,others are called Apollo, Furies, Hades and Poseidon.Favourite soldier was Guardian.I normally like to make a lot of good strategy and one of my strongest attacks were five nuclear bombs, Over 1000 Guardian, more than 150 Tempest, 200 tanks and I think 50 airplanes.Let me tell you that all the planes are, what they do and what they are called.My favorite aircraft is Titan Bomber outlet on a nuclear bomb and is more powerful,Pheonix Fighter on the bomber and a little slow, also one of my favorites is the B-122 Wyvern Bomber very good and fast and has a strong attack, Nebula Fighter is also fast but not strong, the Sea King II looks like a little flying car of the future is very rapid and weak attack, Spectre AT Helicopter on one of the helicopters which fired rockets and she's not so fast and at the end of Reaper Gunship also looked like a car from the future and Sea King II and have similar features.Now I will talk about the ships and not an expert al explain more clearly about what each ship, there's quite a bit more accurate to say there are three.Hammerhead's submarines, speed of sale, but not stronger as to the attack.Nexus is destined to carry passengers and can not attack.Triton is stronger than other ships and is quite fast, but not faster than the Hammerhead.It can also create something for shooting down planes and much easier to play.Now I will explain how to move into the next century.for example, you are now the Stone Age, and want to move on, right?This is done so you can see what you need it for the next century to collect and then you have bigger life.Every life is getting harder to get.Now I'm told a lot of things about the Nano Age but next time I'll talk about the Stone Age.

Post Date: 10:41 30-05-2014
Rating: 8
Author: bloga99
Comment: Very good game :)

Post Date: 09:48 29-04-2014
Rating: 7
Author: nikiwild
Comment: I have played this game a long time ago, when i was a kid. That game was pretty much awesome thosedays. I remember playing it it was so cool, i was a fan of strategy games, i have played every strategy game then. Empire earth is a strategy game that you need to evolve. You start from a stone age, and u finish in future, robots airplanes. The goal in this game is to kill opponent, if u are playing campain then u need to finish the mission. You can adjust versus how many evemys you want to play, how hard they are, for example, easy, normal, hard. You dont need a good pc for this, it can work on any pc. In this game you need to make resources to produse army who you will lead in battle to destroy enemy village. In stone age you will lead clubbers to fight, in modern age you will send robots and aircrafts to fight for you. It is a pretty easy game, it is fun at beggining but it can become booring. In game you dont know where your opponent is you need to find him, its not like hes miles away just some cool thing added to think about. There are a lot of expansions for this game, first game was released in 2001 the last one was released in 2007 empire earth 3. The game is also known as ee. So i will type from now ee because its easyer. There are some more ee versions, so i will put them here second version is ee art of conquest 2002, third is empires dawn of the modern world 2003, fourth ee 2 2005, and a cuple of more games. The game was really popular those days, as u see it had every year a new expansion, version. But then it stopped, i dont know why but i think people dont play it any more. Sound in this game is really nice, you can hear every sound for every living thing in game. Every solider has his own sound. Every animal has his own sound. Every mooving object has its own sound, and all of them are different. Even when u fight u can hear the swords when they colaps, hit each other. Graphics are good, in every expansion, it was better, and better. Like it was expected. In the first ee it was not so good, but now its ok. I am talking for the ee 3. Gameplay, really good, they now what they wanted and they built it. In campain mode you wont get boored, many missions, from easy to hard. Easy missions you will pass easy, while the hard ones are really hard. You have a custom mode, make own map, make your own enemyes, i dont know if it can be played online, but i think it can. So you can play with friends, its much more awesome. So this was my review of the game, hope you like it, i found this game pretty interesting those days, but now there are a lot of better.

Post Date: 14:17 03-10-2013
Rating: 7
Author: shugo
Comment: good, but i think age of empires is more beautiful

Post Date: 22:51 09-12-2012
Rating: 10
Author: Mordekaiser
Comment: This game is awesome just awesome graphics are great and the amount of units there are is big you can use mortars archers healers i like making a whole army of priests and converting the baddies to join my side and heal all the damage they dealt its so fun worth check out for sure it never gets boring also loads and loads of fun i rate this 10/10 couldn't be better and a classic rts

Post Date: 20:01 09-12-2012
Rating: 8
Author: PolanWalker
Comment: This is very nice game :) I like it becouse of graphics and great sounds. When I play it I have big fun from play :) Its very much familiar to Age of Empires but we have much bigger choice of everything:) We can creat our economic empire or the great army to destroy our enemies. Very good game that I can recommande to everybody ;) I rate it 8/10.

Post Date: 15:20 08-08-2012
Rating: 9
Author: PolanWalker
Comment: I still like this production very much. Nice graphics good scenario. Classics are the best :D 9/10 for me :D

Post Date: 21:09 20-01-2011
Rating: 9
Author: Adrian
Comment: This is still fun after 9 years, TONS of options too choose from, the campaign levels take about 30 minutes or so to complete. Plus you can make your own levels.

Post Date: 05:39 12-11-2009
Rating: 7
Author: ssmith88
Comment: A better game than Age of Empires

Post Date: 23:49 11-01-2009
Rating: 9
Author: alistaly
Comment: A mad game similar to Age of Empires but with a wider range of things to do. For me I would say this games beats Age of Empires any day. The graphics are great I would have to say better then Age of Empires with outstanding 3D graphics its probably the best MMORTS were you build your empire styled game that I've ever played. If you have found that you loved the game why not go and buy the new Empire Earth 3 with even better fantastic features making it offically one of the best RTS games in the world. I would reccommend this for all Age of Empire and RTS game fans. All in im giving this a 8.5/10 but for a big RTS fan you would probably give it a 9 to 10/10.