FarCry
Review Directory Intro ...
Want to know what other gamers are saying about an online game that you are interested in? Good because this is where gamers can give their opinions about different types of games such as Online RPGs, MMORPGs, Online Shooters, and Free Games.

If you don't want to leave a review, simply click on the link or the screenshot on a game's review page to go to its website.

Signing up is free and allows you to review games, post in the forums, and submit games for review. The forums allow you to ask questions, share tips, and discuss games after you have reviewed them. Let your opinions fly !.!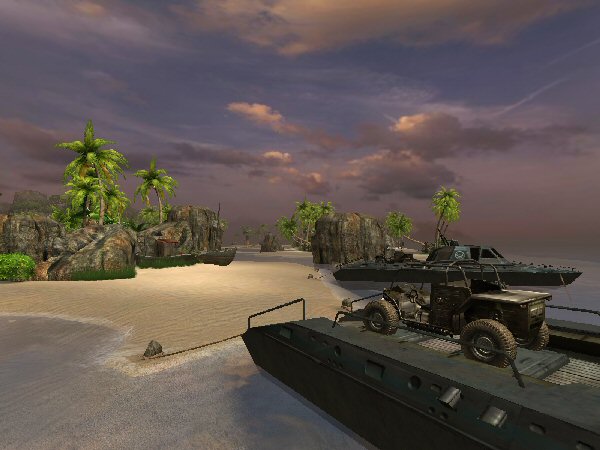 Experience a new style of FPS gameplay featuring massive outdoors environments and unprecedented long-range gameplay.

Total Rating: 8.48
Reviews: 23
Review Archive
Post Date: 21:52 27-05-2015
Rating: 9
Author: LosmiK
Comment: On the one hand we have the brilliant graphics, excellent physics and devious AI, while on the other we have the disappointing sound department, a few glitches in the AI, the save system that will probably not be to everyone's liking and the system requirements which can prove too great for some gamers out there.

Post Date: 16:22 20-11-2014
Rating: 8
Author: Mihajlo
Comment: Far Cry is first person shooter game developed by Crytek. In story mode you play as Jack Carver, former operative of US Special Forces, who is searching for female journalist he was escorting. Multiplayer features 3 different modes: Deathmatch, Team Deathmatch and Assault. I rate this game 8/10.

Post Date: 17:25 13-09-2014
Rating: 10
Author: Garagos
Comment: Great game, graphic is the best here. Was not playing it long, but everything what I remember is that cool graphic.

Post Date: 12:55 30-05-2014
Rating: 6
Author: NeSsQQuiCk
Comment: I played this game a long time ago and it had great graphics for that time but now that graphics would be shitty I would recommend playing second part cuz it is much better than this one

Post Date: 13:28 25-03-2014
Rating: 8
Author: ivekvv256
Comment: Played this game waaay back, but it's nice to remmember it. Graphics isn't something but it's good for the year it was made. I like FarCry2 more but both are nice games.

Post Date: 22:00 07-09-2013
Rating: 8
Author: Hawx1990SRBIJA
Comment: Very good FPS, i played it long time ago, at least first part. As i can remember you get stuck on some tropic island and you make way throug mercenaries who are trying to kill you. Graphics were very good for the time when it was released. I liked this game, but i didnt like that you didnt have tanks and some other vehicles to drive. All in al 8 from me.

Post Date: 23:51 26-11-2012
Rating: 8
Author: Mordekaiser
Comment: This game is very good the gameplay is very good the graphics are good i think number 3 is better but its up to you really so try the game for yourself and find out what u like better

Post Date: 19:43 26-11-2012
Rating: 9
Author: PolanWalker
Comment: This game is probably one of the best FPS games ever made :) Great graphics game play and very nice equpment of our soldier make this game really nice :D Game is great but too short for me. I would like to have bigger posibilty for longer playing it. I rate this game 9/10 :) Everone should try it :)

Post Date: 07:33 26-11-2012
Rating: 8
Author: Thedarkboy
Comment: Far Cry is a very nice game, and soon Far Cry 3 is going to be released too. Well, this game was very fun to play. But I think that it ended too quickly. The game was fun but I think it was pretty easy. Would be more fun if it was a litte more challenging

Post Date: 15:25 03-08-2012
Rating: 5
Author: PolanWalker
Comment: Very nice shooter. I have spend meny hours play it. Good graphics nice effects and game play. For me 9/10.

Post Date: 06:00 30-12-2010
Rating: 7
Author: conscious
Comment: I like FarCry the most for PC game. The system requirement is very low and no lag for me. Single player modes still not fun as online FPS because too little NPC and no mission you can follow.

Post Date: 04:34 13-10-2009
Rating: 10
Author: pornomasu
Comment: this game is fantastic

Post Date: 20:11 29-07-2008
Rating: 7
Author: zacky1 23
Comment: its fun but after five days its dumb

Post Date: 00:02 24-09-2007
Rating: 9
Author: Elite Summit
Comment: Still a classic but why talk about farcry anymore when Crysis is on its way from crytek? Congratulations to the makers of this game as they showed that dungeons and dark misty areas aren't the only glorified areas in your common first person shooter. Great outdoorsy look and fairly well done controll scheme. Very well done sound. Multiplayer can get a bit crazy espically with those Modders out there but if you can get pass all that it can be a great heap of fun. I rate this a 9/10 for a well done achievement and different approach to the based fighting enviroment (and done well with superb visuals for its time) involved in this replayable FPS.

Post Date: 14:48 19-07-2007
Rating: 7
Author: Sanrack
Comment: Good grafics but its a bit hard on single player mode but being able to create maps and a great online mode give it a 7

Post Date: 04:26 10-06-2007
Rating: 8
Author: rob619
Comment: Very fun. New game FarCry:Predator is very fun as well.

Post Date: 14:57 10-10-2006
Rating: 10
Author: Division_9
Comment: This game is beuatiful perfect nothing better

Post Date: 04:07 23-11-2005
Rating: 10
Author: wuheros
Comment: amen raxer92

Post Date: 14:11 04-10-2005
Rating: 10
Author: raxer92
Comment: This game is awe inspirering. Can i get an Amen!!!??

Post Date: 14:55 29-09-2004
Rating: 9
Author: jubei
Comment: The best shooter that I have ever played.

Post Date: 18:28 13-09-2004
Rating: 10
Author: Rix Raw
Comment: Great graphics (except for the very bright colors) ,fun gameplay ,but somehow got boring after a while ,don t really know why.
This game is truly the new king of fps (mainly because it came out before S.T.A.L.K.E.R. and HL2).

Post Date: 07:37 10-09-2004
Rating: 10
Author: visitor
Comment: In my opinion, this game kills Doom 3.

Post Date: 04:31 08-09-2004
Rating: 9
Author: visitor
Comment: Finally a shooter that lets you play in beautiful scenes rather than dark dungeons or planets.