Gods of Time
Review Directory Intro ...
Want to know what other gamers are saying about an online game that you are interested in? Good because this is where gamers can give their opinions about different types of games such as Online RPGs, MMORPGs, Online Shooters, and Free Games.

If you don't want to leave a review, simply click on the link or the screenshot on a game's review page to go to its website.

Signing up is free and allows you to review games, post in the forums, and submit games for review. The forums allow you to ask questions, share tips, and discuss games after you have reviewed them. Let your opinions fly !.!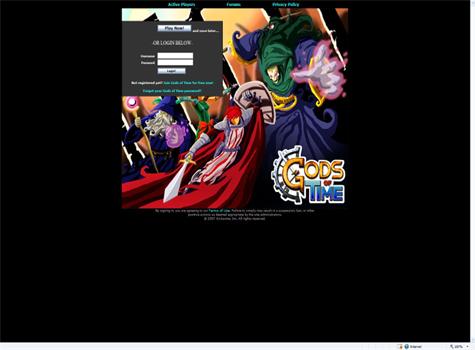 Free multiplayer adventure game that does not require a download because it is browser-based.

Total Rating: 4.40
Reviews: 15
Review Archive
Post Date: 19:54 09-06-2014
Rating: 5
Author: iShun
Comment: hahaha

Post Date: 03:27 30-09-2010
Rating: 3
Author: Vocal
Comment: The graphics were meh.It could of been better.the guild,class system suck.Fighting could of been better.The maps are pretty kinda okay.And the monsters look like it from RPG maker.It was kinda fun but now when i look back at it i was ashamed for playing at it.The community could be annoying,also guild drama.Jeez,this is an 3/10.

Post Date: 00:00 16-01-2010
Rating: 0
Author: ice grim reaper
Comment: This game is one of the worst game in the browser.It's guild system sucks compare to Travians guild system.The gameplay require just only click on the monster.And the very mess up thing in the game is that you throw your weapons(used to be fireballs) on the monster to attack!The forum sucks,the company hasn't updated it since 6 monster ago.The map sucks.And the quest sucks as well.So bye bye Fake Gods of Time.

Post Date: 14:00 05-09-2008
Rating: 5
Author: pecacraft1
Comment: People who didn"t register,REGISTER NOW for the sake of my gems.

Post Date: 12:28 08-08-2008
Rating: 0
Author: killervickboy
Comment: The game is plain stupid the graphics wer stolen from final fantasy 1 for the psp its boring the best thing bout the game is the chat but youll get muted for saying damn or for even writeing in caps the game makes no damn sense wats the point all u do is walk around and fight the same enemies over abd over and over dum dum dum

Post Date: 03:01 23-04-2008
Rating: 2
Author: esme104
Comment: HATE this game, Animations are dodgy and this game is plain BORING!!!

Post Date: 19:59 12-04-2008
Rating: 7
Author: ericrootbeer
Comment: This game is pretty good. 7/10.
The Good: Good referrel awards, and... its "animated." I also like the fact that all you have to do to make a guild is to be lvl 15... unlike Maple Story, in which you have to pay over 1 mil. Making fortresses is way more addicting then killing monsters. When you die, you just get recalled home. You have unlimited potions.
The Bad: Animations and graphics are cruddy. When you attack, you just throw orbs (goes in with animations and graphics). Way too many rules in the chat. It is hard to know all the list of commands. In PVP, you get no reward for winning.

Overall, this game is pretty good. Those bad parts of the game aren't that bad. I hope that soon, the game will be updated, and all players can have some more fun!

Post Date: 22:29 06-01-2008
Rating: 0
Author: Rafinhah
Comment: ROFL!!! I TOTALLY agree with pdingo, and Evilkiller, Custom graphics? BULL! It"s all STOLEN FROM RPG MAKER XP!! TOTALLY!!! Oh, come on! When I was making an account to see how good this game was, I find myself with Rpg maker XP Battler graphics!!! I was thinking, "This is gotta be some kind of joke". Then I just create a character, and BAM!!! 99% RPG MAKER XP!!! Why 99? Because the other 1 is that stupid set of orbs you see when attacking/being attacked by Rpg maker XP monsters. If they want to steal graphics for RMXP, at least don"t do the RTP ones. There"s tons of pages to look for resources, and they could"ve used these.

Post Date: 09:03 22-12-2007
Rating: 8
Author: Maximus0
Comment: Game RULES.
has the best guild system i have ever seen!
graphics r bad..but its new what ya expect?

Post Date: 02:50 06-12-2007
Rating: 6
Author: mani
Comment: its not the best of games but its definitely not one of the worst

Post Date: 13:48 25-11-2007
Rating: 10
Author: Evilkiller
Comment: The previous reviewer is full of it - I bet he got banned for trying to cheat in game and is upset. (a flash game puts a virus on your machine??? yeah right) The game has 30,000 to 40,000 thousand a day playing. The game is excellent for a free game - nothing comes close to this as far as free MMORPG (besides runescape). It's flash based, it has real time chat like you see in world of warcraft, it has tons of custom graphics, 1000's of different armor and weapons, real time combat and movement, fortress wars, guilds, player mail, pvp combat etc... I've been playing for 3 months and it just keeps getting better and better.

Post Date: 12:18 22-11-2007
Rating: 0
Author: pdingo
Comment: Wow, this game is bad. Here is a list of reasons to never play this game:
1. ALL OF ITS GRAPHICS ARE STOLEN FROM RPG MAKER XP. And not even well, too. I could make better maps with my eyes closed. And handcuffed. And dead.
2.Every attack animation is a little ball. Even punching. They put no effort into making this game, which is not what you're supposed to do with a real game. I think its just a front for something else, which brings me to:
3. I'm pretty sure there is a lot of new spyware on my computer now.

Seriously, there are better life wasters out there, people.
(And, once more because it pisses me off so much: THEY STOLE ALL THEIR GRAPHICS FROM RMXP!)

Post Date: 12:57 19-09-2007
Rating: 10
Author: Trooperchix
Comment: Most excellent game. Not the best at fight graphics, you are just shooting balls back and forth, but the sheer amount of interaction be it on a one on one adventure level to full guild fortress attacks, and you don't have to download anything. Excellent to play at work if you work in a call center, you can switch between the game and work easily and not lose your place. Highly recommended

Post Date: 01:32 14-09-2007
Rating: 7
Author: vertzero
Comment: this game is pretty good. graphics are terrible. if u like adventure quest pokemoncrater or dragonfable u will love this i kinda like it

Post Date: 01:55 31-08-2007
Rating: 3
Author: Adio01
Comment: just played this game its not very good u shoot orbs at ppl to kill them same with monsters i saw ppl lvl 14 atm so i would wait for it to update more