GoonZu Online
Review Directory Intro ...
Want to know what other gamers are saying about an online game that you are interested in? Good because this is where gamers can give their opinions about different types of games such as Online RPGs, MMORPGs, Online Shooters, and Free Games.

If you don't want to leave a review, simply click on the link or the screenshot on a game's review page to go to its website.

Signing up is free and allows you to review games, post in the forums, and submit games for review. The forums allow you to ask questions, share tips, and discuss games after you have reviewed them. Let your opinions fly !.!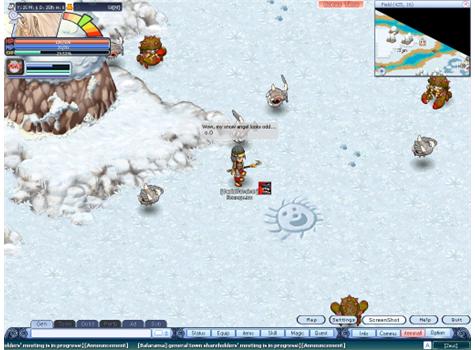 GoonZu Online is a political & economic RPG game in Korea with cartoony graphics that allows you to choose between being a warrior, merchant, or politician. Sell your items in the market. Buy the town stocks. Lease out the buildings.Hire your own NPCs. GoonZu offers you to become an economist and control your town economy. Do you think you are popular? Do you have what it takes to earn people's respect? Win the residential election in the server and become a GoonZu. Your server's future lies in your hands.

Total Rating: 7.69
Reviews: 13
Review Archive
Post Date: 20:25 31-03-2009
Rating: 10
Author: slava08
Comment: Great game, been playing for around 3 months. real fun with the economy and people. I find the grafics cute :p

Post Date: 08:42 20-11-2008
Rating: 8
Author: Sashiku
Comment: Goonzu was really fun till they started adding un nessesary things. Like, one of the hunting grounds was completely dark, except for a tiny circle of light. And they added a PVP system to some of the hunting grounds. Who wants to pvp when they are busy training? The events weren't to great either. Usually they had random monsters dropping things to (MAKE) event items. I did have fun though. I joined a town, and a guild, and did a lot of mining. As well as fishing, and armor making. I don't really know how i feel about the whole HUGE map thing. You have to spend like 16 minutes just to get anywhere. This is worth playing though. Very nice people, and easy to make friends. I recommend it.

Post Date: 03:00 12-08-2008
Rating: 8
Author: DerrickNX
Comment: Awesome game having a mentor to teach you going through adventures.But graphics suck to me.

Post Date: 09:30 15-03-2008
Rating: 4
Author: rKAnjEL
Comment: It WAS one of the best online game I've ever played, until they decided to ruin the game by altering many of the features that made the game unique at the first place.

Post Date: 23:51 10-03-2008
Rating: 10
Author: death30297
Comment: Great game played a ton love ther merchanting and the mentor service is nice 2 gratz to ijji on this and gunz:the duelz

Post Date: 01:30 28-10-2007
Rating: 7
Author: Freyii
Comment: It's a great concept... on paper maybe...

The game is very fun, very playable, but it just gets flat out bring after a few hours...
But thats what a lot of people look for, great game if you play it on and off!

Post Date: 05:30 21-07-2007
Rating: 5
Author: blackeandblu
Comment: its pretty ok, but i mean, i dunno. im just not used to soloing MMorpgs lol. i played it for abt a month and have 2 characters over lvl40 so yea. the sucky thing about is that, make one stat/equit/skill mistake, game over. i havent seen pvp yet as well. gameplay's sorta repetitive, and basically there's nothing to play for[i.e. 2nd jobs, more benefits, etc.]

the market system's pretty awesome, allowing u to get a fortune at early levels. but over all, its kinda sucky compared to trickster online, which im currently playing and is also free. so yea. unless i see some awesome updates and a pvp system, im never coming back to goonzu

Post Date: 00:13 18-04-2007
Rating: 7
Author: Asamii
Comment: Ah well i have played it on an off. I get a little bored because my character has kind of low hp so its hard for me to do quests. I add to it every other level but i still have low hp. The quests are pretty good but they are kind of hard toward level 30. Besides those few cons, The Fighting isnt bad, you can make your character have whatever skills you want. It reminds me of creating a clay pot. Molding it into a shape you like. If you have an immagionaiton than you should play this :) Also the market is a HUGE Plus. Most games you just sell your items to NPC's but in this they actualy have a market where you can put items up for sale to be bought by other players. Well thats all for now! Buh-Bye!

Post Date: 18:59 19-02-2007
Rating: 10
Author: clarky2008
Comment: Hello, Just wanted to say that this is a very honest review and i am going to post another after 2-3 more weeks of playing. First off lets start with the rating's for each aspect of the game.

Sound -- 8/10 -Reason- The sounds are ok but don't really add effect to the gameplay, but the sound still deserves a good rating because of the change all the time, you will never listen to the same tune.

Gameplay -- 10/10 -Reason- The gameplay is the best i have seen in a online game, you do not choose a specific race to be, you build up your skills and turn them into a profession of your choice, a very unique gameplay that never gets old with lots and lots of things to do.

Community -- 9/10 -- The community is great, no one is ever AFK that are online (away from keyboard) there is always someone who is willing to help you, I could only find two flawls in the community which is the reason i gave it a 9, one of the reasons is that some people can be a bit money hungry, but then again, who isn't, another flawl that i have found is that the community needs to be bigger to match the slightly larger games out there.

Graphics -- 10/10 -Reason- To me these graphics are simply great! that screenshot is only showing the graphics in a screenshot but when you get into the actual game and see all of the vibrant colours and multiple things to do. Also this game allows you to do thing that any other MMORPG would not allow you to do, for example, play in the snow, make a snow angel, or you could go to the beach for a tan and make a sand castle, the possibilities are limitless!

Personal Opinion -- This game is one of the very best that MMORPG's have to offer, the download is medium sized (around 600 meg) so if you want a really good game that never gets old, get this game, and best of all ITS FREE! they do not even offer a subscription service to get better items and benefits!

Post Date: 04:52 07-01-2007
Rating: 8
Author: Jarrito
Comment: I played this game for about 4 months and keep going on and off. Only thing bad about it is the fighting style and the graphics which i would like to be more 3d. Also the updates for this game is probably the worst for every game because there is a korean one too.

Post Date: 23:02 25-10-2006
Rating: 10
Author: Chrisnelle
Comment: Ive check out this game and have played it for a couple days. It is a little confusing for like the first 10 min, but after there is good tutorials and game inforation. It has good graphs and easy quests, Multiple bonus periods and unique items. Over all for a beta game this is the best one I have seen. So I give this game a 10 =]

Post Date: 20:59 10-08-2006
Rating: 3
Author: crcore
Comment: meh, this is an ok game, i wouldnt giv it 10/10...unless ur too much into politics and stuff

Post Date: 15:14 31-03-2006
Rating: 10
Author: nayux
Comment: this is the best game i have ever played. It has lots of quest and u can make money fast. Also u can have a summon and a horse and theres a variaty of things u can do in this game like u dont need to mine to get minerals u can just monsters .