Grand Theft Auto IV
Review Directory Intro ...
Want to know what other gamers are saying about an online game that you are interested in? Good because this is where gamers can give their opinions about different types of games such as Online RPGs, MMORPGs, Online Shooters, and Free Games.

If you don't want to leave a review, simply click on the link or the screenshot on a game's review page to go to its website.

Signing up is free and allows you to review games, post in the forums, and submit games for review. The forums allow you to ask questions, share tips, and discuss games after you have reviewed them. Let your opinions fly !.!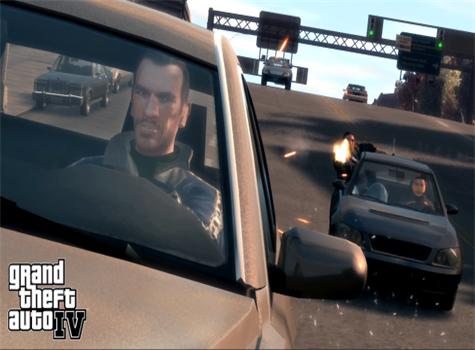 The PC version of Grand Theft Auto 4 that was released on December 2, 2008. Interesting features include a video editor that allows for the capturing of in-game footage to share with friends, a 32 person multiplayer mode, and a customizable radio station.

Total Rating: 7.84
Reviews: 19
Review Archive
Post Date: 18:35 01-03-2015
Rating: 10
Author: ickaza
Comment: Its a nice game, nice grafik and gameplay. More realistic then the GTA before.GG

Post Date: 08:02 01-03-2015
Rating: 10
Author: axwellshm
Comment: Since this game was released 7 years ago, the game has big number of players cause it's really good. The story that describes the whole campaign is just perfect. Characters are fully described and the dozens of things you can do in the game is even better. Gonna rate it 10/10.

Post Date: 18:16 29-05-2014
Rating: 10
Author: GenRex3
Comment: I have played this game, but am also a GTA fan. I love the story and physics of this game a quite funny too so a 10 from me.

Post Date: 08:01 28-04-2014
Rating: 9
Author: Frozen
Comment: I bought it yestrday nice game! :)

Post Date: 18:13 21-04-2014
Rating: 10
Author: savicaa
Comment: Here we have really nice game . One of the best GTA games . In this game you have character , the black guy . First as i want to say you have two types of playing this game , doing missions or getting fun in the town . I like getting fun more . You can finish missions but getting fun you can't . Also in this game you can rob bank , to kill people and get their money , to get someones car and go through town , but you will have problem if police see you.
I don't think that you have chance to get out , if they see you , cause if they go with cars on you and they can't catch you , they will send helicopters and they will crush you .
Also you can change style of your character , you can dress him like you want and that's really good , i think in some part of game , you can change black guy for white guy .
I would like to say that mission are not easy , first you have really easy missions but later , you will have much harder that you almoast can't go through them.
As you can see on intos about this game , you can do much more things , like racing , killing bands , doing for police , dealing with nightclubs , dancing with people in clubs , you can drive boat on see . Also you can do some crazy things like stealing police cars , motors , helicopters , boats and plaing , but you will get 5 stars ( that means that all groups of police trying to find you , and you will never get out i think ).
Few words about whole game . For me this is one of the best game i have ever played . Graphics are pefect so 10/10 , sound is really good so 9/10 , animations are pefect for me so 10/10 , Gameplay is the best of all games so 10/10. Mark for all game is 10/10. For all people who didn't try this game i would like to reccomend them to start this game and they will never think about stoping ( I think like that ) .
AWESOME , Cheers!

Post Date: 09:54 21-04-2014
Rating: 9
Author: nikiwild
Comment: First, my rating: 10
Multiplaer 10 / 10
Gameplay 10 / 10
Graphics 10 / 10
Sound 10 / 10

Simply perfect for me, game is awesome, not like other gta games you can do whatever you want. This game is best playing on pc, you will need a good pc for that, if u want playing it online with friends, you will need a good net too. With friends you can make up to 32 persons game. Hiding, shooting, chasing, racing, whatever you want. I have started to play gta since gta 3 so its been a while. This game is relesed 2008. They are making gta 5 now. I think it will be way more better. You are a person in this game called Niko you came from russia in america to make some money and for a payback. You start with helping your cousin, then you end up with some crazy drug dealers that u need to kill, on the path to succes you will find a lot of people that will help you, and cool chicks too. In this game you can actually ask your chick for a date. You can go with her where ever you want. Even bowling, driking bear, have a nice dinner, driving car, have sex on a edge of mountain, bring her on a boat and ride along the ocean. Many cool stuff u can do. Missions, are really simple in begging, just deliver this, deliver that, go check up with this guy, with that guy. When u met some interesting people, thats when the start begins, go kill this guy, go kill that woman. I need that car go steal it, take my men and go rob a bank. That storage has a good amount of cocaine i need that go steal it. And this stealing things arent easy as you think, first you will need to find a way in, one time i have been finding an entrance in one building for 15mins, and the entrance was a small window that got me in a bathroom. After that i had to kill 20 people shooting on me with a rifle, and i only had a pistol, a glock. It was a hard mission. After mission you get your money or whatever your deal was and you continue your life. Cops are really hard to get rid of if they spot you on radar. There are cool places that you can visit. The map is pretty big there are all kinda places you can visit. You can do for fun riding a mountain bike, downhill, race with cars, motorbikes, quads, planes, boats, and many more. You can even put up to yourself a mission like, i have to jump over this bridge, i have to rob a millitary base, and many more i dont want to talk about it, go check it out you wont regret it, this game is awesome. So this is every thing for this game so feel free to ask me if u need someting, the game is free to play.

Post Date: 18:12 08-04-2014
Rating: 5
Author: bos4kCRO
Comment: This game is awesome! Have nice story (BALKAN

Post Date: 11:54 04-04-2014
Rating: 9
Author: ivekvv256
Comment: The graphics are awesome. When you shoot at other cars or others shoot at yours it looks realistic how the glass is breaking. If you drive too fast and smash into a wall you will fly out trough the windshield. Like all GTA's are you can do bunch of stuff there, kill people, steal cars, do random missions, running from cops... It isn't as good gameplay as GTA San Andreas was, but this one really improved some things that San Andreas didn't have. Well nothing else to say then that GTA will always be GTA, and nothing will change the fact that it's always a good game. No mather what! 9/10

Post Date: 21:57 07-12-2012
Rating: 9
Author: PolanWalker
Comment: Ok you take that car I will take this one and we crush something :) Hey why you are stilling car which I supose to :D Very nice game with many funny moments and dialogies :) We can do what we want :) We can still cars, killing people on the streets, repainting and repairing our cars. We can even work for mafia if we want to :D Game have very good graphics and fun from play is awsome :D I rate this game 9/10:)

Post Date: 18:32 31-07-2012
Rating: 7
Author: PolanWalker
Comment: An Epic series of GTA :D Best of course was first part but that is only my opinion :D First and second part have different game play and story. For me they are better. For this part 7/10.

Post Date: 14:11 12-11-2011
Rating: 8
Author: Thedarkboy
Comment: I like all of the GTA games. This is actually one of their worst :S But as you can see I'm still giving it a 8m which proves that their games are good.

Post Date: 22:20 11-11-2011
Rating: 9
Author: lumlehsumleh
Comment: awesome game. I love how there's lots of things you can do. All grand theft auto games are good. The graphics are decent, but i like all the missions, and the objectives. FREEDOM is what brought this game to a whole new level. There's lots of things you can do.

Post Date: 14:29 29-07-2010
Rating: 9
Author: --.aldo.--
Comment: like GTA? well in my opinion if you like GTA you will like all GTAs this game continues giving the user the same things that other GTA have give, where you can kill, steal or just win your mony working

Post Date: 02:08 09-02-2010
Rating: 3
Author: futurekiller
Comment: i am veryy disapointed i am a big fan cuase i like games that let u do what u wnat and i have all the games but this one is disapointing it is ok but not wow

Post Date: 21:09 24-07-2009
Rating: 10
Author: neeyick
Comment: i like the swingset glitch

Post Date: 14:11 18-12-2008
Rating: 10
Author: buzzsaw
Comment: Agree with Drako. Awesome game despite Securom. Nothing beats driving around listening to your own radio station! Nothing.

Post Date: 05:42 16-12-2008
Rating: 2
Author: webber
Comment: Would be awesome without the stupid DRM stuff. Suffers from the same fate as Spore. When will these game makers learn that this anti-pirate garbage is hurting PC Gaming? Do they think its actually cutting down piracy? It just makes it tougher on people like myself who do want to buy the game.

Post Date: 22:50 06-12-2008
Rating: 10
Author: awesomedrako
Comment: GTA is GTA, love the GTA games... no other games like it

Post Date: 01:38 04-12-2008
Rating: 0
Author: notch
Comment: Killed by securom. Call it a virus or malware, its bad. Could have been an excellent game but won't see the light on many PCs because of this stupidity.