Hallway Wars
Review Directory Intro ...
Want to know what other gamers are saying about an online game that you are interested in? Good because this is where gamers can give their opinions about different types of games such as Online RPGs, MMORPGs, Online Shooters, and Free Games.

If you don't want to leave a review, simply click on the link or the screenshot on a game's review page to go to its website.

Signing up is free and allows you to review games, post in the forums, and submit games for review. The forums allow you to ask questions, share tips, and discuss games after you have reviewed them. Let your opinions fly !.!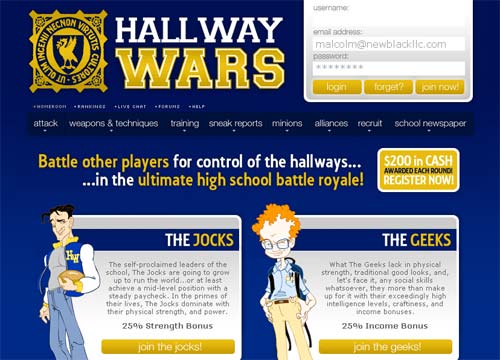 Free Online RPG where players can choose one of four high school cliques to play as: Cheerleaders, Jocks, Nerds, or Stoners, and build gangs, recruit minions, buy weapons and attack skills, and spy on and attack each other.

Total Rating: 8.44
Reviews: 18
Review Archive
Post Date: 16:19 26-01-2009
Rating: 8
Author: farty_brando
Comment: I have to agree with big mo and afkeeker. originally it looks like some crappy KoC clone, but it's actually much better for loads of reasons. there's lots of extra stuff to do to, like eating and special weapons and stuff.
there really isn't any cash reward though as it claims, at least not when I last played it, unless they fixed it already.

This is a pretty fun game, my only real problem with it is you basically have to log in every single day for 20 or so minutes if you want to stay in the top ten

Post Date: 05:49 22-11-2007
Rating: 6
Author: Big Mo
Comment: Not bad. The theme is cool and very fun. Surprisingly, the clone part is not a bad turn-off. Kudos to the developers for remaking the game.

Post Date: 08:59 26-09-2007
Rating: 5
Author: idnth8u
Comment: now, i loved this game and all, but what is the best clique for boys?
i am a jock is that good? what clique is the best for girls? my sis is a cheerleader? is that good, if someone cod get back to me on this it would be great, and please email me,
[email protected]

I cant wait to get your replys, and by the way my opinion is that the jocks and cheerleaders are the best!

Post Date: 18:53 10-09-2007
Rating: 10
Author: AFKeeker
Comment: In reply to mmomeister:

You couldn"t be MORE wrong when evaluating Hallway Wars. Yes, it started out as a KoC clone, and the admin has said to me personally that he regrets that decision to this day: the coding was horrible, and it would have been better to just start from scratch. Being that he was stuck with what he bought, he has basically re-written the ENTIRE game"s worth of code, adding features that I haven"t seen in any other game, to include an entire whitewashing of the interface to purchase weapons and mercenaries, closing multiple security holes. How many KoC Clones have a map of the environment that you can explore (for attack energy) to find more powerful weapons? How many KoC Clones have a research program that you have to complete in order to get the most powerful weapons? How many KoC Clones have an admin that is willing to scrap the entire weapon system to re-do it? FEW, if any other than this game. The admin is one of the best I have ever seen in online games, and I"ve played quite a few.

As for the game, HWW is by far the best browser based game I"ve played. I consider myself a connoisseur of browser games, having played many over the last couple years, and this one takes the cake as the best. There isn"t a single bad thing I can say about this game, because anything bad that comes up is taken care of by the Admin as soon as he gets a chance. The staff behind the game is constantly making improvements, the clans create a great group dynamic, and the gameplay is unbeatable. The customization of each style of play is immense, especially when you compare this game to most others which are simply clones bought and copied onto a server with a slightly different color scheme. HWW is truly on the cutting edge of browser play, and I am damn proud to be one of the originals in this budding gaming monster. All new players are welcome, and encouraged, to take a shot at roaming the hallways of our wonderfully conflictive school. :)

Post Date: 21:35 31-08-2007
Rating: 0
Author: mmomeister
Comment: Just a Kings of Chaos clone and text game that is not that popular. Apparently they have a passionate fanboys who decided to boost the score one week but that doesn't mean the game is great. How many cookie cutter games have to have that same stupid layout with the bonuses for each class? I have seen pimp games with the same layout, war games, and even a few games on Ebay.

Post Date: 17:50 19-08-2007
Rating: 10
Author: greenthumb
Comment: The first thing I noticed when I found this game was the cliche race/theme of the game which was (quite honestly) an instant downside. At the time I looked past the downside and before long became a huge fan of this online RPG. The prizes are real, the people are real, and the challenge is real. I recommend this game to everyone.

Post Date: 01:56 26-06-2007
Rating: 10
Author: hellsing
Comment: yea so were can i start...hmm let me see...

when i started i was kinda turned off due to lack of players then every so often a bug/glitch would pop up and ruin a roundbut then i joined the forums... it was a whole another story the admin's worked hard and they were always on to correct any problems you had...also he is always updating.

well im still playing this game and my only warning is that if you start playing and you are active...you wont stop

Post Date: 00:50 26-06-2007
Rating: 9
Author: Miles90
Comment: When I first hit the link to go to the Hallways Wars site, my first impression was, "Ehh this looks kinda corny, jocks, geeks, stoners, and cheerleaders. Where can this go". Wow was I in for a surprise!

Coming from a great MMORPG background. ( Asheron's Call, Asheron's Call 2, Everquest, Everquest 2, Guild Wars, Lineage 2, Lord of the Rings Online, World of Warcraft, and new Tales of the New Sword, Star Wars Galaxies, Eve and i have an account for the new Warhammer Beta.) and web browser games such as Adventure quest, dragon fable, ninja rpg. I have a great resume. Something i found that was great in this game, is well the community. Their fun, their friendly, and most of the time, great to play with. There is nice things like live chat. An administrator that is always helpful, and always on the job. Did i ever tell you it was free also?

The game is easy to get to learn. You pick whichever side you want, *personally jocks* Then you buy stuff like football pads and ect. If your like me, you like to pick on those nerdy geeks. Take their fins, then use them to increase your clique size, new weapons, new defense, and covert.

Overall this game if very fun to play. Also did I mention you get real $$$ for winning, yep real moolah. The greatest part , is it only takes a couple minutes, a few times aday. Great huh. Come on over and play, we'll be expecting you!

Post Date: 12:26 25-06-2007
Rating: 10
Author: chellefire
Comment: This review is for the more "mature" (read older) gamers out there. This game may have a high school theme, but it is a game for everyone. The administrator is always willing and eager to listen to new ideas, and often implements them. The game is constantly changing, with new features being added each round to keep things lively. I know this has already been said, but the community behind HWW is unlike any other. The people are very intelligent, and always willing to help new players. All in all this is a great game with a great bunch of people behind it!

Post Date: 04:29 23-06-2007
Rating: 10
Author: Eddious
Comment: I would definetely have to call myself a gamer. I love video games of all kinds, and it takes a truly great gaming experience to keep me coming back for more. I know that a majority of the online games you will find may drive you away because, even though they have amazing gameplay, the gaming atmosphere simply stinks. Hallway Wars is completely the opposite, it"s like a dream game. Not only is the gameplay incredibly easy to understand and compellingly addictive, the staff is simply amazing. The administrators are wonderful, always ready to take a joke, yet still able to dish out the punishement when necessary. The friendly atmosphere of both the players and administrators makes for an even more welcoming atmosphere, and the obvious effort to welcome new players just help to make spending time on Hallway Wars, whether it be building up your army or chatting in the forums, well spent.

Overall I believe this game is doing surprisingly well for still being in its beta phase. If you are looking for an amazing gaming experience, one that includes addictive gameplay and an incredibly dedicated staff, this is the game for you.

Post Date: 21:19 22-06-2007
Rating: 9
Author: ArjaaAine
Comment: The Game is one of the most addicting games I have played, and I have played a lot.
Best thing though about the game are the administrators. Not only are they polite and fun, but also keeps on making the game more and more dynamic and interesting, which you don't see much nowadays.
Its basic setup is like all other KoC Clones you see but don't get misdirected because it only seems like one of them. Everyone is working hard to give it a whole new identity of itself and as far as I can see, it is working.
Easy to understand and great competetion. If you are looking for a game which you can play in your coffee break- This is for you.


Post Date: 21:08 22-06-2007
Rating: 10
Author: Lies
Comment: I have been playing this game for a few months now. It's very addicting and only takes a few minutes a couple times a day.

There are not a lot of graphics, but the game play takes qutie a bit of strategy to get a high ranking by round end. The active community is very accepting and very close. With a few exceptions to some cheaters.

The administration adds something new almost every round, but the changes are easy to adapt to and a fun challenge. Also, the few bug exploits are resolved quickly. Very good game, I highly recommend it.

Post Date: 15:27 21-06-2007
Rating: 8
Author: Tiek00n
Comment: I've played quite a few of the "Kings of Chaos clones," and this one is definetely run and managed the best out of all of the ones I've played. The site is fairly new (less than a year old) and already has a lot of similar features as games that are several years old. Right now the game is very similar to a lot of other KoC clones, but it is constantly evolving and will be much more advanced than most other ones very shortly.

There is a great community behind the game, with active forums and a flash-based live chat where players spend a lot of time talking with each other. I have made many good friends in the game, which is more than I can say about 80% of the games I have played.

And one other interesting note about this game is that, like a lot of sites, they say that their winners will actually win money. However, the admins actually pay their winners, I won about $15 last round for third place, and the money was sent via Paypal promptly.

Overall, this game is enjoyable, and even though there are a lot of similarities to other games, the active admins, the dynamic gameplay, and the differences make it well worth playing.

Post Date: 23:56 20-06-2007
Rating: 10
Author: SentriX
Comment: I'v been playing this pretty much since it was released earlier this year. The gameplay has evolved so much and is still evolving to the point that it can no longer be called a KoC clone.

The Game is all well and good but it really is the community that makes this game what it is. Without them this game would be like any other.

The admins are both helpful and professional, eager to impress but not gloat and always extremely quick to address any problems.

Overall this game is one of the best of its class i have played. The game play, ideas and concepts for new and exciting features to enhance the game further earns it a 10.

Post Date: 22:28 20-06-2007
Rating: 7
Author: jobo
Comment: Would be a cool concept on its own but too much like Kings of Chaos for me. Will give it a 7 mainly for the idea.

Post Date: 21:35 20-06-2007
Rating: 10
Author: Oralaki
Comment: What drew me to this game initially was the monetary prizes offered for placing 1st, 2nd, and 3rd, but my love for the game has evolved. Don't worry, this game is absolutely free and will never ask you for money. There is an option to support the administrator of the site by becoming a supporter, but it's entirely optional.

While some have considered this a KoC clone, the game has evolved to include several aspects not native to KoC. The community of HWW is very supportive and there appears to be very little animosity between players unless it has been found that members have cheated only to win the monetary prizes which has happened on occasion.

The bugs have been, for the most part, resolved and the game runs smoothly. With every new version of the game that comes out, the admin puts out new and exciting features to spice up the game and make sure that players have to evolve and adapt so that a strategy for round 1 may be entirely useless when employed in round 2.

I've made many friends, and I hope you take the time to check this game out. It caters to the user's needs; it can either be very time consuming or just a side game you play for fun.

Post Date: 22:09 19-06-2007
Rating: 10
Author: UGOT
Comment: This is by far one of the best games out there, its a very fun and welcoming community. I have played this game since it first came out and had lots of bugs exploited, but since then it has become a game that is hard to compete with. I have won 60 dollars off of this game already! If you want to have a little fun, then come try out this great game!

Post Date: 15:22 19-06-2007
Rating: 10
Author: Doobee
Comment: Great game! The game itself has a fun theme, being a part of a school clique, each with their individual bonuses! Are you a bullying jock or a perky and flexible cheerleader? Maybe you're a supergenious geek or more likely a lazy stoner? Pick what ya want to be, and you could always change it later too if you want to try something new. The game is constantly updated, with big additions to the game occuring monthly! The admin is friendly and always willing to help you out. You don't have to be on 24/7 to play and if you get real good, you can even win some cash! Why not try this game, it's free to play!