Halo
Review Directory Intro ...
Want to know what other gamers are saying about an online game that you are interested in? Good because this is where gamers can give their opinions about different types of games such as Online RPGs, MMORPGs, Online Shooters, and Free Games.

If you don't want to leave a review, simply click on the link or the screenshot on a game's review page to go to its website.

Signing up is free and allows you to review games, post in the forums, and submit games for review. The forums allow you to ask questions, share tips, and discuss games after you have reviewed them. Let your opinions fly !.!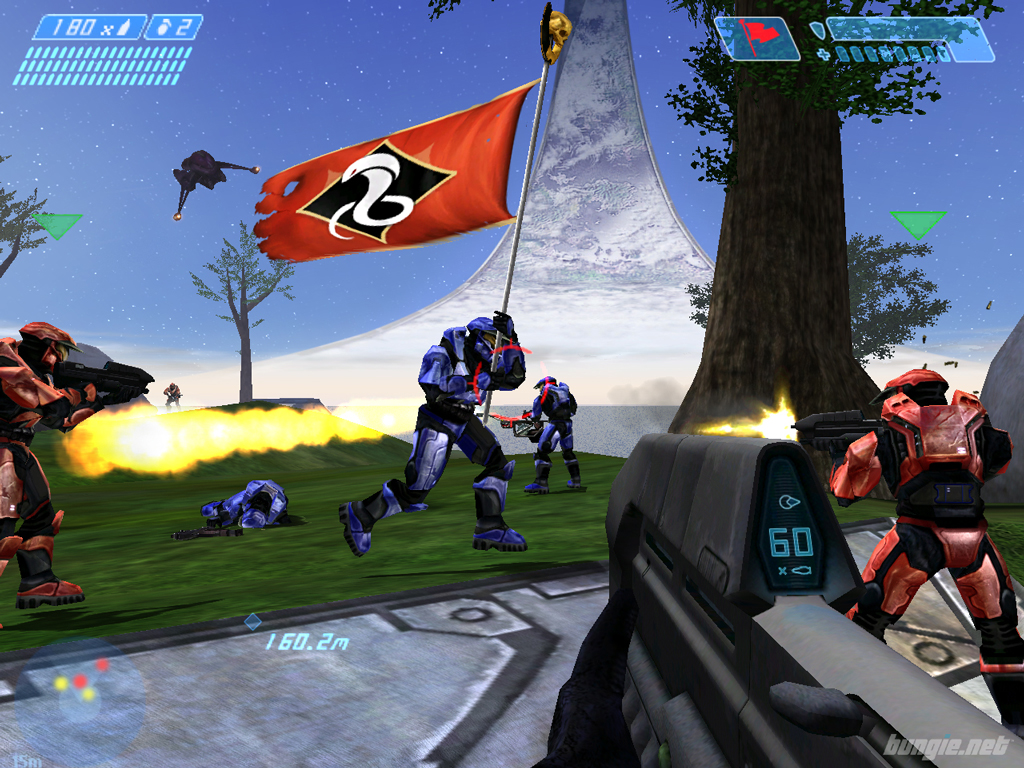 The reason to buy the original Xbox. Scifi shooter that not only boasts powerful weapons, but vehicle combat as well.

Total Rating: 8.71
Reviews: 28
Review Archive
Post Date: 00:09 30-04-2010
Rating: 10
Author: psufootball
Comment: Graphics don't hold up to today's standards but at the time they were great. Gameplay is amazing, storyline is epic, and it's probably my favorite FPS of all time. 10/10.

Post Date: 00:43 21-09-2009
Rating: 5
Author: jd.emosmos
Comment: Yes the graphics really suck,you cant truly enjoy the game if the graphics suck but the gameplay is great sci fi FPS

Post Date: 03:55 11-01-2009
Rating: 7
Author: alistaly
Comment: A great game allowing you to control your character. A cool game that lets you fight your enemies fly ships and drive vechile's. A fun game not many different guns but that all pays up with the fantastic gameplay. A fun game for all even on PC which is what i played it on.

Post Date: 00:29 30-12-2008
Rating: 10
Author: nicktheslick
Comment: this game.......is awesome! this is seriously one of the funnest games i have ever played if you have an xbox and dont have this game, something is seriously wrong. neway, it has good graphics, a good campaign, and good multiplayer. 10/10

Post Date: 19:28 01-12-2008
Rating: 8
Author: wolfstrikr22
Comment: i like this game be cuz u can fight and theres not some thing telling u were u have to go and when some time u can go and expolorand u can att your helpers in story mode

Post Date: 13:38 08-08-2008
Rating: 10
Author: killervickboy
Comment: my first amazing review on this site this game is freakin amazing if u giv this a bad rating go suck on a pair of ballz the storyline action and at sometimes scary and horrific this game was amazing the best regular xbox game ever made EVER!!!!!!

Post Date: 22:53 22-07-2008
Rating: 10
Author: mavole
Comment: The game that started it all. This is the best game in the franchise. If you're into the shiny polished graphics of now-a-days, then please don't play it. Save yourself the time. This is for gamers who prefer gameplay over graphics.

Post Date: 03:08 04-07-2008
Rating: 8
Author: PrinceTrase
Comment: Halo is a very good game. I just don't like the people who take it to the next limit. You know those pplz, bragging about how they can mop the floor with their snipers. But who am I to complain? I'll give it an 8.

Post Date: 19:23 31-05-2008
Rating: 10
Author: clickmehere
Comment: Greatest Franchise and great game. since this game was made nearly in 2001 its why the graphics sucks but it still is a great game to play

Post Date: 13:09 16-03-2008
Rating: 10
Author: Master Yoshi
Comment: I have custom edition and Halo PC and it is really like a friend said he did not like Halo at first but when he played it he liked it!

Graphics: 10/10

Gameplay: 10/10

Sound: 10/10

I would give it a awesome 11 but I can't...

Post Date: 18:48 19-01-2008
Rating: 10
Author: neoshogun
Comment: omg its well... HALO! I mean it pretty much is legendary. IT is the basis for comparing FPSs. like a FPS thats supposed to be better then it is called a halo killer. You can barely go around talking aboutt FPS without mentioning halo. The gameplay is just awesome. It stands the test of time. 10 out of 10

Post Date: 22:27 09-01-2008
Rating: 10
Author: falconx123
Comment: i have this on pc and its fun as trash if u download the custom edition its even funer cause u can download more custom maps and people are making some pretty good ones like one when u can be metroid prime and use the same weapons

Post Date: 18:17 31-12-2007
Rating: 10
Author: madknapp
Comment: This game is the best one ever AND online.

Post Date: 14:54 19-07-2007
Rating: 10
Author: Sanrack
Comment: The reson i have xbox live and a xbox this is the mother of all xbox shooters

Post Date: 03:26 18-07-2007
Rating: 9
Author: Tokay828
Comment: I disagree, though im one of those modders that has fun on halo1 by letting others do things you dont see anywhere eles... ie: flying warthogs

Flame me, i know people hate me, i live with it :)

Post Date: 02:16 19-06-2007
Rating: 7
Author: gmack
Comment: this game for the xbox is great, but the pc one is not that good and not that fun

Post Date: 03:47 18-06-2007
Rating: 10
Author: Juggernott
Comment: One of the best games out there. Awesome campaign and a pretty dang good multiplayer when played on system link.

Post Date: 06:00 08-05-2007
Rating: 10
Author: crunch1
Comment: This game Rules. Dont compare this to Halo 2, halo 2 will win, Halo is just designed to have the best campign and it is funnest when you and a friend are doing co-op on campigns.

Post Date: 14:25 06-03-2007
Rating: 8
Author: Kraxxia
Comment: Insane game for being simplistic. Had a replay value of cranking up the difficulty to near-impossibility, but after that it was almost discarded immediately.

Multiplayer was like StarCraft, the elites make it less fun by creaming you every time. Still a great game to mess around with your friends in a LAN.

Post Date: 23:59 25-01-2007
Rating: 10
Author: iownu
Comment: beat been there done that and this is the best game ever besides halo2 the only downside bad multiplayer and u cant dual weild

Post Date: 10:59 17-01-2007
Rating: 10
Author: iceyboi
Comment: great shooting game but...if u play normal on halo2 its the same as playing legendary in this one

Post Date: 03:01 06-01-2007
Rating: 5
Author: oneyx
Comment: I have this game fore my pc and have played it very little and compared to halo 2 that i play on my xbox 360 the graphics suck!

Post Date: 22:14 26-11-2006
Rating: 0
Author: Shell
Comment: oh my, the story line is good, but Halo 2 owns in the Xbox live and multiplayer aspect. Graphics play a huge part in my console experiences, so ANK!

Post Date: 13:41 25-11-2006
Rating: 10
Author: Knightwolf
Comment: This is one of my favorites!( besides halo 2 of course!:)I like beat 4 times and going on another!

Post Date: 20:53 16-11-2006
Rating: 10
Author: DeathDemon
Comment: Love The Game! Pistol Is The Best :)

Post Date: 01:46 15-11-2006
Rating: 10
Author: Heeya13
Comment: Great campaign, crappy multiplayer. Vice-versa for Halo 2.

Post Date: 11:34 13-11-2006
Rating: 9
Author: Armakuni
Comment: Halo is an amazing game, players should ignore the mulitplayer cause its not really meant to be a great multiplayer game its still funny to play a long time actually. Xbox version has 2 player story mode which makes the game even better.

More co-op games are needed!!

Post Date: 23:25 04-11-2006
Rating: 8
Author: Adamadamn
Comment: This was a fun game when I first played it - still is as a matter of fact.