Huxley
Review Directory Intro ...
Want to know what other gamers are saying about an online game that you are interested in? Good because this is where gamers can give their opinions about different types of games such as Online RPGs, MMORPGs, Online Shooters, and Free Games.

If you don't want to leave a review, simply click on the link or the screenshot on a game's review page to go to its website.

Signing up is free and allows you to review games, post in the forums, and submit games for review. The forums allow you to ask questions, share tips, and discuss games after you have reviewed them. Let your opinions fly !.!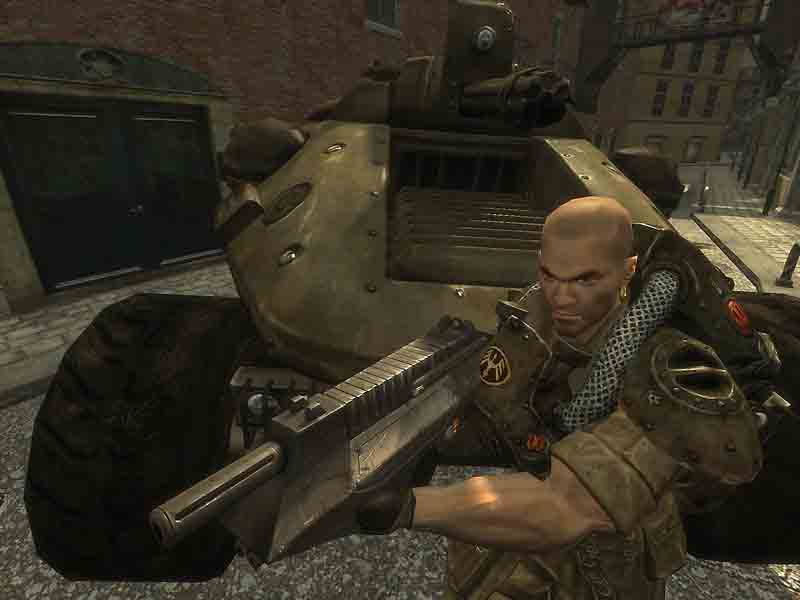 Huxley is a massively multiplayer online first-person shooting game (MMOFPS) developed by the H-Studio of global online entertainment company, WEBZEN Inc. Huxley takes place in a post-apocalyptic world where human beings have mutated and are divided into two opposing races, Sapiens and Alternative. At the center of the battle for survival is Lunarites, a promising new energy source that both sides seek to obtain. Forced to battle against one another for the continuance of each race, Sapiens and Alternatives are willing to do whatever it takes to wipe out the conflicting race and gain control of the world and its resources.

Total Rating: 7.85
Reviews: 26
Review Archive
Post Date: 17:25 16-07-2014
Rating: 8
Author: Aki013
Comment: Not bad game,i like graphic and gamplay is good too. 8/10

Post Date: 14:03 18-06-2014
Rating: 2
Author: 420Hairlyman
Comment: Amazing apocalyptic multiplayer online first person shooter game. But the main problem is that I've just read online that the beta part of the game was never published and it was shot dead after a while. What a shame, this game could succeed with this smooth engine and good multiplayer online base.

Post Date: 09:31 04-04-2014
Rating: 7
Author: DancinGDeaD
Comment: Can be better toO! :)

Post Date: 02:55 17-09-2013
Rating: 1
Author: Webber
Comment: What a disappointment! I looked so forward to it for what? I think it was released for a short time and is gone again??? WTH happened? It was supposed be THE MMOFPS!

Post Date: 01:41 27-05-2011
Rating: 7
Author: Webber
Comment: The score is no longer 8.94:p. I want to play Huxley bad! Was it ever released?

Post Date: 04:23 10-02-2011
Rating: 6
Author: sasuke24
Comment: This game is one of the best MMOFPS. The graphics and the combat system of this game just rocks. But I have noticed some hackers in this game....

Post Date: 04:44 01-02-2011
Rating: 9
Author: Adrian
Comment: Its a fun apocalyptic shooter, kinda like AVA in an apocalyptic setting, with futuristic looking weapons...

Post Date: 07:28 20-08-2010
Rating: 3
Author: TSamee
Comment: A score of 8.94, and it's never even seen the light of day? The only mention of it is on IJJI.com, they seem to be handling the North American version; it's called Huxley: The Dystopia.

Haven't read any impressions; haven't seen anything particularly impressive so far. Currently it just seems like a shooter with loot, massive lobbies (cities) and an item-mall. I'm mentioning the item-mall because, like all IJJI games, it'll be free-to-play... but some features will be restricted to those who pay.

To be honest, this concept was very cool and very new a few years ago. That's why it's generated so much hype. However, there's a game that's just like Huxley, with more classes and smaller cities, that's soon going F2P. It's called Global Agenda. Huxley's premise isn't unique anymore; it's all very "been there, done that" now. I sincerely hope I'm wrong, but Huxley looks like a behemoth brought to its knees. Once the graphics were amazing, now every other game looks the same. Once the engine was impressive, now every other title uses UE3. Once it was promising great things at the cost of a sub, now it's shut up and gone F2P. Sorry, but my hopes just got shot dead. I shouldn't be rating this at all, but here's a "3" for amount of DNF going on at Webzen.

Post Date: 09:11 13-03-2010
Rating: 9
Author: Hurley
Comment: When can we play? I hope Huxley is not the next Duke Nukem Forever.

Post Date: 22:25 14-09-2009
Rating: 10
Author: Doveblade
Comment: I am eagerly waiting for Huxley to go into Open Beta. I havea question to anybody in the CBT. Is it an open world MMOFPS (As in you can walk anywhere inside a persistent world)? Either way, it is looking amazing so far.

Post Date: 00:24 02-09-2009
Rating: 8
Author: kligettus
Comment: As long as this game comes from ijji.com it will be ftp just like every other game, released in late september/early october(discussed not confirmed) I was a beta tester for it on ijji.com and it is by far the best mmofps I have played/seen but still gets really boring really fast.

Post Date: 03:32 15-08-2009
Rating: 9
Author: boody2010
Comment: hi i saw soem videos of this game and i think its gr8 oh btw its going to be ftp!!!!! nhn already announced tht so be happy people:D

Post Date: 13:42 03-04-2009
Rating: 10
Author: awesomedrako
Comment: Huxley looks like an MMOFPS version of CoD, it's definitely got the graphics to be sure, and I'd love to play it, but I can only play free games :(, I'd like to see how it does in the future

Post Date: 18:09 09-02-2009
Rating: 7
Author: webber
Comment: Huxley looks awesome... I hope it doesn't wind up as abandonware!

Post Date: 16:21 10-01-2009
Rating: 10
Author: venomstryke
Comment: Well, it's January 9th, and I believe the game hasn't come out yet, but it looks like the best MmoFPS game to date. Can't wait for it.

Post Date: 19:34 11-11-2008
Rating: 5
Author: ArcKnightz
Comment: hi everyone... this game is on? i had problems connectin

Post Date: 01:54 06-11-2008
Rating: 9
Author: Majar
Comment: Awesome. Thanx Ilikeguitaralot, I was wondering when we could finally play Huxley!

Post Date: 23:45 28-10-2008
Rating: 10
Author: Ilikeguitaralot
Comment: This is in Open Beta in Japan. I hear its bringing a new wave of mmofps style into play with the instance battles and whatnot. It should be seen in the US in December of '08 or First Quarter of '09.

Post Date: 02:37 10-07-2008
Rating: 10
Author: Xenosaiyan
Comment: cannot wait, this game is better than tabula rasa

Post Date: 17:09 01-05-2008
Rating: 9
Author: sniper_wolf
Comment: this pic for this game is old the graphics are great but not nxtgen great like ps3 or xbox360 but it rocks if u just play games for graphic wise i really don't think u should play games at all as u could get a game with really good gameplay but crap graphics and go sell it or trade it in.....dood thts not the point of gaming
anyway great game worth trying but same old same old hackers spamers but wat do u expect on a free online game=(

Post Date: 07:05 01-04-2008
Rating: 10
Author: Bethonio
Comment: To the guy below:

Dude if you are a graphics whore you´ll love this game have you seen the recent trailers?!
thata picture is old, the game will run on unreal engine 3 like unreal tournament 3 or Gears of War and those are graphics man next gen only dude

Post Date: 06:10 21-12-2007
Rating: 5
Author: Oathkeeper666
Comment: look how basic the graphics are...they say dont judge a book by it's cover...well...this is no book, and thats just a bad looking picture. Graphics are bad, if the graphics are bad, what use is it? sorry guys, im a graphics whore.

Post Date: 09:28 05-12-2007
Rating: 10
Author: killso77
Comment: this game looks way better in grahpics than most other games!

Post Date: 02:20 20-11-2007
Rating: 10
Author: trueshaper
Comment: This game looks so sick, I might download it but it might be alittle laggy >>

Post Date: 02:33 25-10-2006
Rating: 10
Author: pleasereadbelow
Comment: looks sweet porbally gonna be better then c-s and area51

Post Date: 13:33 17-07-2006
Rating: 10
Author: Raikahn
Comment: I cant wait for this im a big fan of FPS, like BF2.